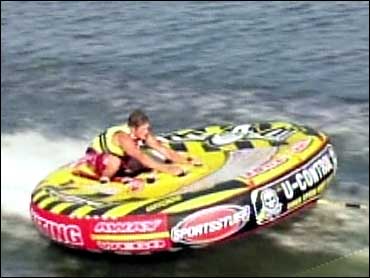 Wego Kite Tubes Pulled From Market
Regulators have been warning about the risks to those taking part in a new, extreme water sport called kite tubing. Now, a prominent brand of kite tubes is being yanked from the market.
The Consumer Product Safety Commission says SportsStuff has agreed to withdraw its Wego kite tubes. The agency says the tubes have been involved in two deaths and dozens of injuries.
Kite tubes are inflatable devices that become airborne when pulled behind a boat at speeds above 25 mph. Riders stand on fabric flooring and hold grips on the tubes. A National Park Service release warned that the tubes "may rise uncontrollably" up to 25 feet, then dive toward the water. Ejected riders can hit the water at speeds approaching 50 mph.
On The Early Show Thursday, Julie Vallese of the CPSCV told co-anchor Hannah Storm the CPSC's main concern about this product is the threat of the unknown: Users can't predict whether a wind gust will throw them off or slam them into the water; users can't predict if the boat operator will suddenly speed up or stop short.
"It's really the unknown with this product, how it's going to react, how high it will go, whether it will spin out of control when it's in the air," she said. "And one thing that does happen and has injured people is unexpected nose dives into the water. And that's really one of the serious parts with this product, because people think they're going to fall into the water and it will just be a splash, but when it's at a high speed and you're high up in the air and you hit the water, it actually really ends up being a very hard surface."
Vallese added that injuries include broken backs, a broken neck, punctured lungs, internal bleeding, and head injuries.SportsStuff said in a statement, "While SportsStuff does not believe the products are defective or unreasonably dangerous, in an abundance of caution, SportsStuff is cooperating with the Consumer Product Safety Commission to withdraw the kite tubes from the market."
Vallese responded, "It is their product, and they can have their opinion about the product. What the CPSC has seen is serious injuries and two deaths with this product. And so the fact of the matter is, SportsStuff has voluntarily recalled the product from the market."
As for other brands, Vallese noted, "There are actually two companies, SportsStuff, and another company that manufactures kite tubes. As of right now, the Wego SportsStuff kite tube is the only one being recalled, and we are looking at whether or not the other product, which is shaped differently, responds this way when people are using it."
Anyone who has a Wego kite tube should "stop using it," Vellese said. "Think about something else to do when you go out on your boat. And, secondly, consumers should contact the company to find out what is being offered to them as a remedy and a replacement for the product."
For information on the kite tube recall, you can call SportsStuff at 866-831-5524. Or you can log onto the SportsStuff Web site.

Thanks for reading CBS NEWS.
Create your free account or log in
for more features.