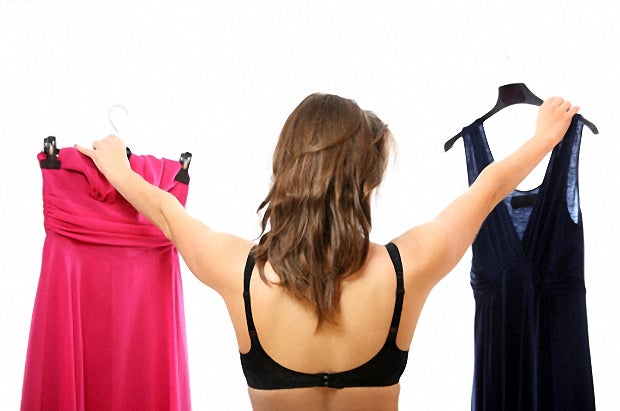 Wedding guest etiquette: What in the world do I wear?
Black tie, black tie optional or black tie invited -- what does it all mean? With wedding guest attire, it isn't always necessarily black or white. Or is it? Sometimes it's necessary for men to break out that bow tie and vest and don a tuxedo; other times guys can get away with a dark suit. As wedding season heats up, read on to ensure you're all set for the big day, even if it's not your own.
The first rule of thumb is to read the fine print. And sometimes it can be very fine -- and easy to miss. Tucked away at the bottom corner of an invitation is where you may find the clue. The last thing anyone wants is to be scrambling the day of a wedding to find a long dress -- and locating a place to rent a tux. It's happened.
White Tie: This is the "ultimate in formality," said Jennie Ma, fashion editor at TheKnot.com. "Basically, you're going to have wear a floor-length gown, you're going to have to get dressed up. Just whip out the nicest dress you have."
Black Tie: Black tie means exactly what it is: tuxedos for men, long gowns for women.
But not everyone at the reception will be dressed to the nines. Ma said, "If you are going to wear a knee-length gown, make sure that it's in a dark color, that it looks really fancy and formal, or it's done up in a rich fabric so you have that formality still attached to it."
Black Tie Requested or Preferred: This sounds like a tricky one, but it's really not. One might think, "If the bride and groom want couples to dress in formal clothes, then why not just say black tie then?" Whatever the case may be, when this description is tacked on an invite, it's best to err on the side of caution. Carmen Ordonez, resident arbiter of fashion at David's Bridal, said, "Guests are expected to attend in full formal attire."
Black Tie Optional: When this appears on an invitation, guests have options, right? The true answer is yes, but there a few guidelines to keep in mind here as well. Ordonez said black tie optional "traditionally alludes to a formal wedding." In this case, the men in the wedding party will likely be decked out in tuxes. Men in the couple's immediate families may be, too. But guests, on other hand, can be a bit more relaxed. Guys can opt for nice, dark suits (in a black, dark grey or navy color variety). Women, meanwhile, may wear evening gowns or cocktail dresses. Ordonez tells women to "wear what you would wear at a black-tie affair -- but not necessarily red-carpet, couture material."
Ma added, "If you have a floor-length gown then go for it, or if you don't, just wear something that's on the fancy side."
Cocktail Attire: The rules are slightly relaxed here. Women can sport their favorite little black dress, while men can wear a dark suit and a tie.
Ties versus bow ties -- Which is it? Male guests can definitely get away with a regular tie and suit for a black tie optional affair. But when it comes to black tie, or black tie requested/preferred wedding, a bow tie is much more appropriate, especially paired with a tux, said Ordonez. She suggests getting a little bold by trying a brighter, pop of color for a daytime wedding.
Beach weddings: It's easy to think sundresses and flip-flops with this one, but don't let the sand and ocean fool you. Even if it's a beachy wedding, it's still important to dress to impress -- especially when dealing with the less-than-ideal elements of sand, salt water and sun, said Ordonez, who suggests that women try a "delicate sundress" or a "chiffon gown that's lightweight and can be paired with a solid pop of bright color or a feminine, floral print." She also says to avoid a straight-up traditional flip-flop -- as tempting as it may be -- and opt for a different kind of flat such as a nice sandal with embellishments.
Ma said that guests can "have some fun by incorporating prints into the dress or a fun bold color."
And don't forget to bring a shawl or pashmina to keep warm amid the cool ocean breezes.
No direction: What if there's no attire mentioned on the invitation? It's totally appropriate to call one of the bride or groom's close friends for some insight, or if you're close to the couple, just ask the bride or groom -- but don't wait to the last minute. Bottom line: plan ahead. Ordonez said it's better to prepare than show up in entirely "occasion-wrong" attire. And as a general rule of thumb, it's better to be overdressed than underdressed, she said.
Wedding No-No's: "Don't wear white unless directed," said Elizabeth Graves, editor-in-chief of Martha Stewart Weddings. "This is an unspoken rule. But a woman can certainly wear black."
Ordonez adds that because brides are often branching out and sporting ivory, blush and beige, it's wise to steer clear of those shades, too.
Timing is everything: This doesn't just apply to life, but also to wedding guest attire. Both Ordonez and Ma suggest that wedding guests consider the season and time of day, too, which means it makes sense to wear lighter and brighter colors in the spring and summer. Pastels are hot now as well. For evening weddings, consider darker, jewel tones such as emerald, royal purples or ruby.
Stumped for ideas? Look to the stars. Not the sky, of course, but to Hollywood for a "red carpet look." Celebrities are often the first to be on-trend -- and they are a great place to get inspiration. Go here for some ideas for lookalike dresses and gowns.
Thanks for reading CBS NEWS.
Create your free account or log in
for more features.