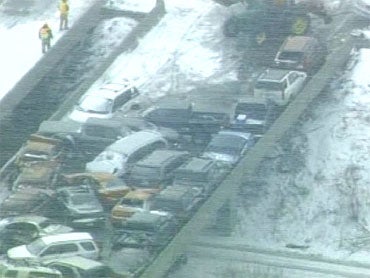 Weather Causes Massive Crashes in Midwest
Updated 12:16 a.m. EST
Highways have reopened in the Kansas City area after an afternoon snow squall caused dozens of accidents.
Dozens of weather-related crashes have shut down stretches of several highways in the area. The largest accident involved upwards of 40 vehicles in a massive pileup on Interstate 70.
The University of Kansas Hospital reported 15 people were transported to their hospital and five were admitted, most of them apparently from a second pileup on Interstate 35 involving more than 20 vehicles. None of those that were transported has serious injuries.
On northbound Interstate 35 at 87th Street in Lenexa, a multi-vehicle wreck shut down traffic. No serious injuries were reported. At least 20 vehicles were believed to be involved in the wreck.
Kansas Highway Patrol officials closed westbound Interstate 70 at the K-7 highway interchange due to the largest pileup. In addition to dozens of cars and trucks, two Greyhound buses were involved, reports CBS affiliate KCTV in Kansas City.
Traffic was backed up as far as a mile and officials shut down the highway in both directions for several hours.
Two sets of accidents on I-435 near the Kansas River slowed traffic and wrecked at least five vehicles.
Authorities are urging motorists to use caution as falling snow makes driving more difficult.
The Overland Park Police Department was so busy attending to accident Sunday, officers opened walk in accident reporting, KCTV reported. Officers advised those vehicles involved in wrecks that have a drivable vehicle to drive to the Overland Park Police Department to report their accident.
Thanks for reading CBS NEWS.
Create your free account or log in
for more features.