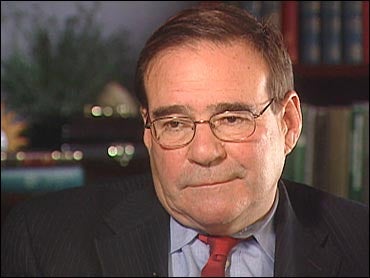 Watergate: 'Aviator' Connection?
Howard Hughes is in the spotlight again. The movie, "The Aviator," has spawned another round of articles about his fabled and tragic life as billionaire, industrialist, eccentric, and recluse.
60 Minutes tells the story about the unique connection between Howard Hughes and Richard Nixon. It's a connection that could go a long way toward explaining one of the great mysteries of American history: What was the motive for the Watergate break-in that brought President Nixon down?
Correspondent Lesley Stahl talks to two men who think they have the answer. One worked for Hughes, and knew his secrets. The other was a key player in the Senate investigation of Watergate, who believes the scandal was driven by Richard Nixon's fixation on Howard Hughes.
---
"They're both obsessive. Both paranoid, both thinking everybody's out to get them. And extremely secretive ... and very powerful," says Terry Lenzner, who was the chief investigator for the Senate Watergate Committee 30 years ago.

Delving into the secrets of the Nixon White House, Lenzner came to believe that the motive for the break-in involved Hughes, whose money and power President Nixon both feared and respected.

"In 1957, Howard began to live in a cocoon of isolation," says Bob Maheu, Hughes' right-hand man as Hughes ran his business empire from a heavily guarded suite atop the Desert Inn in Las Vegas.

Maheu says he never saw Hughes, even though he worked for him for 17 years.

Although there's no evidence that President Nixon ever met Hughes, the two went way back. In 1956, when Nixon was Dwight Eisenhower's vice president, Hughes made a controversial $205,000 loan to Nixon's businessman brother, Donald.

It raised eyebrows, because for years, Hughes had been a major defense contractor, doing business with the government. Even a Hughes confidante would later say: "The whole thing had a bad smell to it."

When details of the loan were revealed during the 1960 presidential campaign, many thought Nixon handled the matter clumsily. And Nixon himself later came to believe the Hughes money was the reason he narrowly lost the race to John F. Kennedy.

"There is this thinking that Howard Hughes' loan, in Richard Nixon's mind, cost him the election," says Stahl. "And made him almost neurotic about any connection between Howard Hughes, his brother and himself."

"If you handled something as badly as he did that one, you'd have a hard time forgetting it, too," says Maheu.

By then, Hughes was no longer the dashing figure celebrated in the newsreels of the '30s. And by 1968, the year Nixon was elected president, Hughes was a sick man – in body and mind.

Sketches by artist Howard Brodie were made after Hughes' death, from descriptions provided by aides who saw him. Hughes was naked most of the time, addicted to drugs, phobic about germs, and watching the same movies over and over. He communicated with Maheu by phone and memo -- a blizzard of handwritten notes on everything, from politics to billion-dollar airplane deals, to salaries for Las Vegas showgirls.

"There were periods of great lucidity," says Maheu. "The next day, it would be a memo that didn't make a damn bit of sense."

One key memo was written during the 1968 presidential campaign. Hughes tells Maheu of his hopes for a Nixon victory: "Under our sponsorship and supervision every inch of the way."

Did Hughes think he could own a president?

Mahau says yes. "And frankly, the last eight months of my assignment with him was to keep him from getting himself in trouble."

Mahau adds, "I mean, repeatedly, he would say to me, 'Bob, remember that there is no person in the world that I can't either buy or destroy.'"

And what some Watergate experts now believe is that in trying to buy Nixon, Hughes may have unwittingly planted the seed of the president's destruction. After Nixon took office, Hughes ordered Maheu to give a sizeable sum of money to the president's close friend, Bebe Rebozo.

"They had given Bebe Rebozo $100,000 in cash for the president," says Lenzner. "For Nixon personally."

To Maheu, the $100,000 in cash was a political contribution, half of which he handed to Rebozo in person. "We delivered the envelope at his home," says Maheu.

Did he see what Rebozo did with it? "Have no idea. He went in another room," says Maheu. "Came back without, as they say, without the money."

What was illegal or nefarious about Hughes giving Nixon money in a political campaign?

"If it had gone to a legitimate political campaign, it would have been perfectly appropriate and OK," says Lenzner. "This, however, was a bribe, in effect, through Mr. Rebozo to the president."

Congressional investigators believed the cash was given to get Hughes favorable government treatment for his casino and airline businesses.

60 Minutes showed a chart prepared by the Senate investigators. They followed the money through a maze of bank accounts, and concluded that $46,000 of it was spent on Nixon's Key Biscayne house -- buying, among other things, a putting green and a pool table.

All of this might never have come to light if it were not for Larry O'Brien, the consummate Washington insider, who was picked by Democrats to lead their party in the 1972 campaign. His offices were the target of the Watergate burglars.

"The president was absolutely focused on Larry O'Brien when he became chairman of the Democratic National Committee, because Mr. O'Brien had worked for Mr. Hughes as well," says Lenzner. "And the plot thickens."

During the period that the $100,000 was given to Rebozo, O'Brien had been on the Hughes payroll. He was hired by Maheu.

What was he hired for? What did Howard Hughes want him to do in the organization?

"He wanted better representation in Washington, D.C., as a lobbyist," says Maheu. "And Larry became one of my favorite people in the world."

But O'Brian was not a favorite of Nixon's. As leader of the Democratic party, O'Brien, who once worked in the Kennedy administration, had become a thorn in his side. There's evidence that Nixon was eager to get some dirt on the guy and shut him down. But Lenzner believes the Watergate burglars rifled through O'Brien's offices for a different reason.

"Do you think that the concern in Nixon's mind was that Larry O'Brien knew about this cash that went to Bebe Rebozo," asks Stahl.

"Well, Nixon assumed he knew about it," says Lenzner. "So he could be thinking, 'Gosh, I bet, you know, if O'Brien was tied into the Hughes organization, maybe he knows about the things we did for Hughes on the casinos, on the airlines.'"

The record shows that for well over a year before the Watergate break-in, Nixon repeatedly ordered various aides -- John Dean, H.R. Haldeman, Charles Colson -- to check out the link between O'Brien and Hughes.

Dean later wrote: "Hughes was feared in the Nixon White House." And Haldeman wrote: "On matters pertaining to Hughes, Nixon sometimes seemed to lose touch with reality."

"Let's face it. If I were the recipient of $100,000 in cash, the possibility that that may surface, it would bother me," says Maheu. "I think it would bother any human being."

"So Nixon was just worried sick that this was going to come out," asks Stahl.

"Naturally. Naturally," says Maheu, who thinks this led to Watergate.

On June 17, 1972, five burglars – Frank Sturgis and James McCord among them - were caught in O'Brien's offices at the Watergate, touching off revelations of other White House crimes.

Were the burglars looking for evidence that O'Brien knew about the $100,000 from Hughes to Nixon? Is Lenzner convinced that Hughes' money was the motive for the break-in?

"I don't know if it's a sole motive," says Lenzner. "But I'm absolutely certain it was a significant part of the president's thinking that this has to be done. This had to be taken care of."

In fact, Lenzner wrote a whole section on Hughes as the likely motive for the Senate investigation's conclusions. But it was never included in the final report.

Lenzner says, "I don't remember any explanation," as to why his report was not included, and adds that he was upset.

There's been speculation that one reason was to obscure the fact that Hughes had also given money to other Republicans – and Democrats as well.

Nixon stepped down 26 months after the break-in. Forty other government officials were indicted. Dean, Haldeman, Colson and others went to prison. And according to the theory that 60 Minutes has outlined in this broadcast, it was all largely triggered by Nixon's fear that O'Brien knew of the money Hughes gave the president.

But did he know? Did Maheu ever tell O'Brien?

"Never, never. I had no reason to tell Larry. Why the hell would I tell Larry about this," says Maheu.

At the heart of all this is the perplexing fact that Nixon, after believing that Hughes' money had cost him the 1960 election, turned around years later and took a barrel of money from the same man.

Why? Both Lenzner and Maheu say the answer is greed.

Hughes died in 1976, never quite understanding, his aides said, what Watergate was all about. Nixon died in 1994, carrying many important details of the scandal to his grave.

"They both thought they were above the law," says Lenzner. "That was both of their problems -- that nobody said no to them. Everybody said, 'Yes, how high do you want me to jump?' But they never brought together around them, which is an important thing for a powerful leader or a powerful person, somebody who is the person to say, 'No!'"

"The fatal flaw," asks Stahl.

"Fatal," says Lenzner.

Last November, there was a final aftershock. In Las Vegas, the old Desert Inn, the place Hughes had once called home, the place where just 36 years before, he had decided to send a little money Nixon's way, was demolished.
Thanks for reading CBS NEWS.
Create your free account or log in
for more features.