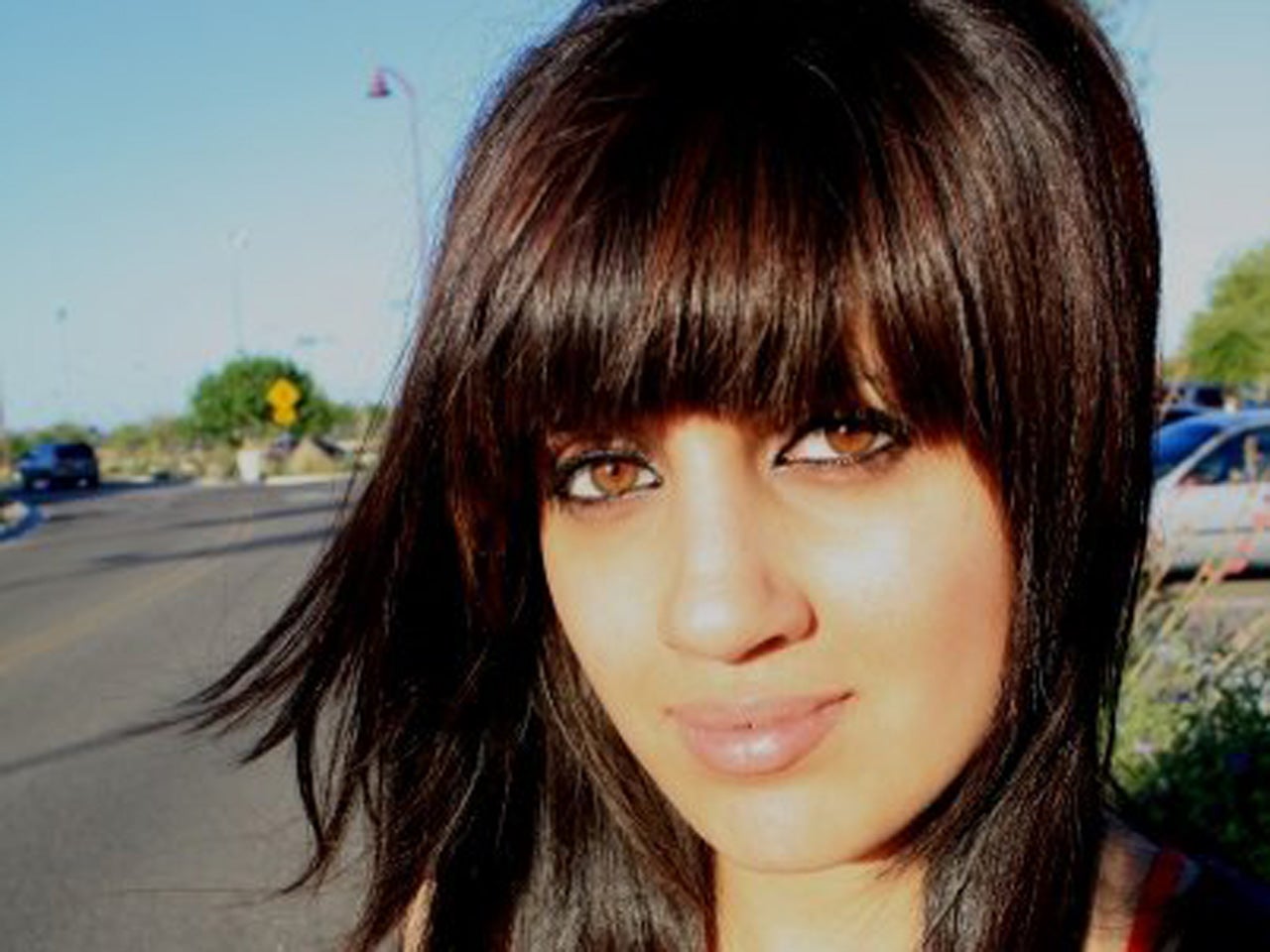 Was Noor Almaleki the victim of an honor killing?
Produced by Lisa Freed and Jonathan Leach
[This story originally aired on April 7]
(CBS News) PEORIA, Ariz. - The horrifying news that Noor Almaleki had been run over by her own father spread quickly among her friends.
"When I found out Noor was in an accident-- I was so shocked. I didn't wanna believe it," said Nuha.
"Is this true? Is my friend really-- hurt?" Sana said. "Why would something like this happen to Noor?"
"I didn't believe it at first...and when I found out exactly what had happened, and it was just...you know, really heartbreaking," said Adhi.
The 20-year-old college student was in a coma... fighting for her life.
"Noor's condition was -- was very critical," Peoria, Ariz. police detective Chris Boughey told "48 Hours Mystery" correspondent Troy Roberts. "She...suffered multiple vertebrae fractures, an ankle fracture, a severe closed head injury and multiple soft tissue injuries from head to toe, basically."
Noor's friend, Amal Khalaf, had been thrown 27 feet, fracturing her pelvis and femur. Miraculously, she survived.
"This is a serious crime," Det. Boughey said. "Two people were severely injured and it was an intentional act. That's a big deal."
But the man suspected of running them over -- Noor's father -- had vanished. So on Oct. 20, 2009, Det. Boughey launched a manhunt.
"When you're moving on a case, you don't have a whole lot of time to reflect," he explained. "We've got a bad guy that's on the loose. We need to catch him."
Detective Boughey also tried to figure out the motive.
"We know that something happened," he said. "Was it anger? Was it frustration? Was it greed? ...Why would a father do this to a daughter?"
Those questions also intrigued journalist and CBS News consultant Abigail Pesta.
Asked what kind of girl Noor was, Pesta told Roberts, "Noor was an all-American teenage girl. ...She called her friends 'Dude.' ...At school she played tennis on the tennis team. She -- worked on the yearbook."
Pesta wrote about Noor for Marie Claire magazine.
"Her friends told me her hair was always perfect," Pesta said. "She could always be counted on to have a bottle of hairspray handy."
Read Pesta's story: An American Honor Killing
Like most teens, Noor loved shopping and hanging out with her friends -- female and male. She was also passionate about school and dreamed of being a teacher.
"She was -- somebody that wanted to get an education. She was somebody that wanted to be somebody, to do something with her life," said Boughey.
Noor was just 4 years old when her family fled Iraq and Saddam Hussein. They eventually settled in the Phoenix suburbs, home to a large Arab community.
"She had a foot in two worlds. She had one foot in suburban America and one foot in Middle Eastern tradition," said Pesta.
"Did she struggle with trying to straddle both of those cultures?" Roberts asked.
"Absolutely," Pesta replied. "In public she tried to put on a brave face...and tried to live her life and enjoy the freedoms that American offered her. In private, she fought with her father all the time."
At home, Noor was supposed to obey her parents. It was her job to cook, clean and help take care of her six younger siblings.
"And if she didn't she would be beaten," said Pesta.
Noor told her friend, Adhi, that her father disapproved of everything she did -- from the way she dressed to her choice of friends.
"You can't tell your child, you know, today in America, 'Oh, you can't hang out with boys. No, you can't look -- go outside lookin' like that,'" he said. "In her home, it was just, like, tons and tons of rules."
Video: Noor's friends talk about growing up in America
Noor's father became enraged when he saw a photo of her with some male friends on the internet.
"And he just thought...that was a really bad thing for his daughter to do, for a Muslim daughter to do. And he just thought she was a slut," Adhi explained.
But Boughey calls those photos typical of most teens.
"Nothing salacious. Nothing risque. Nothing - out of the ordinary," he said. "Young people posin' for a photograph."
"When he saw that she was kind of going, you know, her own way, you know...they kind of went nuts," said Adhi.
But the independent Noor refused to be controlled.
"She'd moved in, moved out, moved in, moved out ...was living with different friends," said Boughey.
No matter where she went, her parents would track her down.
"It was almost a constant -- attempt to get her back in that house," said Boughey.
Sometimes Noor stayed with Amal, who was also from Iraq and an old family friend. Amal's son, Marwan, says his mother and Noor had developed a special relationship.
"They were more than best friends. More than a mom to a daughter," he said. "She really loved Noor."
In June 2009, after another blow up with her parents, Noor moved in with Amal's family.
"How did that affect the relationship between your family and hers?" Roberts asked Marwan.
"Well, her dad wasn't happy with it," he replied.
And he became furious when Noor fell in love with Marwan.
"He saw that as -- just a real smack in the face. Noor, in his mind, wasn't supposed to be dating anyone," said Pesta.
Asked if Noor feared for her safety, Marwan told Roberts, "She feared that something was really gonna happen to her."
Four months later Noor was clinging to life, unconscious and unable to breathe on her own.
But for investigators, there was a break in the case. After a week on the run, Noor's father was captured in England.
"The same day we received the information that he was in London, we recovered the vehicle in Nogales -- on the Mexican side of the border," Boughey said. "So that was a big day for us."
Faleh Almaleki was brought back to the United States and charged with aggravated assault. But everything changed on Nov. 2, 2009, when Noor died from her injuries.
"I wish it would have happened to me instead of her," said Marwan.
"Do you think of her?" Roberts asked.
"All the time," he replied.
"I miss her. I wish we spent more time together," Nuha said, tearing up while looking at photos of her friend.
"Losing her wasn't just like losing a friend. But someone just taking, like, a huge chunk outta your life. There's so much that she wanted to do. And she couldn't," Adhi said in tears.
Six weeks after Noor's death, her father was charged with her murder.
"You believe this was a calculated and premeditated act?" Roberts asked Boughey.
"I do. ... There's no accident. There's no accident," he replied. "He felt like it was his duty to do this...to restore his honor, restore his family's honor."
"This isn't an isolated incident as we know now," Boughey continued. "It's happened around the world. And now here we have it in the United States ... This is a really big problem."
With the death of Noor Almaleki, Det. Chris Boughey had a homicide investigation on his hands.
"When you think of a classic crime scene and you think about blood and guns and -- a wealth of evidence at a crime scene...this one didn't have," Det. Boughey told Troy Roberts as they looked at evidence photos. "We're in a parking lot...where you have...you know, one tree that's knocked over. ...You've got some gravel that's disrupted. You've got a critical speed scuff mark on the asphalt. ...This is what we had. We went from there."
Noor's father claimed his daughter's death was an accident, but Boughey was convinced he had enough evidence to prove it was a cold-blooded murder.
For one thing, a tire mark at the crime scene that the detective says was made when Noor's father aimed his SUV at the women.
"To hit the two victims, the defendant had to have turned his vehicle to the left at speed. There's no other reason why anybody would do that other than to attempt to hit something," he said.
When mechanics inspected the vehicle, they found "There was no problems with the brakes or the accelerator or anything like that," said Boughey.
In fact, the detective says tests on the brakes showed Faleh could have stopped before barreling into his daughter and Amal at almost 30 miles per hour.
There was damage to the hood and grille that matched where the vehicle hit the victims.
"Noor would have been directly in front of when the front of the vehicle struck her," said Boughey.
And when investigators checked the undercarriage, Boughey says a human hair was recovered. It was Noor's.
Boughey says the evidence clearly shows what happened that October morning.
"He was hunting that day and he found what he wanted, and he took 'em out," the detective said.
Amal and Noor had come to this building to fill out some forms for social services. While they were waiting, Noor's father appeared.
"Noor sees him, texts her friend," said Boughey.
She wrote: "Dude so scary ...Im with my aunt at the welfare place and guess who walks in? My dad!!!! Im so shaky!"
"Was it coincidental that he happened to be in the same DES building that Noor and Amal were on that day? ...There's a chance that -- that was a coincidence," Boughey said. "He makes a conscious decision to leave, drives away."
Phone records show he didn't go far. When Noor and Amal finished their business, they walked across a parking lot.
"Where those cutouts are positioned is roughly where we believe Amal and Noor were as the vehicle approached," Boughey explained at the crime scene.
Detective Boughey demonstrated for "48 Hours Mystery" what investigators believe happened next.
"He leaves this location, rapidly accelerates, makes a steering input into our two victims," Boughey demonstrated while driving.
"Amal was hit roughly in this location and thrown approximately 20 feet," he continued, this time standing where Noor and Amal were struck. "Faleh continued his left-hand turn and aimed the front of the vehicle directly at Noor who was on the raised median area here.
"The entire vehicle rolled over the top of her and -- and drug her significantly to the south where she...finally ended up behind the second tree," Boughey continued. "He didn't stop. He didn't call 911. He didn't say, 'Oh my God, it's an accident... He drives off...drives off and leaves her there for dead."
Video: Det. Boughey's crime scene reenactment
Even more shocking than the callousness of the crime is what investigators believe is the motive.
"In certain traditions and certain cultures...if a father believes that...a female has acted in a dishonorable or disrespectful way, to bring dishonor to the family, to bring dishonor to the community...that the only way to restore that honor is to kill them," Boughey explained.
It's called an honor killing, which Boughey learned is a premeditated murder to preserve family honor.
"When we had this case I said, 'You know what? I think we have one here,'" he said.
But what had Noor done to bring dishonor to her family? Boughey learned one of the things was those internet photos of Noor with male friends. Her father was so outraged he took the then 17-year-old high school senior back to Iraq and forced her to marry a family friend.
"Her mom and dad left her there," Noor's friend, Adhi explained. "And she was
there alone...she was really scared. She was really mad."
Noor told Adhi that her parents wouldn't let her come home unless she went through with this forced marriage.
"After you get married to him, you have to bring him back here. And you have to settle down with him. That was their conditions," Adhi explained. "And she said no at first. ...And then she said, you know what, and then she finally gave in."
Adhi says Noor got married.
What may be most surprising is Noor's story is not unique.
"Definitely, it's a reality," said Jasvinder Sanghera, who founded Karma Nirvana in Great Britain to help victims of forced marriages and honor-based violence.
"There has been a survey that in the States over the past two years, there have been 3,000 cases of forced marriage," Sanghera said. "We are...dealing with the tip of the iceberg."
Sanghera says these forced marriages are imposed by parents who want to control their defiant daughters.
"And the word I use -- because is the word the victims use on the helpline -- 'It was designed to rehabilitate me, to get these ideas out my head of wanting to in-- embrace independence and freedom and be westernized,'" she said.
And if they resist, Sanghera says, "the honor stakes go up. ...one never knows what a family is capable of. "
When Noor returned to the United States without the husband her parents chose for her, the clashes with her family escalated.
"Did Faleh ever say to Noor, 'You have brought dishonor to our family,'" Roberts asked Marwan.
"Yes, he did," he replied.
"Her returning from Iraq and not wanting to be in the arranged marriage was...a huge dishonor," Boughey said. "The fact that she was now dating Amal's son, Marwan, I think, was a big factor. And I think just the overall lack of control that he had over a young lady that was trying to make somethin' of herself."
Just three months before Noor was murdered, her parents showed up at Amal's house looking for their daughter.
"I believe 12:30 or 1:00 in the morning pounding on the door, demanding they open the door. And demanding that Noor come with them," said Boughey.
Police were called. Noor's father was belligerent.
"'You can put me in jail for the rest of my life. But I'm tired of having my daughter dishonor me by living...with this family,'" said Boughey.
Her parents didn't let up. According to Marwan, just 48 hours before his girlfriend was mowed down, Noor's mother again ordered her home. Again, Noor refused.
"That's when her mom told her, you know what, 'You have something coming to you, in two days,'" said Marwan.
"Did Noor think she was marked for death? Did she believe that a family member was going to kill her?" Roberts asked.
"She never directly knew that," Marwan replied. "But she felt something really bad is gonna happen."
"Do you believe Noor's mother knew that she would be harmed?" Roberts asked Boughey.
"Yes. I do believe that," he replied. "Do I have 100 percent proof? No."
Noor had nowhere to turn for help. But if she'd been living in England, Jasvinder Sanghera says she could have found refuge.
"I can tell you with conviction had Noor come to us, she would be alive today," said Sanghera.
Alive just like Lina, who survived honor violence and knows exactly what Noor went through. "My mum held a knife against my throat. She said, 'If you ever leave again we're going to kill you.'"
For Detective Chris Boughey, getting justice for Noor Almaleki -- in what he believes was an honor killing -- became a personal mission.
"Noor never had a chance to live her life ... She never had an opportunity to graduate from college, to get a job, to be married, to have children," Det. Boughey said. "That's the tragedy here."
"What was the greatest challenge in investigating this case?" Troy Roberts asked the detective.
"Wrapping your mind around an individual that thinks that honor's more important than the love of your child," he replied.
It's an unimaginable concept for most Americans, but some cultures believe that murdering a child to restore family honor is justifiable.
And Det. Boughey believes that's what Noor's father did when he mowed her down -- even acknowledging his motive, Boughey says, in this police interview:
"If ...your house has a got a fire. And like just the part of the house got fire. So we...let the house burn or we try to stop the fire?" Faleh Almakeli told investigators.
"'You gotta put that small fire out or the rest of the house is going to burn down.' ...Noor was a small fire," Boughey said. "I think this was a...collective decision that was made. And him being the father and the patriarch of the family, it was up to him to carry it out. And he did."
Although most common in the Middle East, South Asia and North Africa - honor violence is increasingly occurring in Europe, Canada and now, the United States.
"If it can happen in Peoria, Arizona, it can happen anywhere," Boughey said. "Do I think there's a lot of Noor Almaleki's out there. Yes I do."
The statistics are startling. According to the United Nations, an estimated 5,000 women worldwide are murdered each year in the name of honor.
"I believe there are many more murders that we haven't identified as honor killings out there," said Jasvinder Sanghera.
Although the majority of victims are Muslim, Sanghera -- an author and survivor -- insists honor violence is not sanctioned by any religion.
"Nowhere in Islam, Sikhism or Hinduism, in any of the major faiths, does it say, 'This is acceptable,'" Sanghera said. "Honor is man made. It's an oppressive cultural practice."
Sanghera, the daughter of Sikhs from India, was born in Great Britain.
"My father came to Britain in 1952 from rural Punjab ... and he didn't leave his belief and value systems at Heathrow Airport," she said. "You know, he brought them with him."
Growing up, Sanghera and her siblings learned a code of conduct from their parents.
"You must not talk to boys. You must not wear makeup. You must not cut your hair. ... You stick to your own. That's what we were taught," she explained. "And if you cross that line, you have dishonored them. And then you put yourself at risk."
Sanghera crossed that line when she was 15. After running away to avoid a forced marriage, her family ostracized her.
"'You shamed us. You've dishonored us. ...From this day forward you are dead in our eyes,'" she said. "That decision I made then was for my children in the future. ...And that, for me, is the defining point where I think, 'Yes, you did the right thing.'"
Sanghera survived and flourished ... but her older sister, Robina, wasn't so fortunate.
"She suffered horrific domestic violence," Sanghera explained. She said Robina was told she would dishonor the family if she left her abusive husband.
"So, in the end, my sister committed suicide. She set herself on fire," Sanghera said. "And my family regarded that to be more honorable than for her to leave her husband."
That inspired Sanghera to start an organization to help victims of honor violence and a helpline that now receives some 450 calls a month.
"You know, that's a drop in the ocean," Sanghera said. "There are thousands we have yet to reach. But it's a start."
Video: Jasvinder Sangera talks about efforts in the UK to combat honor violence
Resources: Honor-based violence
One of those callers was a desperate 17-year-old now known as Lina.
"I remember I was so scared. I was-- I was literally shaking. My hands were shaking," she told "48 Hours Mystery."
Two years earlier, she had tried to run away. Her dishonored family was furious.
"My mom...when she held the knife to my throat, she threatened to cut my tongue off. And then she said, 'Oh, if you don't listen to my-- your stepfather, he'll rape you,'" said Lina.
It was after the British-born teen refused to marry an older cousin that she was pulled out of school and held captive by her strict Muslim parents. Lina had been locked in her home for nearly two years.
"Her father -- stepfather-- had gone to the extreme of putting barbed wire all around the back of the house...so she couldn't escape," said Sanghera.
Lina says she was regularly beaten for being too westernized.
"I used to go in the bathroom and put the taps on and cry my eyes out, and, because I didn't want anyone to hear me. And I'd look in the mirror and I'd be, 'How long is this going to carry on for?'" she said.
She finally got the courage to end her ordeal after reading about Jasvinder Sanghera's helpline... but it would take a year to make that call.
"I couldn't handle it anymore. And like, I would've rather been dead than stay in that house," she said.
With Sanghera on the phone and a set of keys she'd found, Lina made her escape.
"I thought, you know, 'This is my chance. If I don't do it now, then that's it,'" said Lina.
"She literally fled out the back door in the end, went down the entry, petrified -- I could hear the fear in her voice. And it was if I was with her on every single step," said Sanghera.
"I was very scared," Lina said. "You're running for your life, basically."
Lina would find a safe haven with Jasvinder Sanghera's help. A few weeks later, the two met.
"And there was this girl walking towards me. She must have been six foot two. She had these big high heels on, very tight jeans on, lots of makeup on. Her hair was everywhere. And it was snowing," Sanghera recalled. "And I just looked at her, smiled, and I said, 'Why are you wearing those heels?' ...And she just looked me direct in the eye. And she went, 'Because I can.'"
Lina is now an independent 23-year-old.
"Yeah, she is in control of her life now. But she also knows that her family are capable of doing something to her," Sanghera said. "The dishonor doesn't go away."
Back in Phoenix, Det. Chris Boughey is hoping to convince a jury that something as foreign as an honor killing could happen in their backyard.
"I know you were confident you had a pretty strong case. But there must have been some cause for concern or worry," Roberts commented to Boughey.
"You're always concerned," he replied. "You prepare as well as you can. ... But there's always that tinge of uncertainty. ...You never know.
On Jan. 24, 2011, more than a year after Noor Almaleki's tragic death, testimony in her father's murder trial is about to begin.
"Even if you think you have the biggest slam dunk case in the history of criminal justice... You never know what's gonna happen when you get in front of a jury," said Det. Chris Boughey.
The stakes are high not only for Det. Boughey, but for prosecutor Laura Reckart, as well. This will be one of the first cases in the United States prosecuted as an honor killing.
"No one can acquire honor by doing what is wrong," she tells the court.
For the prosecutor, an experienced trial attorney who has taken on tough criminals like ex-mafia hit man Sammy "The Bull" Gravano, this case was the toughest to understand.
"It's chilling that your own flesh and blood that you would mow down with your own car because it suits your culture. It's just cold," said Reckart.
But the question for the jury isn't whether Faleh Almaleki drove the vehicle that ran down his daughter and badly injured Amal Khalaf. They'll have to decide whether it was a premeditated act... an honor killing.
"I want that jury to understand that...this father had a motive to kill," Reckart told Troy Roberts.
"This is a case about a man, the defendant, who committed these horrific and oh so wrong crimes all in the name of his sense of honor," she told the court.
But defense attorney Elizabeth Mullins argues that Faleh never intended to harm anyone.
"Abu Noor lost his Noor. That was never his intent," she said in court.
She claims he merely meant to spit on Amal and scare his daughter, but accidentally hit them both.
"And when he yanks the wheel, he hits the curb, goes up on the median and runs over a tree," Mullins continued. "He stops...he looks back. 'Noor. Noor. My baby is lying in the - she's lying there.' Noor's in the median. He panics."
Then, she says, Faleh fled.
To reinforce their case, Jeff Kirchler -- another defense attorney -- sets his sights on Det. Boughey, arguing that Faleh insisted it was an accident after he was taken into custody.
Defense Attorney Jeff Kirchler: He tells you over 15 times that it was an accident. ...And you're trying to get him to tell you that he did this on purpose, that it wasn't an accident, is that correct?
Det. Boughey: Yeah, I told him I didn't believe it was an accident and that he had the opportunity to tell everybody why he did what he did.
Then, Kirchler strikes at the heart of the prosecution's theory - claiming Faleh had no motive to murder his daughter. In fact, he suggests it was investigators who planted the notion of honor.
Jeff Kirchler: You ask him... "you were trying to restore that honor that was taken away," is that right?
Det. Boughey: Yes.
Jeff Kirchler: And you gave him this "it was honor," 'cause you knew something about his culture, right?
Det. Boughey: Yes.
Jeff Kirchler: He denies that this was the reason that this occurred, right?
Det. Boughey: He doesn't come out and say that's the reason why this occurred, no.
"Up to two years prior to this incident. This was a man who was saying that he was being dishonored by his daughter. He'd rather to go to jail for the rest of his life, than be dishonored by his daughter," Reckart told Roberts.
"This was a calculated and premeditated act?" Roberts asked.
"In our opinion, yes, it was," she replied.
Reckart says the crime scene photos and analysis from crash reconstruction experts show Faleh had enough time to brake before striking Noor and Amal.
"...It's quick. But you make a conscious decision to put your foot on the accelerator. And that's reflection--that's premeditation. And that's first-degree murder," she said.
To prove Noor had reason to fear her father, prosecutors present the text messages she sent moments before the attack, in which Noor says she was scared.
And the jury received transcripts of recorded jail house phone conversations between Noor's parents after Faleh's arrest.
"I think one of the most telling calls was when the defendant's wife says to him, 'You rushed it,'" said Reckart.
In that call, Noor's father said, "I didn't assault someone from the street. I tried to give her a chance." His wife responds, "You rushed it. You rushed it Faleh."
"They were going to take some action, even if that meant killing her," said Reckart.
"He's waitin' in the parkin' lot for 45, 50 minutes," Boughey said. "To me, that shows premeditation. He coulda gone home. But instead he chose to wait until they came out."
"I saw a car parked here..." witness Charles Cooper testified, pointing to photo of the DES parking lot.
In all, the state calls 22 witnesses to prove their case, including Shaneil Nakamoto, who ran to Noor's side that fateful day.
"We heard an engine revving...and then I saw a car heading toward Peoria Ave," she testified.
But the most crucial witness for the prosecution was Amal Khalaf -- the lone survivor who was with Noor when they were both struck by Faleh.
"You were concerned whether or not Amal was gonna show up," Roberts commented to Reckart.
"I actually was. And at one point, I thought I was gonna have to proceed without a victim," the prosecutor said.
"...I saw him. When-when he hit me," Amal testified through a translator. "He was driving so fast."
Amal took the stand at great personal risk, Reckart says, fearing retaliation from an Iraqi community that had now turned their back on her for testifying - and she asks the judge not to show her face on the witness stand.
"Do you fear for your safety for speaking out?" Roberts asked Amal.
"Of course," she replied. "Fear is always there."
In fact, to this day Amal still lives in hiding.
"In Faleh's mind, was this an honor killing?" Roberts asked Amal.
"Was he proud of it? Yes," she replied.
Throughout the trial, Faleh's family supported him in court. But as in life, Det. Boughey says no one stood for Noor.
"There was an underlying fear...in everybody that we talked to associated with Noor," Boughey said. "...that if they -- testified in court -- in front of their community, they could have some problems."
It's something that still haunts her friend, Adhi.
"No one was on her side," he said. "No one was there to testify and say that her dad abused her, her dad did this, her dad did that, her parents harassed her. No one was there to say it. If I knew first hand, I would have done it in a heartbeat."
After a month-long trial, the defense rests without calling a single witness. And with all eyes on him, Faleh chooses not to testify -- leaving lawyers to argue about whether he's the victim of circumstance... or a killer done in by his own conceit.
In closings arguments, the defense reminds the jury that it was an accident and there's no evidence to prove Faleh intended to harm anyone.
But prosecutor Laura Reckart says otherwise.
"Good fathers protect their children. ...Good fathers don't blame their children. ...Good fathers especially don't kill their children," she told the court.
"I rarely dream about a trial when I'm in it," prosecutor Laura Reckart told Troy Roberts. "But during the course of this trial, for some reason, I started to wake up in the middle of the night - with nightmares."
For prosecutor Reckart, those nightmares continued as the jury deliberated Faleh Almaleki's fate. One agonizing day turned into two, then three.
"I was worried...I could hear the jurors screaming," she said. "By the fourth day of deliberations I was feeling sick to my stomach."
Finally, on Feb. 22, 2011, there was a verdict.
For both sides, the tension was unbearable as the verdict was read: Not guilty of first-degree murder.
Instead, the jury finds Faleh guilty of the lesser charge of second-degree murder, meaning they did not agree the attack on Noor was premeditated or an honor killing.
I was disappointed. Very disappointed," Det. Chris Boughey told Roberts. "You know, the jury didn't agree with us. ...I wasn't happy. Still not. Never will be."
"You thought he should have been convicted -- of first-degree..."
"Of first-degree murder. That's what he did. It was premeditated. He thought about it. He had ample time to reflect upon not doing it. And decided to do it anyway," said Boughey.
Eight weeks later, Faleh is back in court for sentencing.
For the other victim, Amal Khalaf, the moment is overwhelming. Especially for her son, Marwan -- Noor's boyfriend -- who had to be escorted from the courtroom.
Throughout his trial, Faleh showed little emotion. But when the time came time to answer for his actions, he could barley contain himself.
"...I wish I was dead and not her. I am sorry Noor," he said crying.
But Judge Roland Steinle is unmoved as he hands down the sentence.
"Apparently your daughter had a lot of qualities. Everybody turned to her and she couldn't turn to the one person she needed because her father closed his heart and decided one day death was for her," he said addressing Faleh. "As you sit in a jail cell I hope you come to grips with what you really did, which has so far - it's been all about you ... just a mean old man killing his child."
And with that, Faleh is sentenced to a total of 34-and-a-half years in prison for killing Noor and gravely injuring Amal.
"He got off easy, as far as I'm concerned," said Boughey.
"It was horrible......makes us feel like we let Noor down," prosecutor Laura Reckart said. "...And you know, that just breaks your heart. And this broke my heart."
"48 Hours Mystery" tried to talk to Noor's family.
Troy Roberts: Hi, I'm Troy Roberts from "48 Hours." Are you Ali?
Ali: Yes
Troy Roberts: I wanted to know if you had time to speak with me about your sister Noor?
Ali: Um no.
But they later changed their minds.
Troy Roberts: Don't you think there were still some questions from this trial that haven't been answered?
Ali: Is it going to help anymore? Is it going to change anything? There is nothing that needs to be said.
Troy Roberts: Do you believe this was intentional?
Ali: I'll believe what I believe because I'm apart of it. You're the outside looking in. Everybody is, you won't understand.
Troy Roberts: Why wouldn't I understand? It's a simple question. Was it intentional or was it an accident?
Ali: Does it matter to you?
Troy Roberts: Yeah
Ali: How? So you can make money off of this whole thing? It doesn't matter to you, to you this is just a TV show...to me this is life.
"It does not surprise me that Americans are surprised this is happening in the States. ...But I think that will change with awareness," said Jasvinder Sanghera.
The sentence may not have been what the prosecution wanted, but Sanghera sees hope.
"It's better than some sentences I've seen in the U.K.," she said.
However, she says there is work to be done.
"If you don't deal with this, then it will only get worse for the victim," Sanghera explained. "...And believe me, the perpetrators will catch wind of that."
But Det. Boughey has a message for anyone who thinks they can kill in the name of honor.
"Murder is murder," he said. "I hope it sends a message to anybody that might be thinking about doing this -- is that if you do it, we're coming after you... I hope that people remember and never forget Noor and what happened to her. ...She had deep conviction for, you know, where she came from and where her family came from. I think she wanted the best of both worlds."
"She looks absolutely stunning," friend Nuha said while looking at photos of Noor. "If you were ever in a group of people...it was obvious Noor was here. Her presence was so strong."
"She's gone physically, but her memory is always gonna live on forever," said Adhi.
In the end, those closest to Noor choose to remember the friend they had, rather than the one they lost.
"When I wanna see her, I just look up in the sky," Adhi explained. "Noor means God's light. ... During the daytime she's in the form of a sun. But at night, she's in the form of a moon. ...Day and night, she's always watching out for me."
While members of Noor's family were questioned about the crime no one other than her father has been charged.
In fall 2012, the AHA Foundation launches the first national hotline for victims of forced marriage and honor violence. The following sites offer more information on honor-based violence:
- Karma Nirvana
- Amnesty International
- UN Women: United National Entity for Gender Equality and the Empowerment of Women
- Women Thrive Worldwide
- Tahirih Justice Center
- AHA Foundation
Thanks for reading CBS NEWS.
Create your free account or log in
for more features.