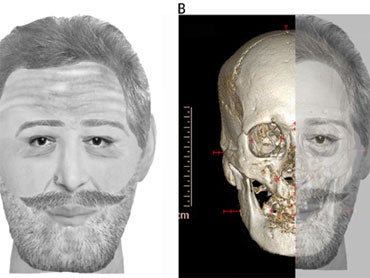 Was King Henri IV's Skull in Frenchman's Attic?
A 400-year-old skull that researchers say belonged to celebrated French King Henri IV was donated Thursday to a descendant - the prince who heads the Bourbon dynasty that ruled France for two centuries.
The case caps the mysterious journey of the mummified skull: It was pillaged from a grave near Paris during the 18th-Century French Revolution that ousted the monarchy, and most recently spent decades in a tax collector's attic.
A team of 19 scientists revealed Tuesday in British medical journal BMJ that nine months of tests on the skull led them to believe it was that of Henri IV. The grandfather of the Sun King Louis XIV was an influential ruler credited with brokering peace between Catholics and Protestants at a time of religious upheaval, and building Parisian landmarks including the Pont Neuf bridge and Place des Vosges square.
On Thursday, researchers showed video of his alleged skull for reporters, with a white-gloved lab technician turning it repeatedly to show what appeared to be remains of skin or cloth used for embalming.
The scientists said they found in the skull features often seen in the king's portraits, including a dark lesion above his right nostril, and a healed bone fracture above his upper left jaw that matched a stab wound the king suffered during an assassination attempt in 1594.
Stephane Gabet, a TV production company journalist, said he and a colleague followed leads to track down the mummified skull in the attic of a retired tax collector, 84-year-old Jacques Bellanger, in January.
Bellanger on Thursday donated the head to Prince Louis de Bourbon, the Duke of Anjou, said Gabet, who spoke to The Associated Press after the news conference.
"The moment is very emotional ... to have a head of my ancestor, so close to me physically, is something," the prince told reporters. "Now, I have a responsibility, familial responsibility and moral responsibility to bury this head in the best place for him."
He said he hoped to return it to the Basilica of Saint-Denis, north of Paris, where numerous French kings lie buried. Some 200 years ago, revolutionaries ransacked Henri's grave, lopping off his head and snatching it, before the trail went cold for another century.
A French couple bought the head at Paris auction house Druout in the early 1900s, Gabet said. Bellanger bought it from the wife in 1955 for 5,000 francs - equal to a few hundred dollars today.
"Having a mummified head, you know you've got an archaeological relic," said Galet. The journalist said Bellanger did not want to speak to the media, and declined to say where he lived or how he could be contacted.
Bellanger gave the head to Bourbon, out of respect for the family legacy, Galet said. A TV documentary on the case is planned for broadcast in France in February, said Galet's production company, Galaxie Presse.
Research team leader Philippe Charlier, a forensic medical examiner at Raymond Poincare University Hospital in Garches, west of Paris, say scientists don't have genetic proof - but the other evidence appears definitive.
"We don't have any DNA, but we can manage without it. We have so much proof supporting the identification, at least 30 factors, and none of it goes against the identification," he said. "This head is Henri IV's head."
Frank Ruehli, of the University of Zurich and the Swiss Mummy project, said Tuesday the research was credible, but that DNA evidence would have made it more persuasive.
The researchers created a digital facial reconstruction and ran computer tomography scans, showing the skull was consistent with all known portraits of Henry IV and a plaster mold made of his face after his death.
Thanks for reading CBS NEWS.
Create your free account or log in
for more features.