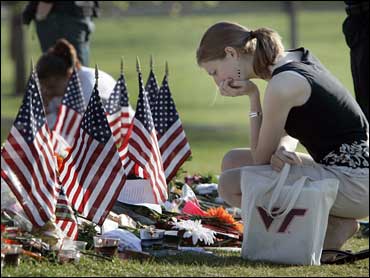 Warning Signs Ignored In Va. Tech Shooting
The massacre in Binghamton, N.Y., last week has chilling similarities to the tragic shooting at Virginia Tech that left 33 people dead in 2007.
Both were carried out by a loner, obsessed with guns and bent on revenge.
In a new book, a former Virginia Tech professor writes that she saw warning signs before the attack on campus. She tried to sound the alarm, reports CBS News anchor Katie Couric. But no one listened.
Sirens pierced the air on a cold day. By the end of a murderous shooting spree, 23-year-old Seung-Hui Cho killed 27 students, five teachers, and then himself.
"This is a tragedy that's about a failure of imagination," said Lucinda Roy, the author of No Right To Remain Silent. "I mean, in many ways, people couldn't imagine something really terrible happening on a campus as beautiful and pristine and picturesque as ours."
But Roy could imagine it. In the fall of 2005, when she was chair of the English department, a colleague had alerted her to Cho's disturbing writings and disruptive behavior. Roy writes that Cho's classmates were afraid of him, and that he was taking cell phone pictures of them under his desk.
Concerned, Roy decided to tutor him privately, and found a student wearing dark reflective sunglasses who was almost always unresponsive.
"It's actually a bit terrifying in some ways to be with someone when you realize that all you are getting are things that bounce off them," Roy said.
In Roy's view, this was a very serious situation.
"There are a few times when you get nervous enough that you want to make sure you're really contacting multiple people. And this seemed, to me, to be one of those times," she said.
Roy contacted four different departments on campus, including the counseling center and university police. She was desperate for Cho to get help.
But, "I was told that - that would never happen," Roy said. "Because I was essentially requiring a student to seek counseling."
And that's against Virginia Tech policy as it is at several schools across the country, unless it's an emergency, and administrators claim Roy did not indicate it was an emergency situation.
"She indicated that she had worked out a satisfactory arrangement with him and didn't feel the need for any further involvement," said Ed Spencer, the school's vice president of Student Affairs.
"If I'd only just met with him very quietly and hadn't been campaigning for the entire year, I would say that interpretation was possible," Roy said.
Cho did get psychiatric help at an off-campus facility after he threatened to commit suicide. He was evaluated, but released when he was no longer considered a threat. At the end of that same year, he voluntarily contacted the school's mental health center. Records of any treatment he may have received there are missing.
"I learned that he had gone over and had gone over repeatedly, not just once," Roy said. "But was never really examined."
The university says they also were unaware of his history of mental health problems.
"If a student has been through counseling and maybe even intense counseling in middle school and high school that is protected information," Spencer noted.
And because Cho was over 21 at the time, his parents were never contacted.
A special state panel convened after the shooting concluded the school had misinterpreted privacy laws and had failed to connect the dots.
"If everybody did their job the way they were supposed to, I'm convinced that 33 lives would be with us today," said Joe Samaha, whose 18-year-old daughter Reema was shot and killed in French class.
Other victims' parents agreed.
"Cho was crying out for help," said Lori Haas, whose daughter Emily was wounded by two of Cho's bullets, but survived. "He sent up red flag after red flag after red flag."
Since the shootings, Virginia Tech has made some changes, adding additional counselors and establishing a risk assessment team to handle troubled students. But Lucinda Roy says the tragedy could be repeated - if warning signs continue to be missed in troubled students.
"You get very, very few opportunities to help someone who is mentally disturbed. Very few," Roy said. "And when you get them, you must take them."
Thanks for reading CBS NEWS.
Create your free account or log in
for more features.