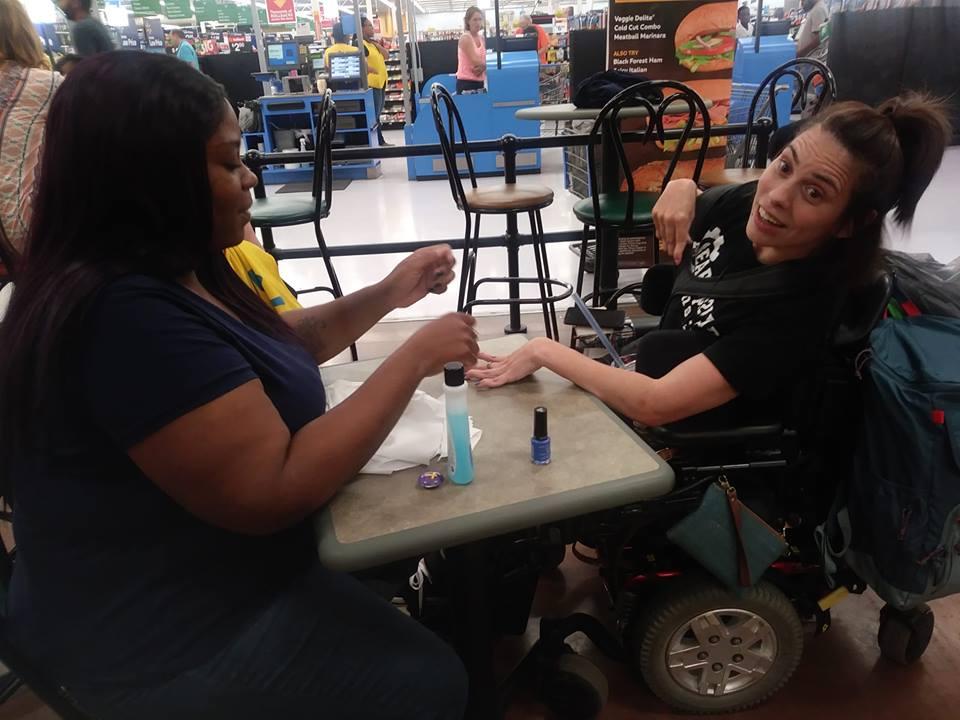 Walmart employee uses break to paint nails for woman with disability
A disabled woman who says she was turned away from a nail salon in Walmart received a manicure after all, but not from a traditional nail technician, CBS affiliate WNEM-TV reports.
Last week, Angela Peters, who has cerebral palsy, was hoping to get her nails done at Da-Vi Nail Salon, located inside a Burton, Michigan, Walmart. She said she was turned away, and two employees who worked at the Walmart saw.
Employee Ebony Harris recognized Peters from her previous trips to the store. "Found out what happened and I just asked her, 'Do you want me to do your nails?' And she just started smiling and said yeah," Harris said.
Harris sat Peters down to do her nails and Tasia Smith, who works inside the Walmart's Subway, took photos the private manicure session. Smith posted photos on Facebook, and the heartwarming story went viral. "Out of the kindness of the Walmart workers' hearts they went and bought nail polish and came into my work to paint this sweet girl's nails," Smith said in the post. The photos show Peters sitting at a small table for two as Harris paints her nails blue.
The Walmart employees are hoping the random act of kindness will spread a positive message. "If you see someone that's going through something and they need help, help them," Smith said.
Peters told WNEM-TV the nail salon denied her service "because they said I moved too much," and Smith's Facebook post stated the same. However, Tanya Tran, a Da-Vi Nails headquarters representative, said she does not believe Peters was turned away because she moves too much or because she has a disability. Tran said it was simply a time crunch.
"Angela [Peters] said she only had one hour to get her manicure done. ... They said all the floor technicians -- there were only 5 working but one was off -- four were working on customers," Train said. "She was told they didn't think it could be done in one hour. ... They clearly stated that they weren't refusing the service."
Harris told WNEM-TV, "We're not trying to bash anybody, anybody lose their business or anything, but create an awareness."
Peters was grateful someone at the Walmart was able to give her a manicure in the end. "I'm making new friends at Walmart as well, and they get to see my abilities, too. So it's awesome," she said.
Thanks for reading CBS NEWS.
Create your free account or log in
for more features.