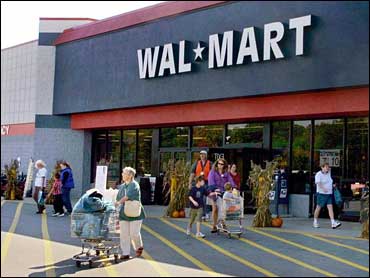 Wal-Mart Shuts Unionizing Store
Wal-Mart Stores Inc. said Wednesday it will close a Canadian store whose workers are on the verge of becoming the first ever to win a union contract from the world's biggest retailer.
Wal-Mart said it was shuttering the store in Jonquiere, Quebec, in response to unreasonable demands from union negotiators, that would make it impossible for the store to sustain its business. The United Food & Commercial Workers Canada last week asked Quebec labor officials to appoint a mediator, saying that negotiations had reached an impasse.
"We were hoping it wouldn't come to this," said Andrew Pelletier, a spokesman for Wal-Mart Canada. "Despite nine days of meetings over three months, we've been unable to reach an agreement with the union that in our view will allow the store to operate efficiently and profitably."
Pelletier said the store will close in May. The retailer had first discussed closing the Jonquiere store last October, saying that the store was losing money.
A spokesman for the UFCW said Wednesday the union had not yet seen the retailer's statement, and that leaders were traveling and not immediately available for comment.
Some employees at the store said they believed the store was closing because of their agreement to join the union and several cried as they left the store. They told Radio-Canada TV that an announcement had been made and they were not allowed to ask questions.
The store in Jonquiere, about 240 miles northeast of Montreal, became the first unionized Wal-Mart store in North America last September, after the bargaining unit was certified by provincial labor officials. Since then, workers at a second Quebec store have also been granted union status. Neither had reached a contract.
The union efforts at both stores are part of a larger chess game labor organizers are waging with Wal-Mart at stores across Canada. The campaign, financed by UFCW money from both Canada and the United States, is also geared to captured the attention of workers in Wal-Mart's home country.
The closest a U.S. union has ever come to winning a battle with Wal-Mart was in 2000, at a store in Jacksonville, Texas. In that store, 11 workers — all members of the store's meatpacking department — voted to join and be represented by the UFCW.
That effort failed when Wal-Mart eliminated the job of meatcutter companywide, and moved away from in-store meatcutting to stocking only pre-wrapped meat.
Recently, some workers in the tire department of a Wal-Mart store in Colorado have sought union representation, and the National Labor Relations Board has said it intends to schedule a vote.
Wal-Mart spokesman Pelletier said the company was closing in Jonquiere because of unreasonable union demands over scheduling and staffing, and the UFCW's refusal to detail its pay requirements.
The union's demands would have forced the retailer to add 30 people to the existing payroll of 190, and guarantee many workers additional hours, he said.
"In our view, the union demands failed to appreciate the fragile conditions of the store," he said.

Thanks for reading CBS NEWS.
Create your free account or log in
for more features.