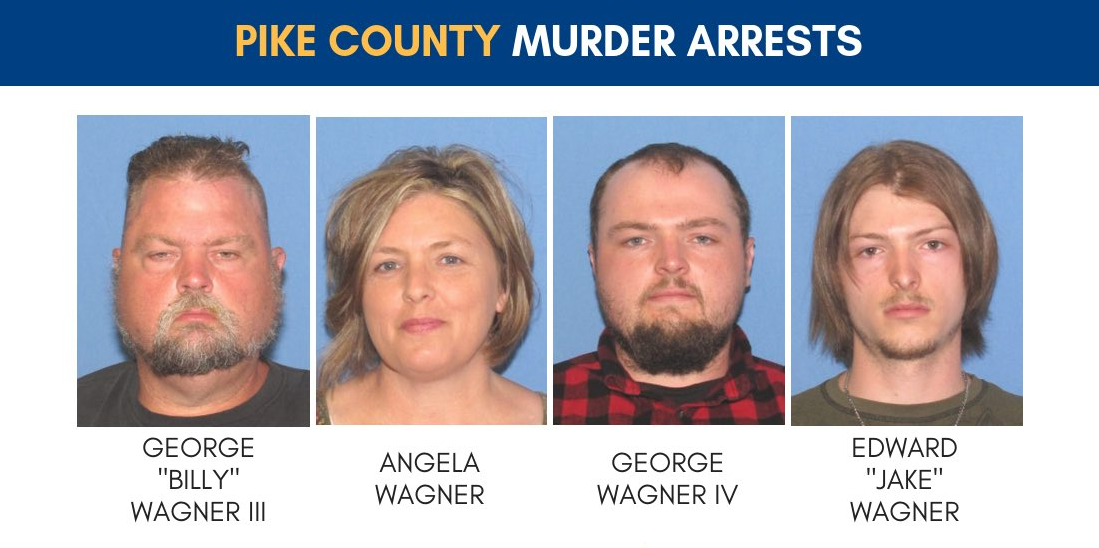 Family of four arrested in gruesome slayings of eight people in rural Ohio
COLUMBUS, Ohio — A family of four was arrested Tuesday in the gruesome slayings of eight people from another family in rural southern Ohio two years ago. It's the first break in a case that left a community reeling and surviving family members wondering if answers would ever come.
Those arrested were four members of the Wagner family, who lived near the scenes of the killing about 60 miles south of Columbus. One suspect, Edward "Jake" Wagner, 26, was once the boyfriend of one of the eight victims, 19-year-old Hanna Rhoden. Also arrested were his parents, George "Billy" Wagner III, 47, and Angela Wagner, 48, and his brother, George Wagner, 27. The Wagners had since moved to Alaska.
"We promised that the day when come when arrests would be made in the Pike County massacres," Ohio Attorney General Mike DeWine said at a news conference. "Today is that day."
No motive has been announced, but officials said custody of a young child played a role.
Jake Wagner and shooting victim Hanna Rhoden shared custody of their daughter at the time of the massacre.
A Pike County grand jury indicated the four suspects for aggravated murder, each with death penalty specifications. Officials said the Wagners spent months planning the crimes and tracking the victims' routines, and face numerous other charges including conspiracy, aggravated burglary, and tampering with evidence.
"The suspects — a husband, wife, and their two adult sons — are now charged with killing seven members of the Rhoden family and the fiancée of one of the victims," said a post on the attorney general's Facebook page.
Two other people — Angela Wagner's mother, Rita Newcomb, and Billy Wagner's mother, Fredericka Wagner — were also arrested for allegedly misleading investigators to cover up the crimes.
Police in Kentucky said the FBI tracked Billy Wagner to Lexington, where he was arrested Tuesday afternoon in a horse trailer that was pulled over. Lexington police weren't sure if he had been living in the area.
It's the culmination of a massive investigative effort since seven adults and a teenage boy were found shot in the head at four separate homes in April 2016. Investigators scrambled to determine who targeted the Rhoden family — and why.
"We have followed more than 1,100 tips from the public. We conducted 550 interviews. Served more than 200 subpoenas, search warrants, and court orders and tested more than 700 items of evidence. The team also traveled thousands of miles to ten separate states as a direct result of this investigation," said DeWine.
Authorities in June of 2017 announced they were seeking information about the Wagners, including details on personal or business interactions and conversations that people may have had with the four. None was named a suspect at the time. Investigators also said they had searched property in southern Ohio sold by the Wagners.
Both Jake Wagner and Angela Wagner told the Cincinnati Enquirer they were not involved in the April 2016 killings. Angela Wagner said in an email to the newspaper that what happened was devastating and that Hanna Rhoden was like a daughter to her.
A message was left Tuesday with John Clark, an attorney who has been representing the Wagners. Clark said a year ago that four of the Wagner family members had provided laptops, phones and DNA samples to investigators, and agreed to be interviewed about the slayings. Clark told The Cincinnati Enquirer that the family was being "harassed while the real killer or killers are out there."
The Wagner family lived in Peebles, Ohio, at the time of the killings but later moved to Alaska.
A coroner said all but one of the victims was shot more than once, including two people shot five times and one shot nine times. Some also had bruising, consistent with the first 911 caller's description of two victims appearing to have been beaten.
Authorities said marijuana growing operations were found at three of the four crime scenes. That's not uncommon in this corner of Appalachia but stoked rumors that the slayings were related to drugs, one of many theories on possible motives that percolated in public locally.
The victims were identified as 40-year-old Christopher Rhoden; his ex-wife, 37-year-old Dana Rhoden; their three children, 20-year-old Clarence "Frankie" Rhoden, 16-year-old Christopher Jr., and 19-year-old Hanna; Frankie Rhoden's fiancée, 20-year-old Hannah Gilley; Christopher Rhoden Sr.'s brother, 44-year-old Kenneth Rhoden; and a cousin, 38-year-old Gary Rhoden.
Hanna Rhoden's days-old baby girl, another baby and a young child were unharmed.
It appeared some of the victims were killed as they slept, including Hanna Rhoden, who was in bed with her newborn nearby, authorities said.
Thanks for reading CBS NEWS.
Create your free account or log in
for more features.