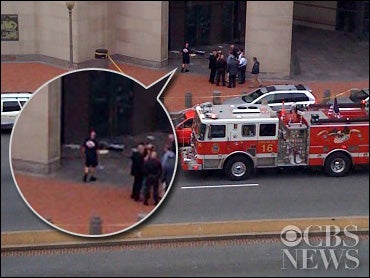 Von Brunn Charged In Holocaust Museum Slay
Last Updated at 6:57 p.m. ET
An 88-year-old white supremacist was charged with murder Thursday, a day after officials said he left a signed anti-Semitic screed in his car outside the U.S. Holocaust Memorial Museum, then gunned down a security guard who opened the door to let him in.
Von Brunn could face the death penalty, reports CBS News correspondent Bob Orr in Washington.
Guard Stephen T. Johns was shot to death Wednesday by Holocaust denier James von Brunn, who left his car outside an entrance to the museum and walked in holding a rifle at his side, District Police Chief Cathy Lanier said at a news conference.
Police have a surveillance tape showing that von Brunn double-parked this red car in front of the museum and walked toward the building with a 22 caliber rifle at his side. Johns began to open the door to let von Brunn in and was immediately shot. Two other security guards returned fire. Spent cartridges reveal Von Brunn fired three shots, the officers eight, Orr reports.
In his car, officers found a notebook with a handwritten note that read, "You want my weapons - this is how you'll get them. The Holocaust is a lie. Obama was created by Jews," according to a court affidavit.
Von Brunn's .22-caliber rifle held 10 more bullets and investigators found more in his car and at an apartment in Annapolis, Md., that he shared with son and his son's fiancee.
The museum remained closed Thursday and flags flew at half-staff in honor of Johns, 39, who had worked at the museum for six years. Bouquets of roses, lilies and other flowers were left outside the museum walls. The entrance where the shooting occurred was still cordoned off by police tape.
Museum Director Sara Bloomfield said Johns "died heroically in the line of duty."
---

Criminal complaint against James Wenneker von Brunn

---
"To me he was a pretty great guy. And when I heard about what happened I was just sad. And mad at the guy who shot him," Johns' 11-year-old son, Stephen Johns Jr. told Orr Thursday.

Von Brunn, who tried to kidnap members of the Federal Reserve decades ago, remained in critical condition Thursday at a Washington hospital. A self-described artist, advertising man and author, he wrote an anti-Semitic treatise, "Kill the Best Gentiles," decried "the browning of America" and claimed to expose a Jewish conspiracy "to destroy the White gene-pool." He also wrote of a lifetime of seething anger.

"It's better to be strong than right," he said in one of his dark online postings, "unless you like dying. Crowds hate good guys."

Von Brunn was charged with murder and killing in the course of possessing a firearm at a federal facility. Authorities said Thursday hate crime charges were also possible.

"We know what Mr. von Brunn did yesterday at the Holocaust museum. Now it's our responsibility to determine why he did it," said Joseph Persichini, assistant director of the Washington FBI field office.

The Homeland Security Department said the shooting does not appear to have a connection to terrorism, according to a joint Homeland Security and FBI assessment, though Persichini characterized it as "domestic terrorism."

He said authorities have contacted or visited any people or places named in documents found in von Brunn's car. Authorities searched the red 2002 Hyundai for explosives, but found none.

Von Brunn was sentenced in 1983 for attempted armed kidnapping and other charges in his 1981 bid to seize Fed board members. A guard captured him outside the room where the board was meeting. He had a revolver, sawed-off shotgun and knife in a bag with him. He served more than six years in prison.

"The subject resides in my memory like old road-kill," he wrote of the capture. "What could have been a slam-bang victory turned into ignoble failure."

Von Brunn is a native of St. Louis, a World War II veteran who served in the Navy, worked in advertising in New York City and moved to Maryland's Eastern Shore in the late 1960s, where he stayed in advertising and tried to make a mark as an artist.

Public records show that in 2004 and 2005 he lived briefly in Hayden, Idaho, for years home to the Aryan Nations, a racist group run by neo-Nazi Richard Butler.

Civil rights groups were familiar with his history.

"We've been tracking this guy for decades," said Heidi Beirich, director of research for the Southern Poverty Law Center's Intelligence Project, which tracks hate crimes. "He thinks the Jews control the Federal Reserve, the banking system, that basically all Jews are evil."

At the White House, just blocks away from the museum, President Barack Obama said: "This outrageous act reminds us that we must remain vigilant against anti-Semitism and prejudice in all its forms. No American institution is more important to this effort than the Holocaust Museum, and no act of violence will diminish our determination to honor those who were lost by building a more peaceful and tolerant world."

Von Brunn's Internet writings say the Holocaust was a hoax. "At Auschwitz the 'Holocaust' myth became Reality, and Germany, cultural gem of the West, became a pariah among world nations," he wrote.

Von Brunn had claimed on his Web site that he had a long-standing relationship with Willis Carto, a publisher of books denying the Holocaust.

Carto flatly denied that in a phone interview, saying he had not heard from von Brunn in years and never had any relationship with him.

In fact, Carto said, in recent months von Brunn "has spent a great deal of anger" attacking American Free Press, the weekly newspaper Carto publishes, "saying these papers and the people who published them were too soft on the Jews."

The attack was the third in a recent wave of unsettling shootings that appeared to have political or ethnic underpinnings.

A 23-year-old Army private, William Andrew Long, was shot and killed outside a recruiting office this month in Arkansas and a fellow soldier was wounded. The suspect, a Muslim convert, has said he considers the killing justified because of the U.S. military presence in the Middle East.

Late last month, abortion provider Dr. George Tiller was shot to death in his church.

Johns, the security guard killed Wednesday, was black.

Only last week, Mr. Obama visited the site of a German concentration camp at Buchenwald in Germany where he noted, "There are those who insist the Holocaust never happened." He added, "This place is the ultimate rebuke to such thoughts, a reminder of our duty to confront those who would tell lies about our history."

In a statement from Israel's government, Information and Diaspora Minister Yuli Edelstein said the shooting was "further proof that anti-Semitism and Holocaust denial have not passed from the world."

And the Council on American-Islamic Relations, a prominent American Muslim organization, said in a statement, "We condemn this apparent bias-motivated attack and stand with the Jewish community and with Americans of all faiths in repudiating the kind of hatred and intolerance that can lead to such disturbing incidents."

Mark Potok of the Southern Poverty Law Center said von Brunn's Web site has long been listed as a hate site.

"We've been tracking this guy for decades," said Heidi Beirich, director of research for the law center's Intelligence Project, which tracks hate crimes. "He thinks the Jews control the Federal Reserve, the banking system, that basically all Jews are evil."

The Rev. David Ostendorf, executive director of the Center for a New Community in Chicago, a national civil rights group, said von Brunn has described in his own writings a long relationship with Willis Carto, founder of the Liberty Lobby, the Spotlight Newspaper and a well-known white supremacist and anti-Semite.
Thanks for reading CBS NEWS.
Create your free account or log in
for more features.