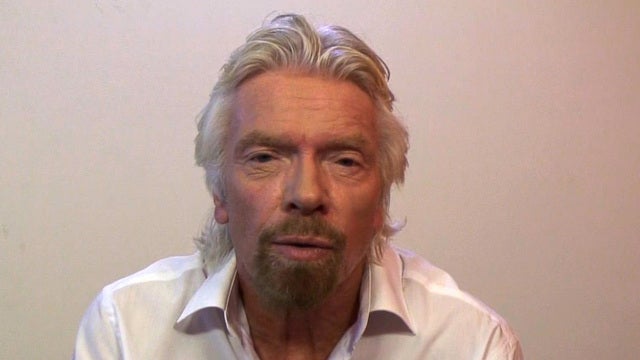 Branson on Virgin Galactic crash, hopes for the future
It's day three of the investigation into what caused a Virgin Galactic test flight to crash in California.
The space plane broke apart Friday during "feathering," when the tail fins rotate to slow the plane down as it descends back to Earth.
Investigators said the process began too early and led to the death of the plane's co-pilot.
"It was an incredibly sad day, particularly for Mike Alsbury's family, and a real blow for the 400 wonderful engineers and team that work for Virgin Galactic and for the 800 people waiting to go to space," Virgin Galactic founder Sir Richard Branson said on "CBS This Morning." "But we've now picked ourselves up, the teams are pushing on building the next spaceship and waiting for the final report from the NTSB so we can see if there are any changes at all that we need to make to the spacecraft, or was it something else that actually caused it."
"All I can say is what the NTSB have said, and they have indicated that something may have been pressed a few seconds earlier than it should have been pressed, but I really want to, I have to let the NTSB guide people and we will learn from what the NTSB have to say," Branson said. "And if it did turn out to be human error, we would obviously still need to make sure that it's impossible for something like that to happen in the future."
Despite worry that this accident would deter perspective participants and might lead those who have already paid the $250,000 ticket price to back out, Branson said he hasn't seen any reactions of that kind.
"What is absolutely remarkable is that on the day of the accident, two people actually signed up and paid up in full to go to space as a gesture of goodwill toward Virgin Galactic," Branson said. "Of the 800 people who have signed up, all we've heard is wonderful messages of support and commitment, and we've had literally hundreds of thousands of messages from the public willing Virgin Galactic and its team to go ahead."
While the incident may have raised concerns about potential risks, Branson is still passionate and optimistic about the project.
"I think that most people realize that we should be exploring, we should push our boundaries forward," he said. "Most people, I think, would agree that we need to build a commercial spaceship industry that will deliver point-to-point travel one day ... at incredible speeds."
With this type of access to outer space, Branson foresees life changing opportunities, notably the ability to install satellites that would provide access to the nearly 3 billion people who lack cell phone and internet service.
"There's incredible things that come out of a space program like this and therefore all of us are determined to continue and make sure that we learn from this and get it right," Branson said.
Thanks for reading CBS NEWS.
Create your free account or log in
for more features.