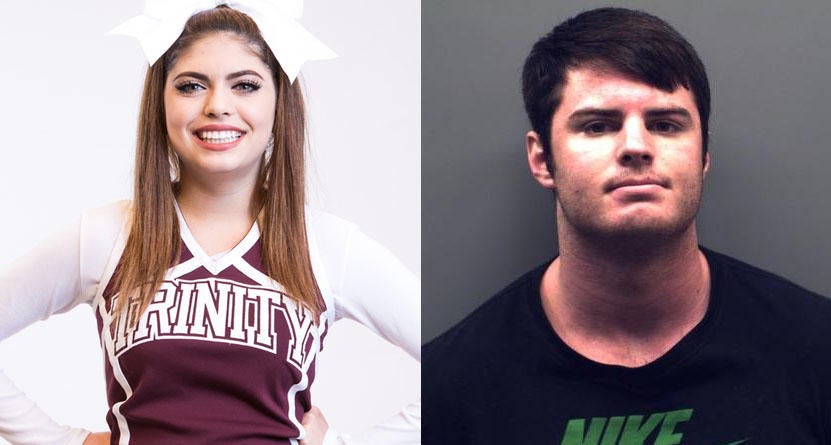 Violent history emerges as boyfriend charged months after cheerleader's death
SAN ANTONIO, Texas -- The boyfriend of a Texas college student slain last year has been charged in her murder and sexual assault, according to arrest warrants obtained by CBS affiliate KENS. Mark Howerton, 22, reportedly turned himself in Wednesday in the October death of 19-year-old Cayley Mandadi, a cheerleader at Trinity University.
According to an arrest warrant obtained by the station, Howerton brought Mandadi to a Luling hospital Oct. 29, bruised, unresponsive and partially nude. According to the warrant, he initially admitted to investigators having consensual "rough sex" with the San Antonio student over a drug- and alcohol-fueled Halloween weekend. But investigators determined she had been the victim of a violent sexual assault, and doctors found she didn't show signs of brain activity and likely wouldn't recover.
She was taken off life support several days later and pronounced dead.
Howerton reportedly initially told Bexar County deputies that the two had attended the Mala Luna music festival in San Antonio Oct. 28 and 29, where they drank and took Molly. He said they argued because Mandadi saw an ex-boyfriend there, and the two went to his car to continue the argument. Mandadi told him he was her "soul mate" and said she would drop out of school and move with him to Houston, about 200 miles east, Howerton allegedly said.
Howerton said the two began to drive toward Houston and they stopped in the parking lot of a Valero gas station, where they had "make up sex" which he described as consensual but rough. He said Mandadi said she wasn't feeling well and passed out, and he kept driving towards Houston as he slept. When they neared Luling, he said he realized she wasn't breathing, and said he attempted CPR before taking her to the hospital.
But Howerton allegedly changed his story several times, had scratches on his arms and cell evidence indicated the two had been in an area where he told investigators they never went, the warrant says. An autopsy concluded Mandadi had been beaten and died of a subdermal hematoma after suffering blunt force trauma to the head, according to the warrant. And through interviews investigators uncovered several alleged incidents when Howerton had been violent with Mandadi in the past; one of her sorority sisters said Mandadi was scared of him and didn't know what else to do besides give in to him.
In the warrant, police say friends described alleged incidents including one where Howerton slammed her head into a car window and another when he destroyed her dorm room at Trinity. The Sept. 2017 dorm room incident was described as "roid rage" to deputies by Mandadi's roommate, and several people told investigators they bought steroids from Howerton. The roommate said that the previous night, Mandadi told her Howerton had thrown her up against a brick wall during an argument. Another sorority sister said he had threatened to throw her off a balcony during the incident.
After the destruction of the dorm room was reported to Trinity University Police, the warrant says, Howerton was issued a criminal trespass order that barred him from the campus for a year.
In another incident, Mandadi's sorority sister told investigators Howerton took Mandadi's phone and that Mandadi asked her to go with her to get it back from him. When they went to Howerton's car, Howerton allegedly took a gun out of the glove box, waved it around and threatened to shoot some of Mandadi's ex-boyfriend's fraternity brothers.
The ex-boyfriend told investigators he had broken up with Mandadi about two months before her death, but the two had been talking again and were trying to get back together. He said that at the Mala Luna music festival Oct. 29, he saw Howerton forcibly grab her by the arm as they were leaving. She didn't appear injured at the time, he said.
Trinity University student Etim Asangansi told KENS he is close to some of the slain teen's friends and is from the same town as Howerton.
"I heard he had some substance abuse issues and definitely heard about him having an aggressive history," he said. "If anyone saw him on campus, I'm pretty sure you were supposed to alert authorities."
Howerton's attorney, John T. Hunter, said in a statement to MySanAntonio.com that his client turned himself in.
"Mr. Howerton maintains his innocence, and we ask the public to honor the presumption of his innocence," Hunter said. "He turned himself in because that's what a responsible citizen does if there's a warrant out for his arrest."
Thanks for reading CBS NEWS.
Create your free account or log in
for more features.