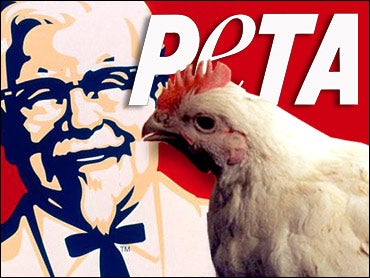 Videotaped Cruelty At KFC Supplier
An investigator for an animal rights group captured video showing chickens being kicked, stomped and thrown against a wall by workers at a supplier for Kentucky Fried Chicken, which has been under pressure since last year over the treatment of animals.
The footage, released online Tuesday, was secretly taken at the Pilgrim's Pride plant in Moorefield, W.Va., by an investigator for People for the Ethical Treatment of Animals who worked there from October to May.
"It was just terrible, it was very hard to work there,'' said the undercover PETA worker to CBS News Correspondent Mika Brzezinski. "They laughed and enjoyed themselves,'' said the man, referring to the videotaped kicking and stomping of the chickens.
Pilgrim's Pride spokesman Ray Atkinson said Tuesday the company is appalled by what it saw on the video, has reopened a previous investigation into complaints of chicken mistreatment and will fire any employees who are found to have violated company policies on animal welfare.
"These actions are completely contrary to all of our company's practices and policies regarding the humane treatment of poultry," Atkinson said.
Pilgrim's Pride received an anonymous report about mistreatment April 29 and immediately stopped production, he said. Managers then "communicated the severity of these allegations to our employees, making it clear to them that any such behavior would result in immediate termination," he said.
Officials of Louisville-based Yum Brands Inc., which owns KFC, saw the video Monday. KFC spokeswoman Bonnie Warschauer described it as "appalling."
Warschauer said in a written statement released Tuesday that KFC has notified Pilgrim's Pride that it will not buy more chickens from the Moorefield, W.Va., plant unless assurances can be made that no abuses are taking place. The statement did not address whether KFC would continue to buy chicken processed at other Pilgrim's Pride plants.
The statement said KFC has hired an inspector at the Moorefield facility who is trained in animal welfare investigations. Warschauer said it would ensure no abuse takes place in the future.
"We have further been assured that Pilgrim's Pride will fire any individuals involved in this alleged activity," said Warschauer, who declined to answer questions.
In a July 22 letter to the plant, copied to Yum Brands and forwarded to The Associated Press, PETA says its investigator also obtained eyewitness testimony about employees "ripping birds' beaks off, spray painting their faces, twisting their heads off, spitting tobacco into their mouths and eyes, and breaking them in half — all while the birds are still alive."
PETA said it wanted West Virginia authorities to prosecute plant employees and managers under state animal-cruelty laws. The PETA investigator, who did not reveal his identity because he still does undercover work for the group, said he would testify if prosecution went forward.
PETA filed a complaint with Hardy County Prosecutor Lucas See in Moorefield, who did not immediately return a call seeking comment Tuesday.
Buddy Davidson, spokesman for the West Virginia Department of Agriculture, said there have been no previous reports of such cruelty. The Moorefield plant is federally inspected and the state has no authority in the current situation, he said.
PETA has been pressuring KFC since last year, when it sued the company and called for a boycott, demanding that KFC require suppliers to treat animals more humanely. The group has recently won similar concessions from other major fast-food chains, including McDonald's and Burger King.
Pilgrims Pride stocks fell nearly 4 percent in afternoon trading on the New York Stock Exchange, dropping $1.21 per share to $29.55.
Shares of Yum Brands were up 16 cents at $39.25 on the NYSE.

Thanks for reading CBS NEWS.
Create your free account or log in
for more features.