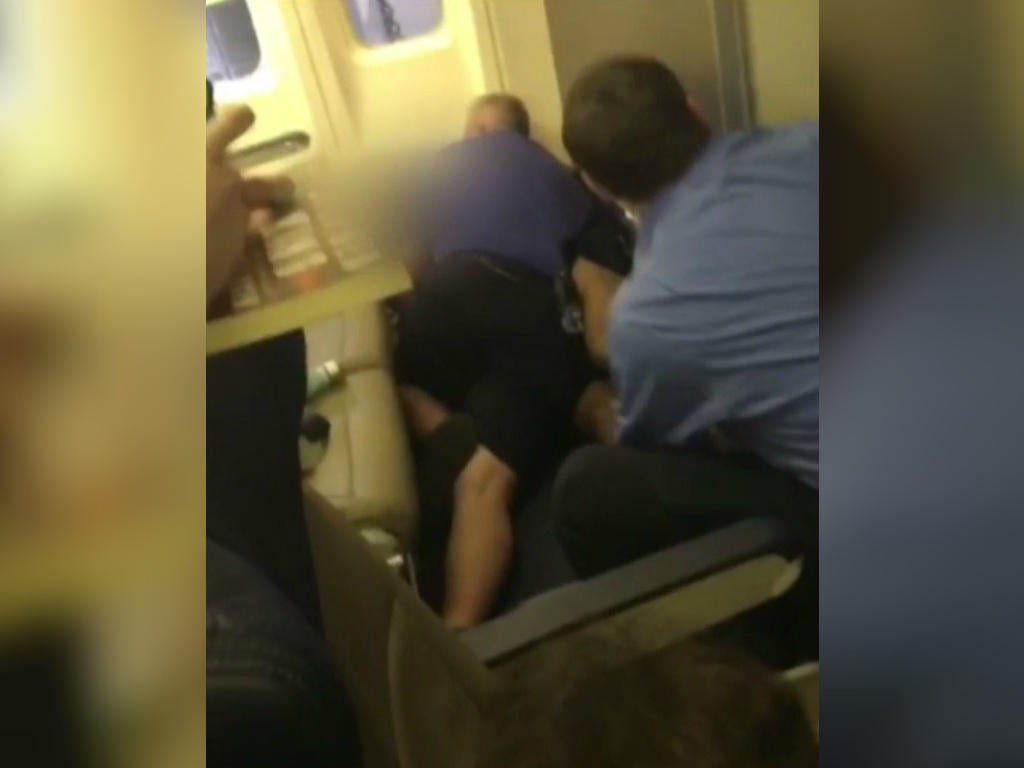 Video shows "unruly" Southwest Airlines passenger pinned to floor
CHICAGO -- A Southwest Airlines passenger who the airline said appeared to be drunk ran screaming onto a Chicago-bound flight in Las Vegas, after having been kicked off the plane, and he was zip-tied to a seat until police arrived
Cellphone video of the incident on Flight 3630 shows an airline employee pinning the man to the floor of the plane at McCarran International Airport around 7:30 p.m. Pacific time Monday, CBS Chicago reports.
Southwest Airlines said the passenger was being unruly and appeared to be intoxicated.
Passengers said the man earlier had been holed up in the restroom while the plane was at the gate until employees kicked him off the flight. After he was kicked off, the man ran back onto the plane and a crew member tackled him and pinned him down.
"He was already boarded, and he went into the bathroom, and they just told us they were trying to get him out of the bathroom, and they took him off the plane," Rick Alonzo said. "Next thing you know, he tried to fight his way back on, and that's when the Southwest guys came and got him."
Video shows a Southwest employee holding the man on the ground while waiting for police. The man was eventually zip-tied to a seat before three Las Vegas police officers arrived and removed him from the plane.
"He was violently getting back on the plane, like pushing people, so one of the guards tackled him in front of my feet," Molly O'Malley said. "He was acting very inappropriate."
Alonzo said the man was still yelling when he was removed from the plane the second time.
Passengers said one flight attendant was injured in the scuffle, and did not fly to Chicago.
"The crew did handle it in a respective way, but it was very scary, and as someone who does fly often, I felt unsafe at first, but at the end of it, they figured it out," Alyssa Bergamini said.
The flight arrived at Midway International Airport around 2 a.m., about an hour behind schedule.
Southwest Airlines issued a statement about the incident saying its number one priority is the safety and security of its customers and employees.
"The passenger became unruly and our Employees utilized their training to manage the situation until local law enforcement could assist with removing the passenger from the flight," the statement read.
The company added, "Our employees are trained to deny boarding to passengers who appear to be intoxicated, as well as to address passengers who become unruly and/or create a disturbance in flight."
It was unclear if the man who was kicked off the flight would be charged with a crime.
Thanks for reading CBS NEWS.
Create your free account or log in
for more features.