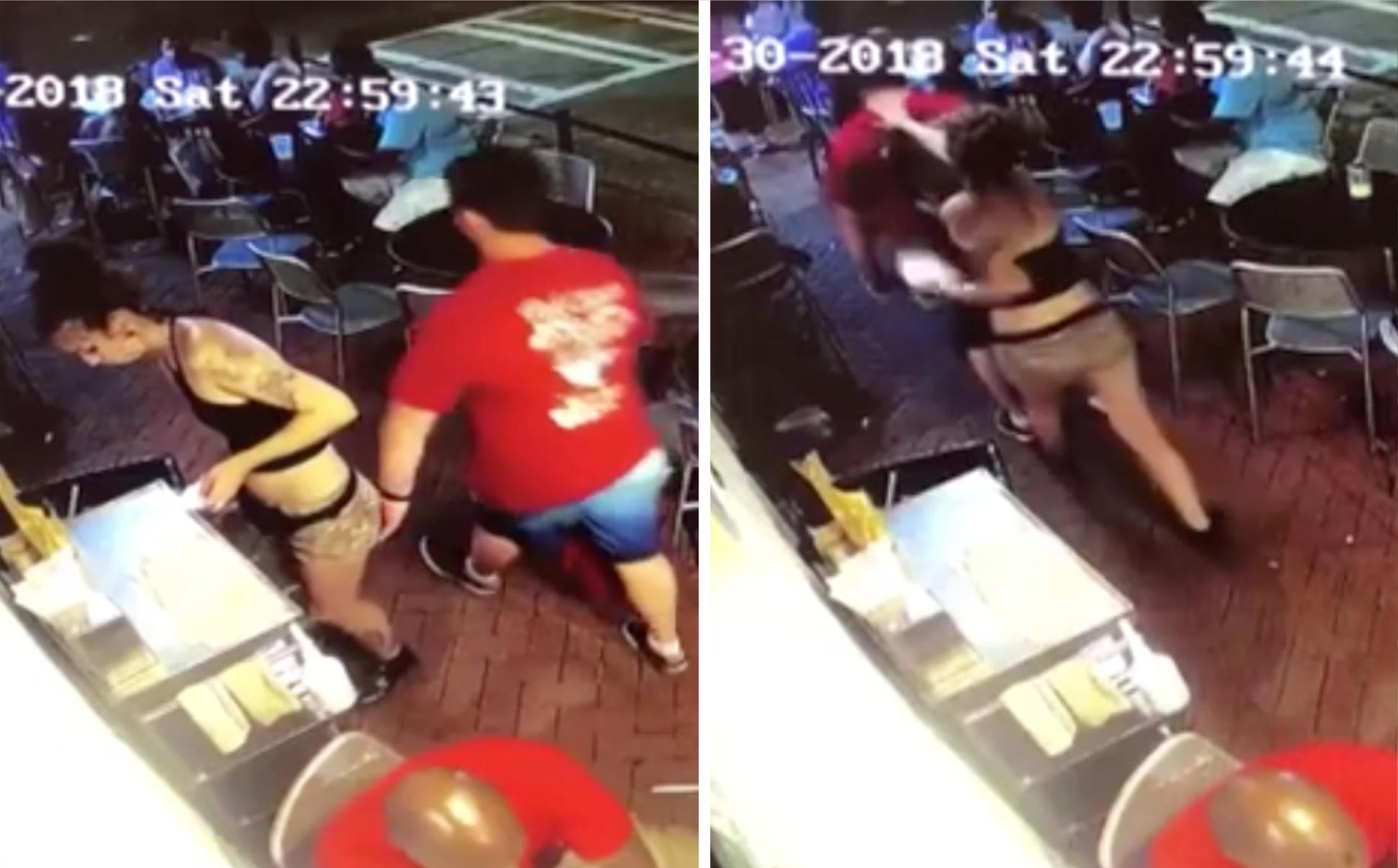 Video shows waitress body-slam man who groped her
Emelia Holden, a 21-year-old college student and waitress, is winning praise on social media after video surfaced showing her forcefully defending herself against a man who groped her.
The incident occurred on June 30 when Holden was at work at Vinnie VanGo-Go's, a pizzeria in Savannah, Georgia, and the story went viral this week on Reddit.
Video from the restaurant shows a man reach out and grab the backside of a female server as he walks past her. She quickly lunges after him, grabs hold of the back of his shirt and slams him into a wall. He tumbles to the ground and appears to sit there stunned as she gives him a piece of her mind.
Holden told CBS affiliate WTOC-TV how the incident unfolded. "I took someone's order and I was getting ready to set them up and then I just felt it," she said. "I was like, 'nope, that's not going to happen' and turned around and took the guy down."
She seemed a little surprised by her own strength. "I'm 115 pounds. I didn't know I could do that," she laughed. "I guess I just had the right stance for it and I did it."
The manager of the restaurant told police he witnessed the incident and provided them with the surveillance footage.
Savannah police charged 31-year-old Ryan Cherwinski of Palm Bay, Florida, with a misdemeanor count of sexual battery. According to the police report obtained by WTOC-TV, Cherwinski said "it was an accident that he grabbed the waitress [and] that he was only trying to inform her that to move because she was in the way."
But Holden doesn't buy that excuse.
"To see them put him in handcuffs, it was nice," Holden said in an interview Thursday with Inside Edition.
The video went viral after she shared it with family members and a relative posted it online. A person identifying themself as Holden's cousin shared the footage in the "JusticeServed" thread on Reddit, writing: "My cousin takes this pervert down for grabbing her ass. He is later arrested in front of his wife and 2 kids when the cops arrived." The Savannah Police department told CBS News that they could not confirm whether Cherwinski's family was at the restaurant at the time of the incident.
Since becoming an internet phenomenon, Holden told WTOC-TV she's gotten a lot of positive responses from the public -- but also a few negative ones.
"There's also been the few that are like, 'those shorts are small,'" Holden said. "That shouldn't matter. It's upsetting to see people that have that train of thought, but it's really reassuring to see how positive everyone else has responded to it."
"Recently, there's the whole #MeToo movement, and I think that's really great," she said. "What I get from this is just how inspiring it is to other women. You have every right to stand up for yourself no matter who it is. No one has the right to put their hands on you. No means no. You have to have consent."
Thanks for reading CBS NEWS.
Create your free account or log in
for more features.