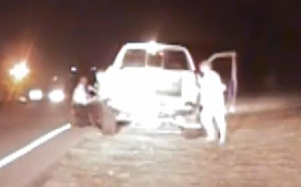 Video shows South Carolina deputy crying after shooting 70-year-old man
YORK, S.C. -- The South Carolina deputy who shot a 70-year-old man during a traffic stop after mistaking his cane for a shotgun during an after-dark traffic stop broke down in tears as other officers arrived, according to dashcam video released Wednesday.

York County Deputy Terrance Knox is on administrative leave as state agents investigate the shooting last month of Bobby Canipe of North Carolina. In the video, Canipe quickly pulls over on the four-lane highway near Clover outside Charlotte after Knox puts on his blue lights and siren.

Officials say Knox, a three-year veteran of the department, pulled over the pickup truck because of an expired license plate, CBS affiliate WBTV reports.


Canipe gets out of the pickup and turns toward the bed without acknowledging Knox as the deputy yells "Sir!" three times. Canipe reaches in the back and pulls out a slender object with the tip pointed at the officer. Knox yells "Whoa!" several times as he fires a half-dozen shots.

"It's a walking stick," Canipe said as the shots ended.

Knox shouted an expletive as he immediately ran to check on Canipe, who was hit once and expected to recover. The whole sequence takes about 15 seconds.

Knox begins to sob when another officer arrives a few minutes later and puts his arm around him.

"I promise to God I thought it was a shotgun," Knox said in tears.

Before showing the video, York County Sheriff Bruce Bryant urged reporters to put themselves in the moment and see how Canipe doesn't respond to the officer and pulls out the object in the dark. He said officers in South Carolina are allowed to use deadly force if they think their lives are in imminent danger.

"I would have had to take the same action he did," said Bryant, who has been in law enforcement for 42 years.

The State Law Enforcement Division is investigating the shooting and will send its report to a prosecutor, who will decide if any charges should be filed.

Bryant said his officers get extensive training, even taking part in exercises where people emerge with cellphones and other items and pellets are shot at deputies,

"You watch the action of the walking cane. He was hollering at the man," Bryant said. "You can't wait to see a muzzle flash before you take action because when you see the muzzle flash, it's too late."

Canipe has been released from the hospital, the sheriff said. His deputy has also been offered counseling.

Neither Canipe nor his family could be found for comment Wednesday,

Canipe was shot while driving back to his Lincolnton, N.C., home with a friend after watching the Daytona 500 race in Florida.

In the video, Knox rushes to help him immediately. Canipe tells the deputy he will be all right, and the woman friend immediately said "oh no you won't."

"I'm disabled and I was trying to get my cane out," Canipe explained as the woman shouts at him to find his cellphone to call his family.

Canipe's friend then starts praying as Knox asks him more questions.

"That's all I ask I ask of you Lord, is please help him and take care of him Lord," the woman is heard saying on the video. "We were just innocent people going home. There wasn't a thing wrong with us."

Several officers consoled Knox, including one who said: "You're solid. You done what you had to do. You felt like your life was in danger,"

When an ambulance arrived for Canipe, Knox breaks down even more, saying over and over again "why did he have to get out of the car?"

Knox can't been seen on the video as he fired the shots, but sheriff's office attorney Kristie Jordan said the deputy was out in the open with no cover and was trying to get behind his cruiser as he fired. She said Knox did not know the man's age, name or any other information as he pulled him over.

Bryant also on Wednesday showed a second video where an officer shot a dog on a long chain that he said tried to attack him on March 4. That shooting was only captured on the officer's microphone. Jordan said the two shootings have caused a storm of outrage against the sheriff's office on social media with secretaries taking calls full of profanities and threats.

"This has been a very demoralizing, disturbing and disappointing time," Jordan said.

Bryant said the people insulting his officers forget they are human beings who have to work with the fear of not making it home alive every day.

"If I have a police officer I thought wasn't afraid of anything, I wouldn't want him working for me," Bryant said. "Officers fear just like you fear."
Thanks for reading CBS NEWS.
Create your free account or log in
for more features.