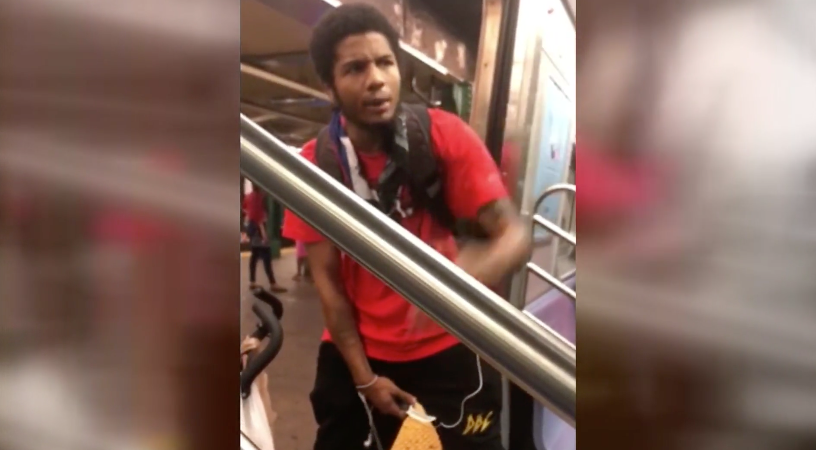 Video shows NYC father with young son threatening subway rider with knife
The New York Police Department is on the hunt for a man seen on cellphone video threatening a subway rider with a knife as he was taking care of his young son in a stroller. The 45-year-old victim, who spoke to CBS New York on Sunday but did not want to reveal his identity for safety reasons, says the incident began when he stepped in after he saw the individual hit the child on the E train.
"He was crying, and that's why caught everybody's attention -- the noise when he hit him on the arm," the man said. "I have two kids. I wouldn't do anything like that. That's why I couldn't hold myself when I say, 'Listen, what you're doing is not right.'"
Footage released by the NYPD shows the suspect go on a expletive-laced tirade, waving the weapon and spitting at the subway rider before getting off the train at the West 4th Street stop.
"Why you hitting your son?" the victim asked.
The suspect replied: "Because he's my son and I can do that."
At one point, he even yelled at the suspect to stop.
"I'm not stopping nothing until you do something" the suspect said.
The incident occurred on June 24. The victim was with his wife and 4-year-old daughter, who asked her dad if everything was OK.
The suspect at one point tells the victim's daughter: "Yeah, it's fine, your daddy will get killed on this train."
Police said the suspect is wanted for menacing, but in the meantime, the victim is worried he might come across him again because he takes the E train regularly.
"If he pull a knife and threaten your life in front of everybody and holding his child at the same time, he's a guy (that) doesn't have anything to lose," he said.
He said he was just trying to do the right thing, but now will never intervene again.
Thanks for reading CBS NEWS.
Create your free account or log in
for more features.