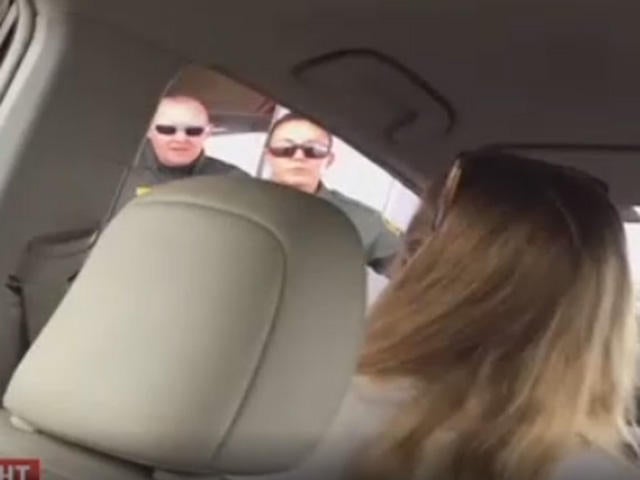 Video of teacher's confrontation with Border Patrol agent goes viral
SAN DIEGO -- Video of a San Diego teacher's tense confrontation with Border Patrol agents at a checkpoint in New Mexico has gone viral after she was asked if she was an American citizen, reports CBS San Diego affiliate KFMB-TV.
San Diego mother and middle school teacher Shane Parmely refused to answer.
"As the back-and-forth began, Parmely is heard on the video remarking, "I'm passing (on) a federally-funded highway, driving, minding my own business. And I get pulled over and asked if I'm a citizen."
Turning around to address someone in the back seat, Parmely says, "I'm not answering."
She tells an agent, "You can ask me. I don't have to answer."
As Parmely's family recorded the lengthy interaction, which she posted on her Facebook page, an agent showed her a card listing immigration law.
Parmely: "Am I free to go, or are you detaining me?"
Agent: "You are being detained, ma'am."
Parmely's friend, Gretta Rodriguez, later told KFMB, "(Shane's) kids don't go through any of that. And so every time we go, my kids get aggressively interrogated. And so they've learned to deal with it."
Parmely said she refused to answer in a show of solidarity with some of her friends who say they or their children have been aggressively interrogated by Border Patrol agents.
"It's horrifying to hear what has happened to my friends' kids, who are just brown," she said.
In a statement, a spokesman for the Border Patrol said:
"Border Patrol checkpoints are critical tool for the enforcement of our nation's immigration laws. At a Border Patrol checkpoint, an agent may question a vehicle's occupants about their citizenship, place of birth, and request document proof of immigration status, how legal status was obtained and make quick observations of what is in plain view in the interior of the vehicle. During the course of the immigration inspection, if an occupant refuse to answer an agent's questions, the agent may detain the driver for a reasonable amount of time until he or she can make a determination regarding the occupant's immigration status. It is agency policy that all individuals with whom we interact are treated with dignity and respect."
Parmely said she and her family were detained for approximately an hour-and-a-half before being released.
She says she didn't answer the agent's question.
Thanks for reading CBS NEWS.
Create your free account or log in
for more features.