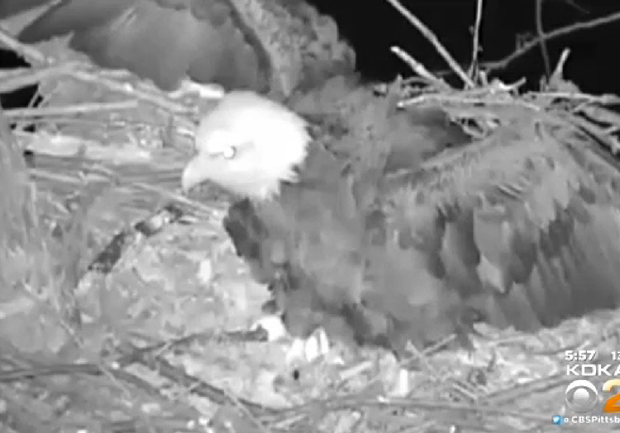 Video: Mother bald eagle fends off raccoon attack in Pennsylvania
PITTSBURGH - There was a close call for a pair of bald eagles nesting in Hays, Pa. after a raccoon attacked their nest, CBS Pittsburgh reports.

February's been a sedentary month for mother eagle, who has spent her days warming the eggs she's laid.

But at 11:15 p.m. Wednesday, she was asleep on the eggs while protecting them from the cold when -- as a night-vision camera shows -- her peaceful duty was jarringly interrupted.


Awakened, she turns her head realizing something's approaching -- just before this -- a predatory raccoon lunges into the nest and sets upon the three eggs trying to ferret one away.

For a moment the mother eagle jumps back, but then begins flailing her seven-foot wing spread before thrusting out her sharp talons, and in seconds she scares the raccoon away.

Though she can't be heard, she continues making a loud clamor during his retreat.

"She's obviously very protective," Gary Fujak, of the Pennsylvania Game Commission, said.

The Game Commission says that raccoons are notorious filches of bird eggs, but rarely in these parts have they come face to face with eagles.

And eagles possess more than enough weapons in their arsenal to fend them off.

"Obviously, they're a very intimidating bird, a very large bird," Fujak said. "They have their talon, the primary sources. They're going to use wings to make themselves look bigger, and their beak, they've got some strength there, too."

Fortunately, the eggs appear to be unharmed.

In fact, the raccoon may have come within a second or two of a full-on counterattack by mom.

"Absolutely, if the raccoon isn't careful he might end up on the dinner table," Fujak said.

So, the eagles will remain hyper-vigilant throughout this nesting and fledgling phase until their young take wing, and if there are any future attacks, raccoon may well end up on the menu.
Thanks for reading CBS NEWS.
Create your free account or log in
for more features.