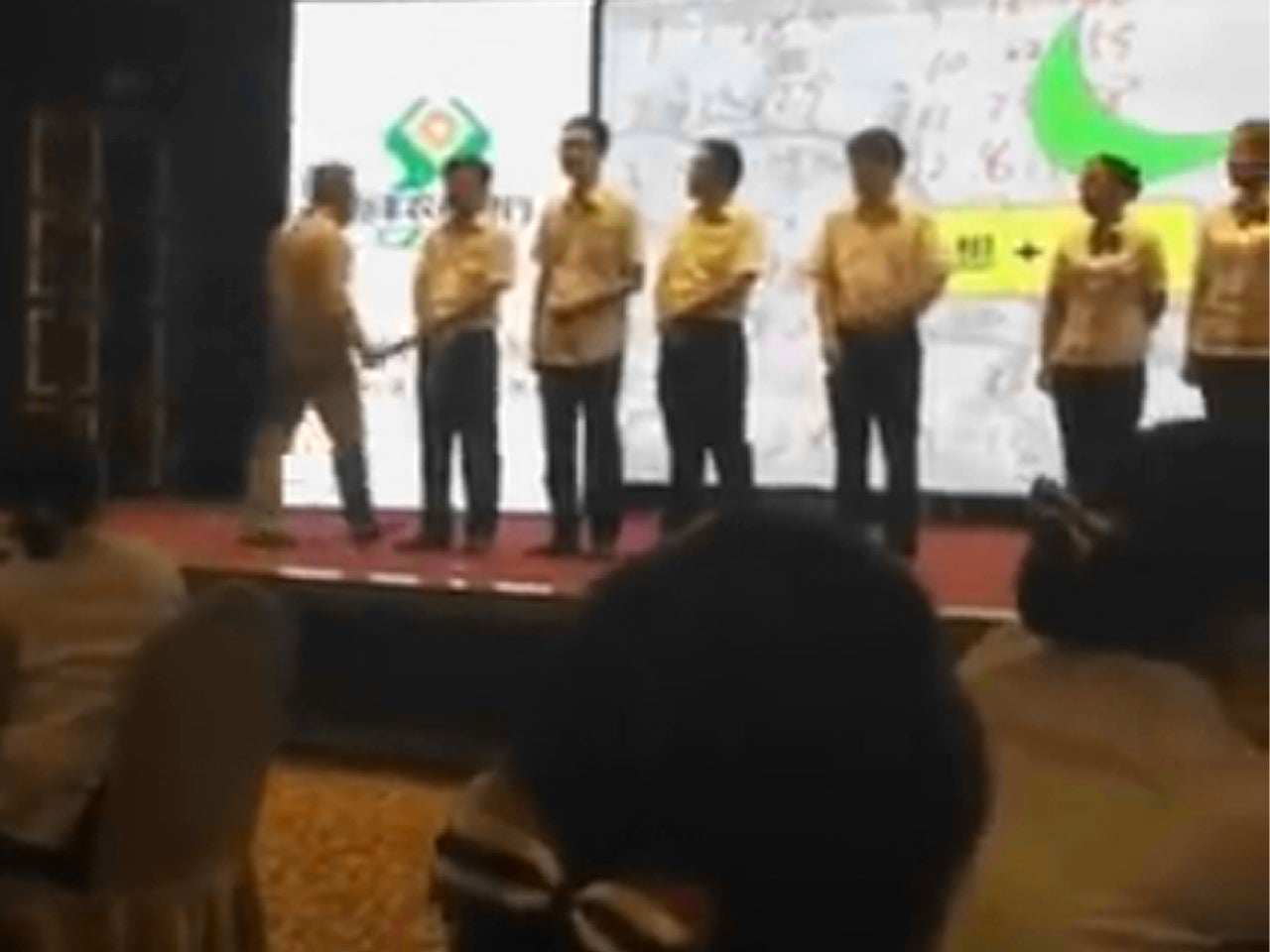 Trainer seen on video spanking bankers for poor performance
Video apparently showing a corporate motivational coach spanking Chinese bank employees for substandard work has spread across the Internet in China, drawing criticism and an unusual confession from the spanker.
"Spanking was a training model I have been exploring for many years," trainer Jiang Yang said on his Chinese social media account, according to the Reuters news agency.
Changzhi Zhangze Rural Commercial Bank, in the northern province of Shanxi, contracted a firm based in Shanghai to try and improve staff performance.
As part of his motivational message, the cell phone video -- which has been viewed many thousands of times on Weibo, China's version of Twitter -- shows Jiang walking back and forth behind a row of eight bank employees on a stage, doling out loud smacks to each of their backsides with what appears to be a paddle or broad stick every time he passes.
Some of the employees (four women and four men) appear to wince in pain at the blows.
According to Reuters, a government body tasked with oversight of rural banks suspended the manager at Changzhi Zhangze Rural Commercial and a deputy governor, and demanded that Jiang apologize.
China's government-controlled People's Daily newspaper quotes the trainer in the cell phone video, which is filmed from an audience perspective, possibly without his knowledge, why their performance in the training exercise was so poor.
The employees offer excuses including: "because I have not exceeded myself!"
According to Reuters and the People's Daily, the trainer also shaved the heads of some of the male bank workers and cut the hair of some of the female staff -- again as punishment for poor performance.
The People's Daily reported that bank management had demanded an apology from Jiang for his "Breakthrough in Performance" class, and that possible financial compensation for those beaten was being discussed.
According to Reuters, there were numerous castigations of the bank over the incident on Weibo, including user Denny Tangmashi, who asked: "Since when does beating employees become a way of raising performance?"
Another blasted the punishment as too lax, suggesting the bank managers and contracted trainer all be "beaten with a stick!"
Thanks for reading CBS NEWS.
Create your free account or log in
for more features.