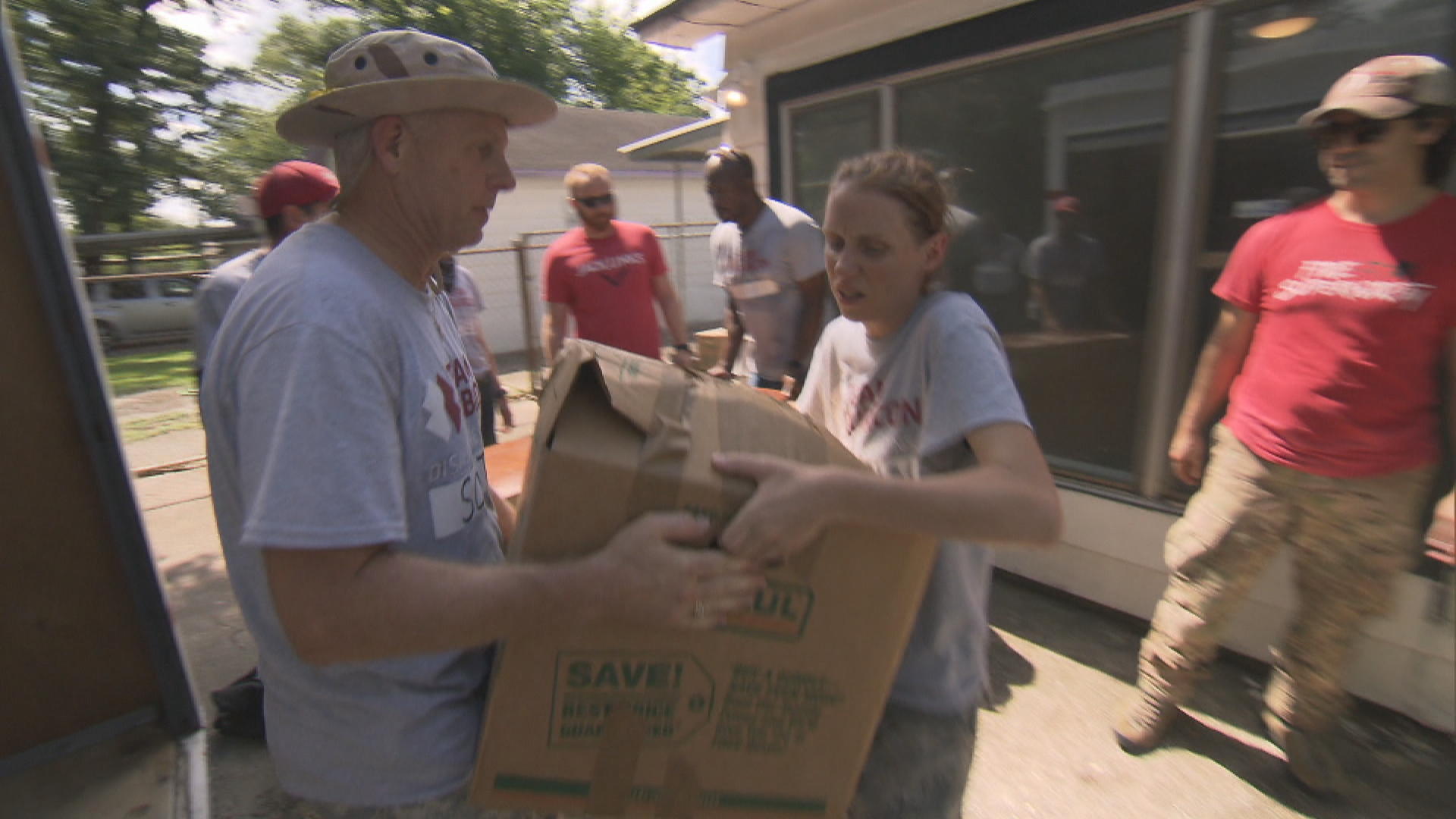 Veterans team up to rebuild Houston homes damaged by Hurricane Harvey
Our series "A More Perfect Union" aims to show that what unites us as Americans is far greater than what divides us. In this installment, a small group of military veterans and several dedicated volunteers are helping to rebuild Houston, still recovering from Hurricane Harvey, one home at a time.
---
For Courtney Collum, the opportunity to help displaced Houston residents return home has helped turn her own life around.
"Everything I felt that I was doing in life wasn't working out," Collum said.
After four years in the Coast Guard, and suffering from post traumatic stress disorder, Collum found Team Rubicon, a disaster response organization made up of military veterans and volunteers, helping to rebuild Houston.
"I figured, if I'm miserable, I might as well go help other people," Collum said. "But by helping others, it pulled me out of that."
The house Collum is refurbishing belongs to the Postel family, who had to be evacuated by boat when the storm hit.
"All of a sudden my daughter comes runnin' up to us and she says, 'Mom, the bedrooms are flooding,'" Jessica Postel said.
With 22 inches of water inside the home, a terrorizing fear set in that the house was a lost cause.
"After 19 years that we've lived here, never once have we been flooded," Postel said. "And when the water came in, there was no stopping it."
Living outside the floodplain, the Postels had no flood insurance and lacked the funds to rebuild on their own. Help from Team Rubicon was a dream come true.
"They are my angels," Postel said. "They've come and they've helped our family. When we thought that there was no prayer, no answer, Team Rubicon came in."
For Collum, this was the payoff.
"I had never had so many people tell me how proud they were of me," Collum said. "And it is amazing."
From the air, Houston today looks dry and livable. But nearly a year after Harvey struck, thousands of the city's residents are still waiting to return home.
Team Rubicon saw that as an opportunity.
Former U.S. Marine Elliot Rios said he felt compelled to act after the relief agencies and thousands of volunteers left Houston in the months after the storm.
"I didn't see as much of a response as I had wanted to see," Rios said. "We are filling the need for a group, a community of individuals that would have never gotten the opportunity to go back into their home."
Brian Calcagno, a former Army pilot, flew Black Hawk helicopters during two tours in Iraq before finding Team Rubicon as a way to continue to serve.
"It doesn't matter what your background is," Calcagno said. "Doesn't matter what your past is. You're here to help. And to be accepted into an organization like that and have that unconditional love is very hard to find this day and age."
For 67-year-old Barbara Herndon, who spent 20 years in her home before being forced to escape Harvey's rising tides, that unconditional love brought her home again on a recent steamy afternoon.
"I had envisioned I was gonna cry, but I'm not cryin', thank you, God," Herndon said with a laugh as she wiped sweat from her brow. "I got enough water comin' out of me."
After moving Herndon in, Team Rubicon began work on another home the very next day.
The cycle of veterans helping others, and themselves, begins again.
Thanks for reading CBS NEWS.
Create your free account or log in
for more features.