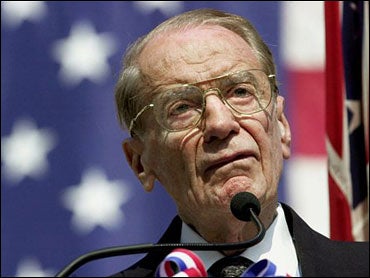 Veterans' Champ Montgomery Dies
Former Rep. Gillespie V. "Sonny" Montgomery, who championed the needs of veterans during his 30 years in Congress and was hailed for pushing through a modernized GI Bill in 1984 that boosted recruiting for the all-volunteer force, died Friday. He was 85.
Montgomery, who underwent surgery to correct a bowel obstruction in December, died at Jeff Anderson Regional Medical Center in his native Meridian after a lengthy illness. He had been hospitalized for several days. Funeral arrangements are incomplete.
A conservative Democrat, Montgomery represented an east-central Mississippi district in Congress from 1967 to 1997, and for 13 years was chairman of the House Veterans Affairs Committee.
"Sonny will be remembered as a Mississippi statesman with a 30-year dedication to our armed forces and veterans," said Rep. Chip Pickering, R-Miss., who was elected to replace Montgomery in 1996 after Montgomery opted not to seek re-election.
"His legacy of public service stretches across generations and across party lines and is a testimony to his vision of strong America that honors our commitments to military service," Pickering said.
Montgomery was a veteran of 35 years of military service. He served in the Army in Europe during World War II, then returned to active duty during the Korean War as part of the National Guard. He retired from the Mississippi National Guard in 1980 with the rank of major general.
The GI Bill has existed in some form since 1944, when the United States developed the program to benefit World War II veterans who were returning home. The educational benefit has had many different names since, but it was modernized for a peacetime, volunteer force as the Montgomery GI Bill in 1984. Among other things, the Montgomery Bill was the first to offer education benefits to National Guard and Reserve personnel.
In a 1993 speech, Montgomery recalled the struggle to get the bill passed. He said that while all the GI bills have helped veterans readjust to civilian life, his has the added purpose of being "a tremendous incentive for bright young men and women to join our armed forces."
"Smart, motivated young men and women just weren't going into the military," he said.
He recalled telling an opponent of the bill during a late-night House-Senate conference that "if I had packaged this program like a missile, shaped it like a cone, filled it with gunpowder and stuck a fuse on it so it could blow up the world, it would pass this conference in a minute."
Montgomery won the day, and President Reagan signed the bill into law in October that year.
Under the New GI Bill, veterans with two years of active service who contributed $1,200 of their own money were eligible to receive tuition payments of $300 a month for 36 months.
The Army and Navy then kicked in an additional payment of more than $200 a month to bring the total benefits to roughly $17,000. The payments have been raised since then.
In a 1990 White House ceremony attended by Montgomery, the first President Bush, a good friend of Montgomery's, said the version enacted in 1984 was "an important component in the success of America's all-volunteer forces" and "among the most practical and cost-efficient programs ever devised."
"Sometimes we forget about the veterans and those who have done so much for our country," Montgomery said at a Veterans Day ceremony in November 2001, two months after the Sept. 11 attacks.
During his years on the Armed Services Committee, Montgomery urged lawmakers to improve the National Guard and Reserves.
He made 14 trips to Southeast Asia during and after the Vietnam War in support of the troops and then as leader in efforts to determine the fate of POW/MIAs from the conflict. In 1990, he negotiated with the North Korean government to bring home the first set of remains of U.S. servicemen killed during the Korean War.
In 1990, he was part of a congressional delegation that went to Korea to receive the bodies of five American servicemen killed in the Korean War in the early 1950s. The event was widely seen as a gesture by communist North Korea to improve relations with the United States.
"This is a historic occasion ... recognition for Americans who fought in Korea, recognition that has not come for 40 years," Montgomery said at the time.
Montgomery was also part of a largely Southern group of conservative Democrats, dubbed the Boll Weevils for the tiny beetle that devours cotton plants, who helped Republican President Reagan enact his economic agenda.
He helped establish the House Prayer Breakfast Group and was a faithful participant in the weekly gatherings for more than 35 years. In 2000, the House of Representatives named the meeting room in the U.S. Capitol used for the gatherings in his honor.
He first won the seat in 1966, first defeating three opponents in the Democratic primary, then two more in the general election. He succeeded Rep. Prentiss Walker, who ran for U.S. Senate. He easily won 14 more terms, usually getting more than 80 percent of the vote. But over the years the district — overwhelmingly Democratic in the old days of the "Solid South" — became heavily Republican. Even Montgomery's winning total dropped to 68 percent in 1994 from 81 percent two years earlier. In 1996, a Republican, Pickering, was elected to replace him.
Montgomery served under seven presidents. When the first President Bush was in the House in the late 1960s, he and Montgomery often played tennis, and Montgomery was a frequent visitor to the White House during his presidency and even spent Christmas holidays with the Bush family at Camp David, Md.
In 2005, Montgomery was one of 14 people awarded the Presidential Medal of Freedom, the nation's highest civilian honor, by the second President Bush. He also was awarded the Department of Defense Medal for Distinguished Service in 1995.
Montgomery was born in Meridian on Aug. 5, 1920. He joined the Army immediately after graduating from Mississippi State University in 1943. Serving in the European Theater during World War II, he won the Bronze Star for Valor, Legion of Merit and Combat Infantry Badge.
Montgomery never married. Although he traveled throughout his life, Montgomery always kept his heart at home, even after retirement.
"Meridian is still my home. I've been active and have not walked away from Meridian. I plan to be buried here — but not yet," he said in 1999 as he sought to raise funds for the World War II memorial in Washington.
The monument was dedicated just before Memorial Day 2004.
Montgomery operated a successful insurance business in Meridian before being elected to the Mississippi State Senate in 1956. He served in the Legislature for 10 years before being elected to Congress in 1966. Among his accomplishments in Jackson was creation of the Mississippi Authority for Educational Television.
Montgomery remained in Washington and operated a lobbying firm immediately after retiring from Congress in 1997. His company, The Montgomery Group, worked on defense, veterans, and health care issues. He retired in 2004 and returned to Meridian.
A C-17 Globemaster aircraft was named the "Spirit of G. V. (Sonny) Montgomery" during a ceremony at an Air Guard base in Brandon to honor his support of the National Guard. Only two other military aircraft have been named in honor of a person.
In December 2005, an Army gunnery range at the Camp Shelby military training facility near Hattiesburg was named for Montgomery. The G.V. "Sonny" Montgomery Multi-Purpose Range Complex provides advanced training at the small unit level.
In May 2005, a life-sized statue of Montgomery was dedicated during a ceremony on the southwest lawn of the Mississippi State Drill Field on the Starkville campus.
In Jackson, the Veterans Hospital bears his name.

Thanks for reading CBS NEWS.
Create your free account or log in
for more features.