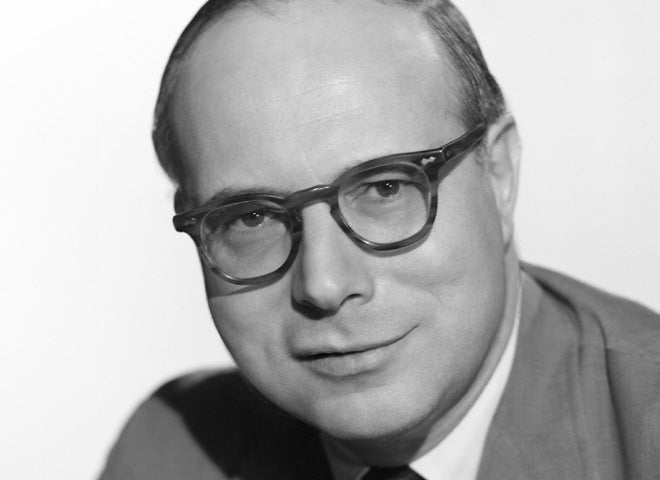 Vet investigative reporter Jay McMullen dies
(CBS News) Jay McMullen, a pioneering investigative reporter for CBS News who was among the first to employ hidden cameras and go undercover to produce award-winning documentaries, died today of natural causes in Greenwich Woods Hospice. He was 90 and lived in Greenwich, Conn.
McMullen spent all but two of his 37-year career at CBS, where he worked with the likes of Edward R. Murrow and Walter Cronkite to compile a seminal body of radio and television documentary work.
McMullen's topics addressed the big issues of the times, including crime, race, politics and business, with his groundbreaking work often making headlines and affecting change. One 1964 expose for the "CBS Evening News," on illegal mail-order traffic in amphetamines and barbiturates, spurred federal legislation. President Lyndon Johnson invited McMullen to attend the signing of the Drug Control Act of 1965; McMullen declined, and went on vacation instead to avoid the limelight.
Perhaps the most memorable of McMullen's documentaries was "Biography of a Bookie Joint," which was narrated by Walter Cronkite and McMullen. The November 1961 "CBS Reports" broadcast used a surveillance camera across the street to record gamblers - including uniformed police - entering and leaving a Boston betting parlor disguised as a key store. McMullen went undercover to place bets and get footage from the inside using an 8mm camera inside a lunch box.
High-ranking Boston police were demoted and the police commissioner, who declined an interview for the hour, later resigned.
Click on the video player above to watch the report "Biography of a Bookie Joint."
A methodical investigator, McMullen's work often took many months to produce and drew complaints from the legendary Fred Friendly, who supervised him at the CBS Reports documentary unit before becoming president of the news division. But even the perfectionist Friendly had to praise the results, and considered McMullen the first investigative television reporter.
The quiz show scandals of the late 1950s led to a new era of earnestness at the three networks that became fertile ground for the television documentary. McMullen turned in his radio documentary experience for a charter membership in the growing genre, soon becoming the star of its most visible and acclaimed series, "CBS Reports." He was the writer, reporter, producer and sometimes director of CBS Reports' hour-long broadcasts.
After 1963, when the evening news grew to 30 minutes from 15, his work also appeared in shorter investigations for "The CBS Evening news with Walter Cronkite."
Much of McMullen's work was controversial, none more so than his "Project Nassau," an attempt in 1966 to film what was presented to him as a coup plot against the Haitian government in which he suspected CIA involvement. "Project Nassau" never made air. He aborted it when he had to fire a freelancer for staging scenes and then came to believe the participants were using him for publicity. This got out, causing a Congressional subcommittee to hold hearings, accusing CBS of staging scenes and financing the nascent coup - charges denied by the Network.
No prosecutions or legislation resulted, and McMullen said Congress was just posturing. "In the background was the question as to what extent the CIA may have been involved in trying to bring about a change in the government of Haiti, which was what I was really looking into," he said in an interview for the book, "Producers on Producing." "And that's what made a Congressional committee see red....Of course, events later produced evidence that the CIA, in fact, had been involved."
McMullen often went undercover to film his stories and won an Emmy for his most dangerous work, the 1972 CBS Reports broadcast "The Mexican Connection." Posing as a prospective drug buyer, he spent eight months in Mexico documenting how marijuana and opium were smuggled by airplane into the U.S., and was able to capture a deal with his hidden camera and microphone. The piece echoed another CBS Reports hour McMullen did in 1964, "The Business of Heroin," in which he tracked the drug from its origins as a poppy flower in Turkey to fixes for addicts on New York City streets. It won an Albert Lasker Award.
Other standouts include: the Sydney Hillman Award-winning news special "The Tenement" (Feb. 1967); "The Silent Spring of Rachel Carson" (April 1963), which won a Saturday Review award; and "A Real Case of Murder: The People vs. Peter Manceri" (March 1961), which took an American Bar Association Gavel award.
Jay Latimer McMullen was born in Minneapolis on April 8, 1921 and raised in Cleveland, Ohio. He attended Dartmouth until World War II broke out, when he joined the Volunteer Ambulance Corps in 1941. He served as a driver with British troops and the French Foreign Legion in the Middle East before joining the U.S. Army in Algiers in 1943.
He got his first taste of broadcasting as an Army correspondent for NBC Radio's "Army Hour," winning a Bronze Star for his European reports.
He completed his undergraduate degree at Columbia University after his service, earning his B.S. in 1948. He stayed on at Columbia doing graduate work in political science, while working as director of special events for Brooklyn radio station WBYN, and then as a radio commentator for WINS New York.
McMullen joined CBS in 1949 as a writer on the television public affairs show "Vanity Fair." He left the company and returned twice between 1950 and '53, during which time he worked on the U.S. Army Signal Corps television documentary series "The Big Picture." When he returned to CBS, he began to produce radio documentaries and discovered his calling.
One of his first, "Babies, C.O.D." (Nov. 1954), about adoption, won him a Sigma Delta Chi award. His powerful 1958 investigation narrated by Murrow, "Who Killed Michael Farmer," about a disabled boy murdered by a gang of youths, won several honors, including the George Polk Award . He won broadcasting's coveted Peabody Award for a radio series he wrote and produced called "So They Say" (1956-'57), a weekly wrap-up of the newsmakers in their own words.
In 1959, he was a natural choice for the creation of the CBS Reports television unit, where he was an integral part for the next 25 years until his retirement in 1985. During much of his time in this unit, he was a unit unto himself, enjoying a separate and autonomous status.
It was a journalist's dream. "I enjoyed my work. I believed that what I was doing was important," he is quoted in "Producers on Producing." "My ambition was to be able to feel like I was involved in some sort of service. I ended up writing, narrating, reporting - in other words, having complete control over the broadcasts I did. For a journalist, that's great."
McMullen is survived by his wife of 58 years Diane (nee Fryburg); daughters Anne McMullen of Olympia, Wash., and Diana Lepis of Stamford Conn.; three grandchildren, Sara Lepis of Stamford, Gavin McMullen Reub and Lindsey Anne Reub of Olympia; and sons-in-law Greg Reub of Olympia and Vincent Lepis of Stamford.
Thanks for reading CBS NEWS.
Create your free account or log in
for more features.