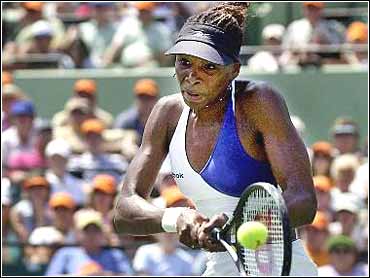 Venus Williams stood a single point from defeat eight times. Her game was erratic, the weather hot, the match long and the crowd firmly in Jennifer Capriati's corner.
But Williams would not fold. The past couple of weeks she endured a lot jeers at Indian Wells, talk of fixed matches, a debate started by her father regarding fan racism so eight pesky match points weren't about to rattle her.
She won them all, then won the last point as well Saturday to beat Jennifer Capriati 4-6, 6-1, 7-6 (4) in a sloppy but scintillating final in the Ericsson Open.
The men's final Sunday will be another all-American matchup: No. 3 Andre Agassi against No. 19 Jan-Michael Gambill. Agassi advanced by beating No. 8 Pat Rafter 6-0, 6-7 (2), 6-2.
Williams earned her third title at Key Biscayne, where she has won 18 consecutive matches since 1998.
"I was just able to hang in there through it all, through all my tough matches, through any ridiculous comments or questions I had to face," she said.
The third-seeded Williams surmounted the controversies and survived a 2-hour, 24-minute final that was a fascinating combination of clunker and classic.
No. 4 Capriati literally missed by inches in a bid for her first title since winning the Australian Open in January. She managed to muster a smile during the trophy ceremony.
"It was a super close match," she said. "It was too bad somebody had to lose."
Most of the cheers during the match were for Capriati, who grew up in Florida and has been a sympathetic figure since her tumultuous adolescence. But Williams had her supporters, too, and received a warm ovation when handed her trophy.
"I got some lucky points," she told the crowd, "and here I am."
Both players were lucky to reach a third set, because the first two were abysmal, as were the final statistics. There was a double-double in double faults 16 by Capriati, 11 by Williams and the number of unforced errors was equally staggering 53 by Capriati, 71 by Williams.
But with the court temperature around 100 degrees, both players showed remarkable fitness and resolve. As the tension built in the third set, the quality of play improved markedly and sometimes bordered on brilliant.
Capriati had three match points serving at 5-4, then five more serving at 6-5. She made an error on seven of the eight match points, but several came at the end of furious rallies, and twice she hit shots past Williams that were lon by an inch or two. On one apparent winner, a crosscourt backhand, Capriati pumped her fist in jubilation before realizing the ball had been correctly ruled out.
She double faulted on her final match point, and Williams saved that 26-point game to make the score 6-6 and force the tiebreaker.
"I never really felt like I was going to lose," Williams said. "I wasn't nervous at all."
She took advantage of Capriati's mounting frustration and seized a 6-1 lead in the tiebreaker.
"Maybe, like, mentally I got kind of got discouraged after letting so many match points go," Capriati said. "I kind of had a letdown in the tiebreaker, I guess, maybe the first few points."
Capriati saved three match points herself to close to 6-4 in the tiebreaker, then hit a backhand into the net, and a weary, triumphant Williams smiled in relief.
Williams earned $375,000 and strengthened her claim as the best player on the women's tour. Her ranking next week will rise from third to second for the first time, behind only Martina Hingis, whom she beat in the semifinals.
Capriati won $195,000 and sounded eager for a rematch. The only other time she faced Williams was at Key Biscayne four years ago.
"She's definitely, like, beatable," Capriati said. "It's not like I wasn't close."
Agassi, off to perhaps the best start of his career this year, took a one-set lead on Rafter in 17 minutes and feasted on the Australian's second serve throughout the match.
"He was on fire at the beginning," Rafter said. "He made me play all the tough shots, and he made the passes and winners whenever he needed to."
Agassi will be a heavy favorite to win his fourth Key Biscayne title Sunday. But Gambill, 23, has won 12 of his past 13 matches and will crack the top 10 for the first time Monday.
"It means a lot to American tennis to have young players playing so well like Jan-Mike," Agassi said. "For me it's great before the match, and it's great after the match. But during the match, there is no nationality."
©2001 The Associated Press. All Rights Reserved. This material may not be published, broadcast, rewritten, or redistributed
Thanks for reading CBS NEWS.
Create your free account or log in
for more features.