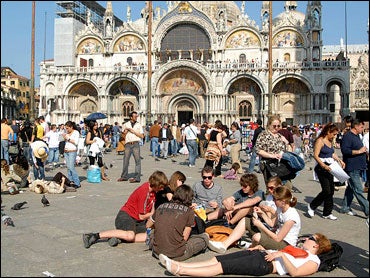 Venice: Too Many Tourists?
A message to visitors to Venice: No bare torsos in St. Mark's Square. No lounging on the monuments. And no feet dangling in the canals.
Henry James observed more than a century ago: "Though there are some disagreeable things in Venice there is nothing so disagreeable as the visitors."
Multiply that in the bargain-travel era: A whopping 20 million tourists are expected this year, and many are just the kind of day-tripper believed to wreak the most havoc on Venice's delicate ecology and architecture, without leaving behind a financial footprint that would help officials at least neutralize their impact.
"Venice has a cultural history that needs to be protected. The image of the city is being hurt by the napkins that are being left in St. Mark's Square," said Augusto Salvadori, the city official in charge of public conduct. He has launched the campaign to encourage tourists, and Venetians, to treat the city in a manner befitting its stature.
Salvadori has had signs erected around the city advising visitors: Don't picnic in public places. Don't treat the canals as if they were a beach. Don't write messages for fellow travelers on the monuments. Violaters face fines of $67, and the city has deployed enforcement stewards.
But such practical admonishments, while welcome, don't address the root of the problem, say conservationists and historians, who argue that Venice's image is cheapened by travelers who zip in, snap a few photos and zip out, without appreciating the city on a deeper level.
"The city is gradually assuming the stereotype that tourists have when they are here. ... From the tangible point of view, it is being consumed, dismantled by the confrontation with the customer-oriented attitude, which says, 'You are the tourist, the client, tell us what you want and we will give it to you,"' said Pierluigi Sacco, a professor of design at Venice's University IUAV who is active in the efforts to protect Italian art cities.
"That is very good for an amusement park, but not an art city."
Sacco's prescription is to raise cultural offerings to heighten tourists' commitment to the city — augmenting the Biennale, a contemporary art show that draws several hundred-thousand visitors every two years, and the annual Film Festival held on the Venice Lido.
Venice Mayor Massimo Cacciari has ruled out charging an entrance fee to the city as unmanageable, but he is pushing Rome to reconsider a lodging tax of a few dollars on overnight visitors to help cover the costs of such services as trash removal — which must be done by hand cart in many Venetian quarters.
Other proposals include preferential itineraries to help focus the tourist flow and adding more water buses.
The impact of mass tourism on art cities like Venice is gaining increasing attention throughout Europe, and is the subject of frequent conferences, including one organized in May by the Veneto Institute for Science, Art and Letters that attracted art historians from France and Italy.
In Venice, the emergency is exacerbated by its unique geography — a lagoon city built on marshy land crisscrossed by canals. For decades, conservationists have warned about the impact of floodwaters on Venice. But now the warning is about the flood of tourists.
Their numbers are driving up real estate prices as palazzi get bought up and converted into tourist accommodations, driving native Venetians to the mainland and turning the city into a museum as stores that cater to locals' needs disappear with them. By now, Venice is a city without a low season.
"It should be a sustainable tourism," said Mieke Von Molle, director of the UNESCO-affiliated Association of Private Committees for the Safeguarding of Venice. "It is an important resource for the city, of course, but it becomes a bit oppressive. I hear the residents, the real Venetians, complaining."
Von Molle says she has heard reports of up to 150,000 tourists in and out of the city in one day — more than double the city's population of 60,000.
Besides day-trippers staying in nearby cities, the number of people arriving on cruises has surged in recent years, officials say, making common the surreal sight of enormous ships passing through the broad Canal Giudecca as if navigating among the city's church domes and bell towers.
Alessandro Migotto, 47, joined the exodus of natives to the mainland seven years ago. He runs a delicatessen that caters to tourists 50 paces off St. Mark's Square and said if his father hadn't bought their store decades ago he never would be able to afford to stay in business with retail rents in the quarter as high as $16,188 a month. He said Venetians share the blame for the city's problems.
"It's a culture of 'not-my-problem,'" said Migotto. "I travel to Germany, Austria and Switzerland, and they tell people not to leave trash around. Here, no one says anything. It's our fault."
In the end, Venice will always beckon tourists, as it has for centuries. And for a visitor, there is nothing like sipping a beer and soaking up the view of St. Mark's Cathedral across the pigeon-filled piazza. Yvon Guillevic, a middle-aged French traveler, offered the first swig to a stranger who had shared a bottle opener and unwrapped a bread roll — unaware that he risked a fine.
Guillevic, in Venice for the afternoon on a break from a business trip, said he could afford $10.76 for a small beer in a cafe, but considered the price a rip-off when he could buy a large bottle of Peroni for just $2.29.
"For me, it is not possible to visit Venice and not see Piazza St. Marco," said Guillevic. "My idea is to write a postcard, make a little poem."

Thanks for reading CBS NEWS.
Create your free account or log in
for more features.