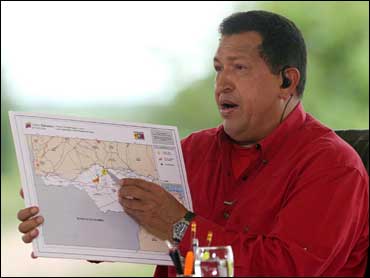 Venezuela To Host Russian Warships
Russia said Monday it will send a naval squadron and long-range patrol planes to the Caribbean for joint military exercises with Venezuela — a deployment in the Western Hemisphere unseen since the Cold War.
The apparently retaliatory move made at the time of heightened tensions in relations with the United States follows the U.S. deployment of warships to deliver aid to the former Soviet nation of Georgia, barely a month after Russian armor and aircraft crushed the Georgian military in a five-day war.
Russia's Foreign Ministry spokesman Andrei Nesterenko insisted Monday that Russia's decision to send the squadron and planes to Venezuela was made before Russia's war with Georgia.
"This deployment had been planned in advance, and it's unrelated to the current political situation and the developments in the Caucasus," Nesterenko said at a briefing.
But the announcement was made just a week after Prime Minister Vladimir Putin warned that Russia would mount an unspecified response to recent U.S. aid shipments to Georgia.
Venezuelan President Hugo Chavez, an unbridled critic of American foreign policy, was specific and blunt Sunday night about the possibility the U.S. might be concerned about the exercises.
"Go ahead and squeal, Yankees," Chavez said in a national broadcast in which he announced the exercises.
The United States mocked the announcement as State Department spokesman Sean McCormack poked fun at Russia's navy. He said that if Russia really intends to send ships to the Caribbean, "then they found a few ships that can make it that far."
Asked about Russia and Venezuela's plans for a joint military exercise, Defense Department spokesman Bryan Whitman said Monday that the Pentagon is not concerned. He said the U.S. military conducts exercises with other countries around the globe all the time and so do many other nations.
Nesterenko said the Peter the Great missile cruiser and three other Russian navy ships would visit Venezuela before the year's end, and would be joined by a unit of long-range anti-submarine patrol aircraft.
He did not say how many planes would be sent, but said they would be "temporarily based at one of Venezuela's air bases."
Nesterenko did not name the type of planes that would be deployed to Venezuela. Russia has two such planes: the Tu-142, which is an anti-submarine version of the Tu-95 Bear strategic bomber, and the smaller Il-38.
Russian Navy spokesman Igor Dygalo said in a statement Monday that the Russian squadron will sail to Venezuela in November. He said that Russian and Venezuelan ships will practice joint action in performing such tasks as search and rescue at sea. He said the agreement to hold the maneuvers was reached when Chavez visited Moscow in July.
Chavez said the Russian vessels would call on Venezuelan ports in late November or December.
The Venezuelan leader, who has cultivated close ties with Moscow and placed big orders for Russian jets, helicopters and other weapons, has repeatedly warned that the U.S. Navy poses a threat to Venezuela.
Diplomatic relations between Caracas and Washington have been tense for years. U.S. officials have said Chavez poses a threat to democracy, and Chavez has emerged as Latin America's most outspoken critic of U.S. foreign policy.
Nesterenko said the joint exercise would not be directed against any third country.
But Andrei Piontkowsky, an independent Moscow-based political analyst, said the planned Russian deployment to the Caribbean reflected the Kremlin's increasing readiness to challenge the United States.
"The Kremlin likes to flex muscles and posture like a superpower," he said.
Sergei Markov, a pro-Kremlin lawmaker, sought to downplay the deployment to Venezuela, saying that it would likely be an one-time action rather than the beginning of a regular military presence. "I don't think that Russia will systematically use it," he said.
"We need bases on the territory of Iran and Syria where our strategic interests lie," Markov added without elaboration.
Russian officials have talked in the past about re-establishing a permanent presence in the Mediterranean using a Soviet-era base in Syria. They haven't talked about any possible bases in Iran.
Russian officials said past U.S. military assistance for Georgia had encouraged the Caucasus country to launch its offensive in South Ossetia, and argued that the new shipments could be a cover for weapons deliveries.
U.S. officials have dismissed those accusations, saying the ships are carrying only humanitarian supplies such as blankets and powdered milk.
Putin last week warned that Russia would respond to the U.S. aid shipments to Georgia, but he did not say how.
"We don't understand what American ships are doing on the Georgian shores, but this is a question of taste, it's a decision by our American colleagues," Putin said. "The second question is why the humanitarian aid is being delivered on naval vessels armed with the newest rocket systems."
Russia's reaction to the U.S. deployment to the Black Sea "will be calm, without any sort of hysteria. But of course, there will be an answer," Putin said.
Despite the presence of Russian troops on Georgian soil, President Mikhail Saakashvili said Sunday the West would help his country regain control of South Ossetia and Abkhazia, the separatist regions of Georgia recognized as independent nations by Moscow last month.
"Our territorial integrity will be restored, I am more convinced of this than ever," Saakashvili said in a televised appearance. "This will not be an easy process, but now this is a process between an irate Russia and the rest of the world."
"Our goal is the return of our territory and the peaceful unification of Georgia," he said.
Thanks for reading CBS NEWS.
Create your free account or log in
for more features.