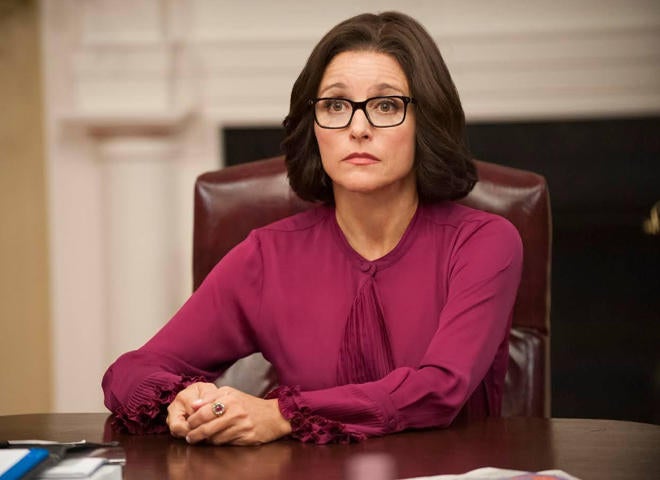 "Veep" stars respond to Australian lawmaker injured while laughing at show
Lesson learned: Comedy and eel sushi don't mix.
The stars of HBO's award-winning comedy series "Veep" have responded to news that their show caused an Australian politician to injure himself while watching.
Australian lawmaker Graham Perrett revealed that he laughed so hard during a recent episode of "Veep" that he choked on his eel sushi. In a panic, he jumped out of his seat and hit his head on a granite countertop in his Brisbane kitchen, knocking himself unconscious briefly and breaking his glasses.
Perrett ended up with a split nose and three stitches under a black eye.
"My wife walked in to find me knocked unconscious on the ground, with blood everywhere," Perrett told newspaper the Australian. "I must have been out for only a few seconds because when I came to again, I was still laughing."
Emmy-winner Julia Louis-Dreyfus was more than a little incredulous when she heard the story on Thursday, tweeting, "I mean, c'mon, I'm actually having a hard time believing it. But the real question is - what episode?"
But Perrett and the article's author were quick to respond and assuage her skepticism. "Well, thank you very much," she responded. "Take good care of yourself and for God's sakes - be careful!"
"Veep" showrunner David Mandel apologized to Perrett and to Australia following the incident.
"I would like to make an official statement on behalf of 'Veep' and the United States," Mandel told Buzzfeed. "We would like to apologize to Australia, our key ally in the Asia-Pacific region, for writing something that would cause bodily harm to your people."
Thanks for reading CBS NEWS.
Create your free account or log in
for more features.