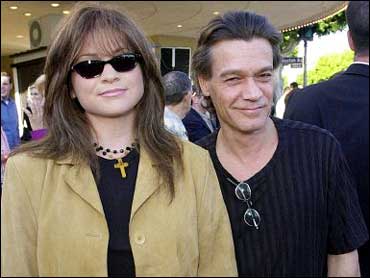 Van Halen And Valerie Bertinelli Split
Guitarist Eddie Van Halen and actress Valerie Bertinelli announced they have separated after 20 years of marriage.
The two have been secretly living apart for the past 10 months.
The 47-year-old guitarist, who disclosed a year ago that he was undergoing treatment for cancer, split from Bertinelli, 42, in October 2001, according to a spokeswoman for the actress, Heidi Schaeffer.
She declined to give further details, other than to say the couple's separation was amicable and that no third party was involved.
"Because they're the parents of a young son, they've requested that their family's privacy be respected at this time," Schaeffer said.
Schaeffer did not say whether the pair has plans to formally divorce.
The two have been living apart since summer 2001, when Bertinelli, 42, formerly of the sitcom "One Day at a Time," began a role on the CBS religious drama "Touched By an Angel."
Van Halen continued living with their 10-year-old son, Wolfgang, in Los Angeles while Bertinelli was filming the series in Salt Lake City.
They formally separated in October 2001, Schaeffer said.
Van Halen, 45, co-founded the rock band that bears his name in 1974 with his drumming older brother, Alex. Van Halen's 1978 debut album sold more than 10 million copies in the United States. Other hit albums included "1984," "5150" and "OU812."
The couple wedded in 1981 and theirs was among the longest lasting Hollywood marriages.
Thanks for reading CBS NEWS.
Create your free account or log in
for more features.