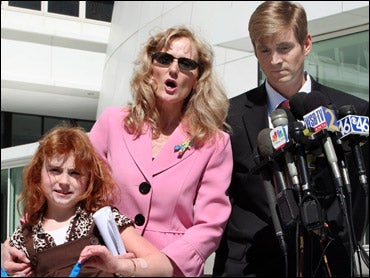 Vaccine Case: An Exception Or A Precedent?
It's a very controversial question that's been debated for some time: Is there a link between childhood vaccines and autism? For the first time, federal officials conceded that vaccines contributed to autism-like symptoms in one child. The case involved a 9-year-old girl whose family filed a legal claim against the government. And some believe that what happened to her could have major implications for other families, CBS News correspondent Sharyl Attkisson reports.
---

Terry and Jon Poling spoke publicly for the first time Thursday about a case being watched by thousands of families with autistic children.

"My daughter, who had been completely normal until getting nine vaccinations in one day, was suddenly no longer there," said Terry Poling, mother of 9-year-old Hannah.

Hannah Poling appeared to be like many children. At 19 months, her pediatrician noted she was "alert and active" and "spoke well."

At that same visit, she got five shots - nine doses of vaccines. She almost immediately developed fever, seizures and severe health problems.

Eight years later, the government has quietly conceded that vaccines aggravated a cell disorder nobody knew Hannah had, leaving her with permanent brain damage and autistic-like symptoms.

Rep. Dave Weldon, R-Fla., is also a doctor.

Weldon has long been pushing the government to aggressively work to develop ways to screen for children who might be the most susceptible to ill effects from vaccines.

The government has been telling the public for more than a decade that there's absolutely no reason to be concerned about any link.

"I wouldn't recommend they say something like that in light of the Poling case and the admission on the part of the government," Weldon said.

But Thursday, the head of the Centers for Disease Control responded.

"This is a complete mischaracterization of the findings of a very simple situation of one child with an unusual disorder, and it would be completely wrong to say that this has bearing to the vast majority of children with autism," Julie Gerberding said.
---

FYI: More information and resources on autism and vaccines.
Couric & Co. Blog: Autism, Why The Debate Rages.

---
While the Poling case is the first of its kind to become public, a CBS News investigation uncovered at least nine other cases as far back as 1990, where records show the court ordered the government compensated families whose children developed autism or autistic-like symptoms in children including toddlers who had been called "very smart" and "impressed" doctors with their "intelligence and curiosity" … until their vaccinations.

They were children just like Hannah Poling.

What's still being debated is whether the Poling case is an exception ... or a precedent.

Thanks for reading CBS NEWS.
Create your free account or log in
for more features.