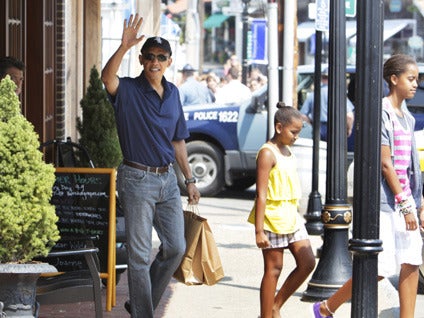 Vacationing Obama Given Franzen Book "Freedom"
Updated 4:56 p.m. Eastern Time
President Obama made the first public appearance of his 10-day Martha's Vineyard vacation today, stopping into the Bunch of Grapes Bookstore in Vineyard Haven for some summer reading.
CBS News White House correspondent Mark Knoller reports that Mr. Obama was given the newly-released book "Freedom," a work of fiction by Jonathan Franzen. Franzen is on the cover of this week's Time Magazine; his previous novel, "The Corrections," was a national bestseller.
CBSNews.com and other media outlets, working off White House comments, initially reported that Mr. Obama bought the book. That was not correct; it turns out he was given an advance reader copy of the novel, which does not officially go on sale until August 31st.
Bunch of Grapes Bookstore told Knoller it does not actually have publication copies of "Freedom." Advance reader's copies are given to bookstores to help them judge a book and determine how many copies to order. Bookstores nationwide have expressed frustration about reports that Mr. Obama bought the book, since they are not yet able to sell it.

In addition to being given "Freedom," the president bought a pair of books that one might expect on a tenth-grade summer reading list, cashier Leroy Hazelton told the Associated Press: "To Kill a Mockingbird" by Harper Lee and "The Red Pony" by John Steinbeck. (Those might have been for Sasha and/or Malia, who joined the president on the stop.)
According to the AP, crowds mobbed the bookstore when the president arrived, taking pictures and cheering. 14-year-old Brendan Murphy, who was in the store at the time, got the president to sign a copy of his memoir, "Dreams From My Father," that he had purchased.
"It was a once-in-a-lifetime thing; you don't usually see a president in the bookstore," his 12-year-old sister Ciara said.
Thanks for reading CBS NEWS.
Create your free account or log in
for more features.