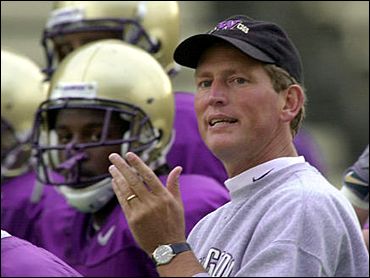 UWash Coach Out After Gambling
Rick Neuheisel will be fired as Washington's football coach for betting on NCAA basketball tournaments and lying to school officials about it, athletic director Barbara Hedges said Thursday.
Hedges told a news conference that she had started the process of firing Neuheisel "for just cause." Neuheisel, who has acknowledged to NCAA investigators he had bet on the tournaments, has been placed on paid suspension and has until June 26 to respond to the notice of termination, she said.
Hedges said a decision on a new coach would be announced in a few days.
She said she took the action "with deep regret," but that Neuheisel's actions and his initial denial required her to act.
"Rick's actions have left me little choice and have seriously undermined his ability to remain as head football coach at the university," she said.
Neuheisel said in an interview Wednesday night with KING-TV that he had been dismissed.
"This is a sad night for me because I've poured a lot of myself into this job — and it was a great job," Neuheisel said.
"I am not the guy they're portraying me to be," he said. "I'll find new challenges. I will hopefully scale new ladders."
The NCAA prohibits coaches from gambling on college sports.
Neuheisel admitted last week he had placed bets with neighbors on the NCAA tournament over the past two years, an action that NCAA president Myles Brand called "totally unacceptable behavior."
Neuheisel insisted he didn't believe he had broken NCAA rules because it was an informal off-campus pool. He also claimed an e-mail from the athletic department's compliance director gave him permission to participate.
It was the final episode for the 42-year-old Neuheisel after a series of brushes with trouble during his 4½-year tenure at Washington and, before that, for four seasons at Colorado.
Last fall, the NCAA banned Neuheisel from off-campus recruiting through this spring as punishment for 51 secondary rules violations at Colorado. The American Football Coaches Association later censured him for showing a lack of remorse.
Earlier this year, Neuheisel secretly interviewed with the San Francisco 49ers for their then-vacant coaching job but released a statement denying he had done so. He later admitted he had lied.
Neuheisel was the latest coach exposed in a string of embarrassing episodes.
Mike Price, Neuheisel's former cross-state rival coach at Washington State, was fired May 3 as Alabama's coach after he reportedly visited a topless bar and a woman billed about $1,000 worth of room service to his hotel room the next morning.
Larry Eustachy resigned as Iowa State's basketball coach on May 5, one week after publication of photographs showing him partying at an apartment in Columbia, Mo., after Iowa State's Jan. 21 loss.
Jim Harrick Jr., son of former Georgia head coach Jim Harrick, was fired in March after an academic fraud scandal. His father resigned later that month but probably would have been forced out.
Neuheisel's charismatic, easygoing manner has been well documented, too.
He was known for taking Colorado players on rafting trips and sometimes played a guitar in the locker room. He had pop music pumped through the Husky Stadium loudspeakers during practice.
Neuheisel was hailed for his 11-1 record and Rose Bowl title after the 2000 season and, the following season, his sensitive handling of the paralysis and subsequent death of safety Curtis Williams.
Asked whether it had hit him that he's no longer coach of the Huskies, he said Wednesday: "I didn't want to think about it during the fight during this last week because I thought it would derail my efforts.
"So I'm probably not dealing with reality, but the facts are the facts, and we deal with them."
The Seattle Post-Intelligencer, which reported late Tuesday that Neuheisel would be fired, also said that offensive coordinator Keith Gilbertson will become interim coach.
"I'm not going to get into any of that," Gilbertson told KING-TV. "I am not going to answer any questions that way. Rick is still the head coach of Washington, and Rick is still my boss."
Neuheisel was 33-16 at Washington after going 33-14 in four seasons at Colorado.
Picked by Colorado at 33 to succeed the retired Bill McCartney. Neuheisel went 10-2 in each of his first two seasons and 13-10 the next two. He joined Washington for the 1999 season, replacing the fired Jim Lambright.

Thanks for reading CBS NEWS.
Create your free account or log in
for more features.