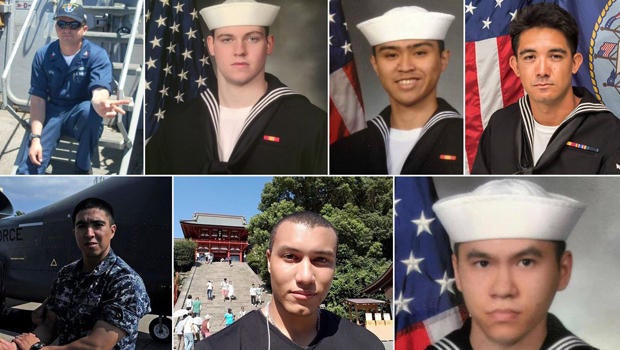 Stories of U.S. sailors killed in destroyer-container ship collision
Among the seven U.S. Navy sailors who died in the Saturday collision between the USS Fitzgerald and a Philippine-flagged container ship off Japan were an Ohio man expecting to retire soon, a Maryland man who was his father's best friend, and a former volunteer firefighter in his Virginia hometown.
There are at least four investigations underway -- three by U.S. authorities and one by Japanese officials. It remains unclear as to how a cargo ship was able to get so close to a U.S. Navy destroyer. The USS Fitzgerald's commander says the actions of roughly 300 sailors on board kept it from sinking.
CBS Radio military analyst, Mike Lyons, says the collision could have been caused by a language barrier, equipment failure or human error.
"Whoever was on the bridge was likely inexperienced and did not recognize the danger that was going on," Lyons said. "But (it) also could have been accelerating to possibly avoid the container ship as well."
On Monday, President Donald Trump tweeted, "My heartfelt thoughts and prayers are with the 7 U.S. Navy sailors of the #USSFitzgerald and their families."
Here are snapshots of the sailors' stories, taken from interviews of family and friends:
Shingo Alexander Douglass, California
Yeoman 3rd Class Shingo Alexander Douglass followed in his father's footsteps in joining a maritime branch of the military, enlisting in the Navy in 2014.
He started working aboard the destroyer in 2015. Last October, he joined his shipmates on a visit to an orphanage in South Korea as part of a community service project. Douglass was seen pushing a disabled orphan in a wheelchair, according to the San Diego Union Tribune.
His father, Ret. Marine Corps Master Sgt. Stephen Douglass, told the newspaper that his 25-year-old son was an avid videogame player "and a really good kid."
He had just gotten promoted in May. A 2010 Fallbrook High School graduate in Fallbrook, north of San Diego, he was not married.
"My mind's going a mile a minute," Douglass' father said. "We're still in sort of a state of shock."
Noe Hernandez, Texas
Gunner's Mate 2nd Class Noe Hernandez was a tremendous source of pride for his family, a relative told CBS DFW.
"We all came from poverty in Guatemala. He was the one who made it," said cousin Aly Hernandez-Singer. "We lived through his experiences. His travels."
The 26-year-old Hernandez, of Weslaco, Texas, had been stationed in Illinois, Italy, California and Japan since joining the Navy in 2009.
He died in the collision from a head injury as he slept, Hernandez-Singer said.
She said Hernandez met his wife, Dora, in high school -- "his first love... his only love," and he's also survived by his son, Leon, who is almost 3.
Ngoc T. Truong Huynh, Connecticut
Sonar Technician 3rd Class Ngoc T. Truong Huynh, 25, always "had the brightest smile," his sister said.
He was selfless, Lan Huynh told reporters in Hartford, Connecticut, and the family is coping as best they can.
Huynh graduated from Watertown High School and attended Naugatuck Valley Community College before enlisting in the Navy in 2014. The family moved to Oklahoma a short time later.
Connecticut's governor has ordered flags to fly at half-staff in Huynh's honor.
Xavier Alex Martin, Maryland
Personnel Specialist 1st Class Xavier Alec Martin was trying to call his father after the vessels collided but didn't get through, his father told CBS Baltimore.
All Darrold Martin can think of now are his son's final moments.
The 24-year-old sailor, of Halethorpe, Maryland, followed in his father's footsteps and was quickly rising in the ranks, said Darrold Martin, who referred to his son as his best friend. "It's very hard," the elder Martin said. "He's my only child, he's all I have."
Martin graduated in 2010 from Landsdowne High School, where he ran track and had many friends, said Daneace Jeffrey, Martin's aunt.
He loved being in the military and was considering turning it into a career.
"He always put others before his own safety," she said. "I'm sure in his last moments he was probably more concerned with the other servicemen than himself, that's the kind of person he was."
Gary Leo Rehm Jr., Ohio
Fire Controlman 1st Class Gary Leo Rehm Jr., 37, was three months shy of retiring when he was killed, his cousin tells The Chronicle-Telegram in Elyria, Ohio.
Rehm was from Elyria, about 25 miles west of Cleveland, and is survived by his wife, Erin; his parents, in Virginia; and a sister in Texas, his cousin Brad Rehm said, adding that word of his death was shocking.
He enlisted in the Navy in 1998.
Daniel Kahle, a Navy veteran who served with Rehm while deployed to the Persian Gulf during the Iraq War, told the newspaper he hadn't spoken to his former colleague in years but will remember him as "a great guy" who always seemed to be smiling.
Rehm was a graduate of Oberlin High School as a Lorain County Joint Vocational School student.
Kyle Rigsby, Virginia
Nineteen-year-old Gunner's Mate Seaman Dakota Kyle Rigsby was a volunteer firefighter in his Virginia hometown before he joined the Navy.
The Palmyra resident and Fluvanna County High School graduate was a teenager when he signed up with the Lake Monticello Volunteer Fire Department in 2014, following in his mother's footsteps, news outlets reported.
Rigsby "was a good kid; he'd give his shirt off of his back for you," said volunteer firefighter Farrah Brody.
Assistant Fire Chief Jean Campbell described Rigsby as "a regular kid" and a dependable firefighter. He called his death "a tragic loss."
Chase Karaca said he met Rigsby in fourth grade and they bonded over playing Pokemon.
The game sparked an interest for Rigsby in Japanese culture, so "it was a dream come true for him" to get to visit and "to be doing something for his country," Karaca said.
Rigsby enlisted in February 2016, according to service records provided by the Navy. He reported to duty aboard the Fitzgerald in November, the records show.
Carlos Victor Ganzon Sibayan, California
Fire Controlman 2nd Class Carlos Victor Ganzon Sibayan felt that serving in the Navy was "his calling" and he joined in 2013 after graduating from high school, a friend said.
Sibayan, of Chula Vista, south of San Diego, always made people laugh, Chase Cornils, a fellow cadet in Chaparral High School's Naval Junior Reserve Officer Training Corps, told the San Diego Union Tribune.
"He always had a cheerful attitude and a smile on his face," Cornils said. "When I think of Carlos, I can only remember an extremely happy guy who was willing to help all of his friends."
An enlisted surface warfare specialist, the 23-year-old started working on board the USS Fitzgerald on July 31, 2014.
Thanks for reading CBS NEWS.
Create your free account or log in
for more features.