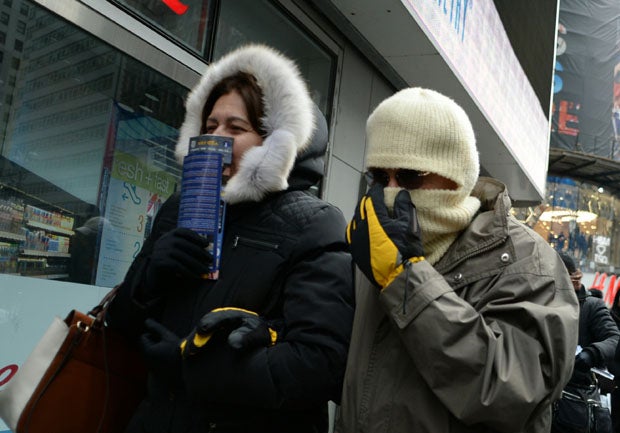 U.S. ushers in 2014 with record-low temps, snow
LA CROSSE, Wis. -- The recent surge of arctic air in Wisconsin has led to record-breaking low temperatures in places like Owen, a Clark County town that hit minus 31 degrees this week.
A La Crosse Tribune report says records were tied or broken in about half a dozen cities in the region.

The La Crosse airport hit a low of minus 17 degrees. That tied a record set in 1976. Friendship also tied a record with temperatures of minus 22.

Owen got down to minus 31 degrees, two degrees colder than the previous record set in 1963.

Zack Taylor is a meteorologist with the National Weather service. He says the cold is part of an arctic front. He says temperatures should warm up a tad later this week, but another arctic front could arrive by the weekend.

Cold, blustery conditions will push across the northern Plains and the upper Midwest on Tuesday as an arctic air mass sweeps across the region.

WCCO meteorologists are forecasting the coldest New Year's Eve ever in International Falls, Minn. The forecast is a low of -39° (the old record is -38°).

Temperatures are expected to be 20 to 30 degrees below normal in North Dakota and Minnesota, while a line of snow showers will move across the area. The heaviest snow is expected to develop in the Dakotas, southern Minnesota, northeastern Iowa, southern Wisconsin and northern Illinois.


CBS Chicago reports that snow is expected to start falling Tuesday afternoon and continue into New Year's Day.


The National Weather Service predicts three to five inches of snow starting Tuesday afternoon in much of northern Illinois including the Chicago area. A winter weather advisory from Tuesday afternoon through Wednesday morning affects Rockford, DeKalb, Chicago and other cities north of U.S. Route 30.

Slick and snow-covered roads are expected to make travel hazardous. Visibility may be limited.

Parts of southern Illinois could see light snow starting Wednesday.

Local officials and authorities are urging extra caution on the roads with the festivities and possible snowy weather.

In New York, sub-freezing temperatures are forecast as the crowd is expected to reach one million to watch the New Year ball to drop.

Meanwhile, a low pressure system will provide snowy weather to the Great Lakes and into parts of the Northeast. Heavy snow will develop downwind of the Great Lakes, especially in portions of Michigan. The remainder of the Eastern Seaboard will stay relatively dry throughout the day, with the exception southern Florida, where a lingering frontal boundary will trigger rainy weather. Similar conditions will also occur across the Gulf of Mexico, as southern Texas can also expect rain.

A separate system is expected to usher snow showers across the northern Rockies on Tuesday, as locally heavy snow will be possible in parts of northern Idaho and northwestern Montana.

Just to the west, an onshore flow will allow for showers to develop over western Washington and northwestern Oregon. The remainder of the West Coast will experience dry conditions as a ridge of high pressure builds over the eastern Pacific.



Thanks for reading CBS NEWS.
Create your free account or log in
for more features.