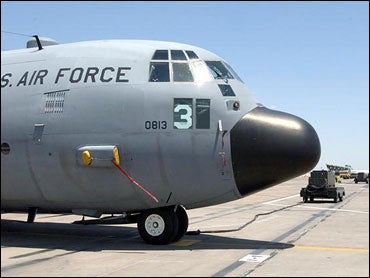 U.S. Troops Leave Uzbekistan
The U.S. military flew its last plane Monday out of an air base in Uzbekistan that had been an important hub for American military operations in Afghanistan, a U.S. official said.
In July, hard-line President Islam Karimov ordered the U.S. troops to leave the base within six months after Washington joined international condemnation of a bloody government crackdown in the eastern city of Andijan that human rights groups say killed hundreds of civilians.
"The last plane left the air base in Karshi-Khanabad" on Monday afternoon, U.S. military attache Gregory White said in Tashkent.
A small number of personnel remained, as the U.S. military wrapped up its activity. "We are still performing some small operations on the base," said Ensign Joe Vermette, a U.S. Central Command spokesman.
Pentagon spokesman Lt. Cmdr. Joe Carpenter said the withdrawal had been taking place gradually in the past several months.
The base has been an important staging point for U.S. military operations in neighboring Afghanistan since the earliest days of the war, which began in October 2001. More recently, the base has been used to move supplies, including humanitarian aid, into northern Afghanistan. It also is a refueling point for transport planes.
Uzbekistan became an important ally in the war on terrorism after the Sept. 11, 2001, attacks and granted permission for the United States to establish an air base in the country. Relations have progressively soured, amid U.S. concern over Karimov's human rights record.
The U.S. and other Western countries harshly criticized Uzbekistan for using force against mostly unarmed civilians in Andijan on May 13. Rights groups said up to 750 people died in the crackdown. The government put the death toll at 187.
Karimov, who has ruled the Central Asian nation for 16 years and tolerates no dissent, blamed the violence on Islamic militants.
Thanks for reading CBS NEWS.
Create your free account or log in
for more features.