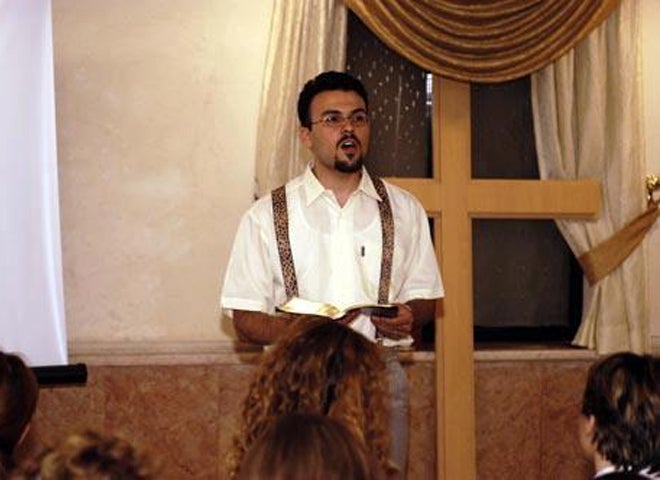 U.S. pastor sentenced to 8 years in Iran
An American pastor who has been jailed in Iran since September has been sentenced to eight years in prison, the U.S. State Department said Sunday.
Spokesman Darby Holladay said the department is calling on Iran to respect Saeed Abedini's human rights and release him.
Earlier this month, Iran's semi-official news agency, ISNA, quoted Abedini's attorney, Nasser Sarbazi, as saying his client stood trial in the Revolutionary Court on charges of attempting to undermine state security by creating a network of Christian churches in private homes.
The pastor, who is of Iranian origin but lives in Boise, Idaho, has rejected the charges.
"Mr. Abedini's attorney had only one day (Jan. 21) to present his defense, so we remain deeply concerned about the fairness and transparency of Mr. Abedini's trial," Holladay said.
Following the court presentation, ISNA quoted Sarbazi as saying the court would issue its verdict later, and that Abedini would be allowed to leave Iran and meet his family in the U.S. after posting bail.
"The promise of his release was a lie," said the pastor's wife, Naghmeh. "With today's development, I am devastated for my husband and my family. We must now pursue every effort, turn every rock, and not stop until Saeed is safely on American soil."
Her comments were provided by the Washington-based American Center for Law and Justice, which focuses on constitutional and human rights law around the world. The center is representing the pastor's family in the United States.
Holladay said the State Department is in close contact with Abedini's family and actively engaged in the case. Abedini and his wife have two children.
"We condemn Iran's continued violation of the universal right of freedom of religion," Holladay said.
Tehran has repeatedly accused the United States and Britain of seeking to provoke unrest in a bid to oust the country's clerical rulers, and has frequently accused opposition figures and supporters of being in league with the nation's enemies.
A recent press crackdown reflects Iran's zero tolerance for those who work with dissident media or outlets deemed as unfriendly or hostile.
In recent years, Iran has denounced Voice of America and the BBC's Persian service, describing them as arms of U.S. and British intelligence agencies, and has warned of severe repercussions for Iranian journalists and activists caught having contacts with these outlets.
On Monday, several chief editors of Iranian outlets said 11 journalists have been arrested, accused of cooperation with foreign-based, Persian-language media organizations.
The chief editors of the arrested journalists told The Associated Press that the 11 were taken into custody late on Sunday because of their "foreign contacts." The editors, who spoke on condition of anonymity because of fears of reprisals, refused to say if the detained were accused of providing material specifically to BBC or VOA.
The arrests followed last week's warning by State Prosecutor Gholam Hossein Mohseni Ejehei who said journalists who are in contact with "hostile foreign media" would be punished. Ejehi described such reporters as "serving the enemy's purpose."
The detained journalists — seven men and four women — were identified by their editors. They are from six different news organizations, including four daily papers, a weekly and the semi-official ILNA news agency.
Some of them have in the past spent months behind bars over critical writings that were carried by foreign-based Iranian dissident media or writings that supported feminist activities.
One of the editors said three of the arrested were from the reformist daily Etemad. Three others were from the reformist Shargh daily, whose editor said they were arrested at the paper's building.
Another journalist, Saba Azarpeik from the Tejarat-e-Farda weekly, was also missing and feared arrested, according to a colleague, who also spoke on condition of anonymity for fear of reprisals.
Meanwhile, the semiofficial ISNA news agency said Monday that the conservative Tabnak news website, close to the former Revolutionary Guard commander Mohsen Rezaei, has been blocked. No reason was given.
Since 2000, Iran's judiciary has shut down more than 120 pro-reform newspapers and jailed dozens of editors and writers on vague charges of insulting authorities.
Thanks for reading CBS NEWS.
Create your free account or log in
for more features.