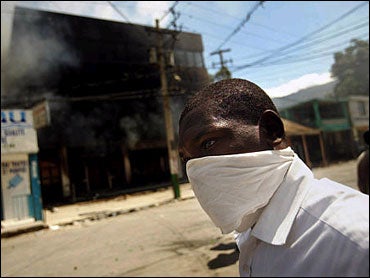 U.S. Marines Arrive In Haiti
A contingent of Marines landed in Port-au-Prince to restore order after Jean Bertrand-Aristide resigned as president and left for exile in Africa under pressure from the Bush administration and a rebel uprising.
The fewer than 100 Marines that arrived Sunday night took up defensive positions around the capital's airport to prepare for the arrival of French forces and additional American troops. Three Humvees and three large trucks guarded the airport.
Early Monday, U.S. and French officers worked together to prepare for the arrival of the full multinational force approved late Sunday by the U.N. Security Council. Nearly 300 soldiers and police were headed for Haiti on Monday.
Secretary of State Colin Powell told the CBS News Early Show securing Haiti "will be a major international effort."
"I think initially we will comprise the bulk of the effort. We will have a lead role. But I think over time, those numbers will shift," Powell said. "I suspect our troops and other international troops coming in will help stabilize things. I don't think there will be a great deal of fighting, but they have to be prepared for that."
A U.S. official says the mission of the Marines in Haiti is five-fold: to secure the capital, assisting in the delivery of aid, protect U.S. citizens, repatriate migrants who tried to flee to the United States and prepare the way for a multinational security force.
Minutes after the Pentagon's Sunday night announcement that U.S. Marines have begun arriving in Haiti, the U.N. Security Council voted unanimously to authorize the immediate deployment of an international military force to restore order in Haiti for three months.
"The U.N. vote for an international military presence paves the way for significant troops to be sent to Haiti," said CBS News Foreign Affairs Analyst Pamela Falk. "France assumes the presidency of the Security Council today and said that there will be quick action on Haiti to restore order and deliver relief supplies."
Aristide, accompanied by his wife and three other people, arrived in the Central African Republic Monday for what will be at least temporary asylum, said Communications Minister Parfait Mbaye.
Their departure from Haiti was secured by U.S. forces at Aristide's request, U.S. officials said.
Shortly after arriving in the Central African Republic, Aristide gave a brief address to Central African Republic state radio — his first public comments since leaving Haiti.
"In overthrowing me, they cut down the tree of peace," the exiled leader declared. "But it will grow again, because the roots are well-planted."
Haiti's first democratically elected president, who was pressured to leave by the United States and the rebels, would travel next to South Africa, according to state radio and a senior Caribbean Community official.
South Africa, however, did not confirm the reports.
Aristide and his wife, Mildred Trouillot Aristide, sent their two daughters to her mother in New York City last week.
Back in Haiti, the U.S. troops came to prop up the new government headed by Boniface Alexandre the chief justice of Haiti's Supreme Court. A second contingent of Marines was to arrive Monday.
"This is the beginning of a new chapter," President Bush said at the White House.
After word spread of the president's departure, angry Aristide supporters roamed the streets armed with old rifles, pistols, machetes and sticks. Some fired wildly into crowds on the Champs de Mars, the main square in front of the National Palace.
More than 3,000 inmates held in the National Penitentiary were released. Looters emptied a police station and hit pharmacies, supermarkets and other businesses, mostly on the capital's outskirts.
"Chop off their heads and burn their homes," rioters screamed, echoing the war cry of Jean-Jacques Dessalines, the general who ousted French troops and torched plantations to end slavery in Haiti.
Some anti-Aristide militants organized armed posses that prowled the streets in pickup trucks, searching for Aristide supporters.
Police moved in during the afternoon, dispersing the crowd in front of the National Palace, and the violence ebbed.
A key rebel leader said he welcomed the arrival of foreign troops.
"I think the worst is over, and we're waiting for the international forces. They will have our full cooperation," Guy Philippe told CNN.
Another rebel commander, Winter Etienne, said the fighters would disarm once a new government is installed. A rebel convoy moved into a suburb of the capital Monday, to cheers.
The crisis has been brewing since Aristide's party swept flawed legislative elections in 2000, prompting international donors to freeze millions of dollars in aid.
Opponents also accused Aristide of breaking promises to help the poor, allowing corruption fueled by drug trafficking and masterminding attacks on opponents by armed gangs — charges the president denied.
The discontent erupted into violence 3½ weeks ago as rebels began driving police from towns and cities in the north. The uprising killed at least 100 people.
Last week, Aristide accepted a peace deal negotiated by Caribbean leaders, but his opponents insisted he had to go. The White House on Saturday blamed the crisis on Aristide and hinted said he should "examine his position carefully" and "act in the best interests of the people of Haiti."
Sunday was the second time Aristide, a 50-year-old former slum pastor, has fled his country. In 1991 he was ousted just months after being elected president for the first time. President Clinton sent 20,000 troops to restore Aristide to power.
Half the country was in the hands of the rebels, including former soldiers of the army that Aristide had disbanded after that 1991 coup.
Powell defended the Bush administration's Haiti policy, saying the reason they waited until after Aristide was ousted to act was that "we needed a new political dynamic, either President Aristide to leave or an agreement between all the sides to enter into a new political dynamic. That didn't happen until President Aristide left over the last 24 hours."

Thanks for reading CBS NEWS.
Create your free account or log in
for more features.