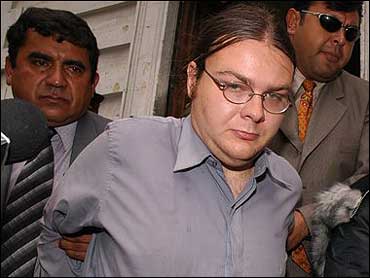 U.S. Man Charged In Bolivian Bombings
A mentally disturbed American accused of killing two people and wounding seven by setting off bombs in Bolivian hotels said Thursday that he had "done nothing" wrong as a Bolivian judge formally charged him and his Uruguayan lover with murder and falsifying documents.
Triston Jay Amero, 24, and his pregnant partner, Alda Ribeiro, 45, were ordered held in "preventive detention" pending trial by Judge Williams Davila, who said he would evaluate Amero's request for a psychiatric evaluation as well as the pregnant Ribeiro's request for a medical exam.
The bombings were denounced as "terrorist" by an angry President Evo Morales, prompting an equally emphatic response from the U.S. State Department, which said the Bolivian leader's remark harmed their governments' efforts to cooperate against terrorism.
As it turns out, Amero has been in and out of psychiatric hospitals since he was 7 years old after making constant threats of suicide and violence against authorities, according to court documents obtained by the Associated Press. He also spent years in California's juvenile prisons after being convicted of fleeing the scene of an accident and spitting on a judge and court clerk.
He even created lists of people he would kill when released — including his mother, and former U.S. President Bill Clinton.
"Amero keeps to himself and appears to like to be seen as a rebel and outlaw," corrections officials wrote in court documents.
Bolivian authorities have struggled to understand the motives of a man who has described himself as a Saudi Arabian lawyer, a pagan high priest, a notary public and even a vampire, having adopted "Lestat Claudius de Orleans y Montevideo" as his name, a variation on the character in Anne Rice's dark novels, played on film by Tom Cruise.
But this "Lestat" isn't the Hollywood type — in a blog from Colombia two years ago, he described himself as "so repulsive in apearance and dress and religeous practice to the women of Colombia that even prostitutes wilnot take My Money."(sic)
Amero did eventually find a woman — Ribeiro — who said Thursday that her "husband" was alone responsible for the bombings. Police said they weren't sure if the two were formally married.
"He has done something very bad against Bolivia and against these innocent people," Ribeiro said in a television interview from jail. "He did all this behind my back, I didn't know anything about this."
Amero also was interviewed — saying "I am sorry about the victims," but denying he was guilty.
Amero obtained a "world passport" under his given name in 2003 and changed it in 2004 to Lestat Claudius de Orleans y Montevideo, said David Gallup, president and general counsel of the World Service Authority, a Washington D.C.-based advocacy group. The group's Web site says it "represents the inalienable human right of freedom of travel on planet Earth."
Amero regularly updated Gallup on his exploits, and the group has kept an extensive file, documenting his travel to Colombia, Paraguay, Uruguay, Argentina and Bolivia, as well as his efforts to renounce his U.S. citizenship and his time in jail in Argentina, where police said he tried to bomb an ATM machine.

"It's been a while that he's been trying to get out of the U.S. system," Gallup said. "Finally he made it to Latin America."
The couple also perpetrated attacks in other Bolivian cities that left no victims, La Paz district attorney Jorge Gutierrez said.
Amero applied for Bolivian residency in January, and told Gallup he was passing the New Year in Potosi, Bolivia, a mining community where sticks of dynamite are sold out of stalls at a market open to all.
In La Paz, Ribeiro was giving away calendars — with a nude picture of herself holding a cardboard box of explosives — promoting "the sale and export of explosives, fireworks and liquor," said Marta Silva, who owns a store across from one of the bombed hotels.
The bombings Tuesday night and Wednesday morning killed two Bolivians. The injured included a U.S. citizen identified as Jessica Wilson, who was treated and released. Police said they used 110 dynamite cartridges in each attack, hoping to kill 150 people, and were planning a third bombing of the Chilean consulate — a charge denied by Amero.
Police said the motive may have been "religious" — Amero told them he was a practicing pagan high priest — and that Amero had hoped the bombings would gain him allies through media coverage, district attorney Carlos Fiorilo Thursday.
Morales denounced the crimes as an attack on Bolivia's democracy, and angrily blamed the United States: "This American was putting bombs in hotels," Morales said. "The U.S. government fights terrorism, and they send us terrorists."
U.S. diplomats countered with a statement Thursday condemning the bombings and expressing "concern" and "surprise" over Morales' remarks. "Declarations such as these impede our efforts and block our capacity to cooperate" in anti-terrorism efforts, the U.S. Embassy in La Paz said in a statement Thursday.
In his blog from Colombia and in his communications to the advocacy group, Amero repeatedly describes himself as a loner, a "political refugee" and "the Superman of Loosers" whose strongest desire is to distance himself from the United States.
His aunt, Paula Amero of Forest Ranch, California, told the AP Thursday that "he didn't need to be locked up" in California.
And Amero's mother, Dawna Scheda of Placerville, California, told the AP that "Of course we don't believe he would do something like this. He's my son."
But Amador County District Attorney Todd Riebe said they had concluded he was a danger to himself and others. "He is a very disturbed man, and given his past, I think he would be fully capable of doing this."
By Fiona Smith
Associated Press writers Kimberly Chase in Mexico City and Jordan Robertson in San Francisco contributed to this report
Thanks for reading CBS NEWS.
Create your free account or log in
for more features.