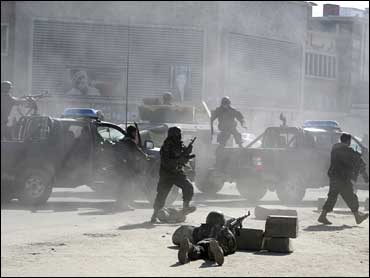 U.S. Lost Track Of Guns In Afghanistan
An independent study finds that the U.S. has been shoveling weapons into the hands of Afghan troops but can't ensure they don't wind up in the hands of Taliban fighters.
The report, obtained by The Associated Press, comes as Kabul recovers from attacks by heavily armed militants that killed 20 people and wounded 57 others. The Taliban have claimed responsibility.
A Taliban commander named Qari Talah, who claims his group is operating inside Kabul, told CBS News' Sami Yousafzai Wednesday via telephone, "seven brave members attacked in many places in Kabul and it was revenge for the indiscriminate killing of the Taliban prisoners in Kabul prison last month."
Talha said he was in command of 60 militants in central Kabul and that his brigade was planning a more "stunning attack." He claimed his militants were "now easily operating in Kabul, and our influence and control reach to the suburbs."
Five men armed with assault rifles and grenades attacked the Justice Ministry in late morning, shooting at workers and temporarily trapping the minister and scores of others inside, witnesses said.
Minutes after the gunmen stormed the ministry, hundreds of Afghan and international security forces rushed to the scene and cordoned off the area, reported CBS News' Fazul Rahim. A fierce exchange of fire then broke out between the gunmen and security forces, which lasted several hours.
Amrullah Saleh, chief of Afghanistan's intelligence agency, said that security forces confiscated six AK-47s, two pistols, six mobile phones, eight grenades, one suicide vest and hundreds of AK-47 rounds, reported Rahim. He added that all the terrorists appeared to be 20-25 years old.
In a study to be released tomorrow, the Government Accountability Office found that the U.S. shipped some 242,000 weapons to Afghanistan during a nearly four year period before June 2008. The weapons included rifles, pistols, machine guns, mortars and rocket-propelled grenade launchers.
The GAO says the Defense Department did not maintain a complete inventory on more than a third of those weapons.
The Defense Department says it needs more people to keep track of the weapons. But it says it has taken steps to try to address the problem, including registering serial numbers of small arms and monitoring the location of a weapon.
Thanks for reading CBS NEWS.
Create your free account or log in
for more features.