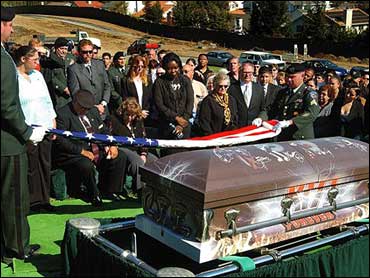 U.S. Death Toll Hits 2,000 In Iraq
The American military death toll in the Iraq war reached 2,000 Tuesday with the announcements of three more deaths, including an Army sergeant who died of wounds at a military hospital in Texas and a Marine and a sailor killed last week in fighting west of Baghdad.
The 2,000 mark was reached amid growing doubts among the American public about the Iraq conflict, launched in March 2003 to destroy Saddam Hussein's alleged weapons of mass destruction. None was ever found.
More than 90 percent of the U.S. death toll occurred after President Bush declared the end of major combat in May 2003.
Also, statistics reveal that small-town America has been disproportionately hit by U.S. military casualties.
One-quarter of the soldiers killed in Iraq and Afghanistan are from rural America, CBS News correspondent David Martin reports, according to the most recent statistics, even though only one-fifth of the military-age population lives there.
In other words, Martin says,
CBS News producer Larry Doyle reports that among the 2,000 deaths, 299 soldiers died in non-hostile situations, such as car accidents and friendly fire. Forty-eight soldiers committed suicide.
As for the number of Iraqis who have died violently since the U.S.-led invasion, the number is many times larger than the U.S. military death toll. In one sign of the enormity of the Iraqi loss, at least 3,870 were killed in the past six months alone, according to an Associated Press count.
One U.S. military spokesman said it is possible the figure for the entire war could be 30,000 Iraqis, which many experts see as a credible estimate. Others suspect the number is far higher, since the chaos in Iraq leaves the potential for many killings to go unreported.
The losses are far larger than most analysts and Pentagon planners expected before the war and mean Iraqi civilians are bearing most of the suffering.
In an e-mail statement to Baghdad-based journalists, command spokesman Lt. Col. Steve Boylan said media attention on the 2,000 figure was misguided and "set by individuals or groups with specific agendas and ulterior motives."
He described the grim statistic as an "artificial mark on the wall" and urged news organizations to focus more on the accomplishments of the U.S. military mission in Iraq.
The numbers also bring to mind another conflict, according to CBS News Military Analyst and retired Army Colonel Mitch Mitchell.
"In the Vietnam War, we had many more people over there, but we're taking about one quarter the number of casualties that the Vietnam War was experiencing in each month," Mitchell said. "When you figure out the differences in the numbers deployed, it comes out to just about the same number of casualties each month that we took in Vietnam. That's an appalling statistic."
In other developments:
Two suicide car bombs exploded Tuesday in the generally peaceful Kurdish province of Sulaimaniyah, killing 12 people. Al Qaeda in Iraq, the country's most feared insurgent group, claimed responsibility for both in a statement posted on an Islamic Web site.
Iraqi and U.S. forces refortified a hotel complex where many Western journalists live in central Baghdad after
Insurgents used four bombs and seven shootings to kill six people a 7-year-old boy, two Iraqi soldiers and three policemen and wound 45 Iraqis, most policemen, officials said. A 10-year-old girl was among nine civilians wounded in the attack.
Militants shot a policewoman in the northern city of Mosul, police said.

In Washington, the U.S. Senate observed a moment of silence in honor of the fallen 2,000. "We owe them a deep debt of gratitude for their courage, for their valor, for their strength, for their commitment to our country," said Republican Majority Leader Bill Frist.

Critics of the war also acknowledged the sacrifice, even as they questioned the policies of those who lead it.

"Our armed forces are serving ably in Iraq under enormously difficult circumstances, and the policy of our government must be worthy of their sacrifice. Unfortunately, it is not, and the American people know it," said Sen. Edward Kennedy, the Massachusetts Democrat.

Sen. Robert Byrd, a veteran Democrat from West Virginia, said Americans should expect "many more losses to come."

"More than 135,000 U.S. troops remain in Iraq. They did not ask to be sent to war, but each day, they carry out their duty while risking their lives. It is only reasonable that the American people, and their elected representatives, ask more questions about what the future holds in Iraq," Byrd said.

President Bush warned the U.S. public to brace for more casualties in the fight against "as brutal an enemy as we have ever faced, unconstrained by any notion of common humanity and by the rules of warfare."

"No one should underestimate the difficulties ahead," Mr. Bush said in a speech Tuesday before the Joint Armed Forces Officers' Wives' luncheon in Washington.

As a sign of those challenges, one of Iraq's most ruthless terror groups, al Qaeda in Iraq, claimed responsibility for Monday's suicide attacks against hotels housing Western journalists and contractors in Baghdad, as well as suicide bombings Tuesday in northern Iraq.

The group also said it was behind the three suicide car bombs aimed at the Palestine and Sheraton hotels in Baghdad. Deputy Interior Minister Maj. Gen. Hussein Ali Kamal said 17 people were killed, mostly hotel guards and passers-by, in Monday's attack, which involved bombers driving two cars and a cement truck.

In a Web posting, al Qaeda in Iraq said it carried out the hotel attack to target a "dirty harbor of intelligence agents and private American, British and Australian security companies." The hotel complex houses offices of the AP and other media organizations.

Meanwhile, Iraq's landmark constitution was adopted by a majority of voters during the country's Oct. 15 referendum, election officials said Tuesday. But a prominent Sunni politician called the balloting "a farce."

Results released by the Independent Electoral Commission of Iraq showed that Sunni Arabs, who had sharply opposed the draft document, failed to produce the two-thirds "no" vote they would have needed in at least three of Iraq's 18 provinces to defeat it.

The commission, which had been auditing the referendum results for 10 days, said at a news conference in Baghdad that Ninevah province had produced a "no" vote of only 55 percent. Only two other mostly Sunni Arab provinces — Salahuddin and Anbar — had voted no by two-thirds or more.
Thanks for reading CBS NEWS.
Create your free account or log in
for more features.