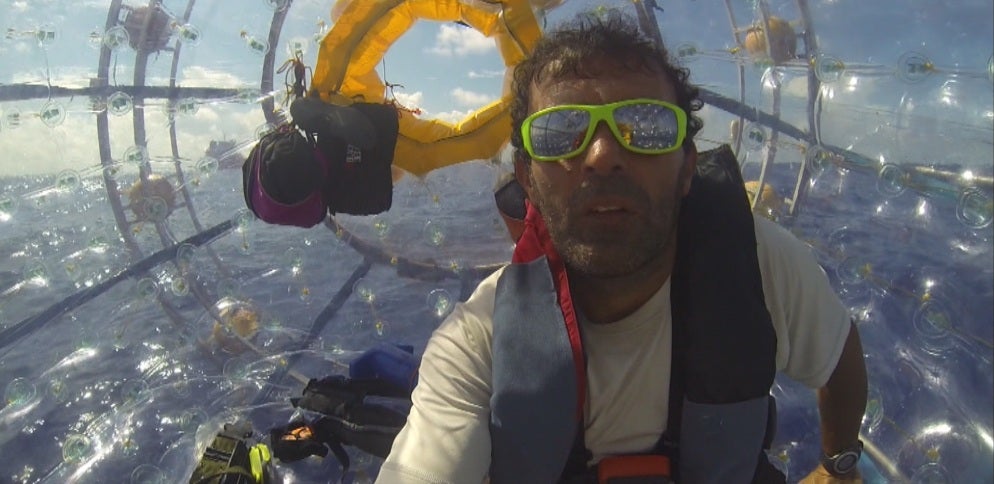 Coast Guard rescues man vying to reach Bermuda in floating bubble
Reza Baluchi is an athlete and an activist. The 42-year-old has set running and cycling records to promote world peace.
Last week he left Miami inside a vessel he constructed using thousands of dollars of his own money. The Coast Guard said they spent thousands of dollars too, rescuing him after he didn't heed their warnings.
Baluchi documented his journey in his self-designed "Hydro Pod," wheeling his way into the Atlantic Ocean after beginning the voyage on Tuesday.
The 3-millimeter-thick plastic bubble was propelled as he ran inside like a hamster on a wheel.
"You can push with your hand," he said. "You go four or five knots in the ocean."
Baluchi planned to wheel himself the entire 1,033-mile journey to Bermuda stopping only to catch fish and sleep.
But his plan didn't quite pan out.
On Thursday, after two days at sea with little more than protein bars and bottled water, a Coast Guard cutter located Baluchi. Disoriented, he was making little progress and asked fishermen and boaters for directions to Bermuda.
Despite repeated warnings about possible dangers, he told a Coast Guard captain he was not about to give up.
"I think you're going to have a very hard time punching through the Gulf Stream and heading east to make Bermuda," the captain warned Baluchi.
Baluchi responded that he had been practicing two years for the journey.
"So you are declining to stop your voyage at this time and embark the Coast Guard cutter?" the captain asked.
"I am continuing to go," Baluchi said.
But on Saturday, Baluchi's locator beacon was activated, prompting a Coast Guard rescue operation 70 nautical miles off the coast of St. Augustine, Florida. He was plucked from his bubble and brought ashore.
Baluchi said he never needed to be rescued and the beacon went off by accident. He was treated and released.
"I see some helicopter coming," Baluchi said. "Some person come in front of my bubble and kick my bubble. 'You ok? You need emergency doctor?' I say, 'no.'"
Baluchi was granted asylum in America in 2003 after being exiled from his native Iran for having pro-Western sympathies.
He's since set endurance records for running around the perimeter of the United States.
Baluchi spent the last two years building his bubble and hoped to use it to set new records. That hope has been burst for now.
Fishermen said they saw Baluchi's "Hydro Pod" sinking after he was airlifted.
He said he'll attempt to reach Bermuda again, but first, he'll need to build a new pod.
The last one cost him about $45,000 to build.
Thanks for reading CBS NEWS.
Create your free account or log in
for more features.