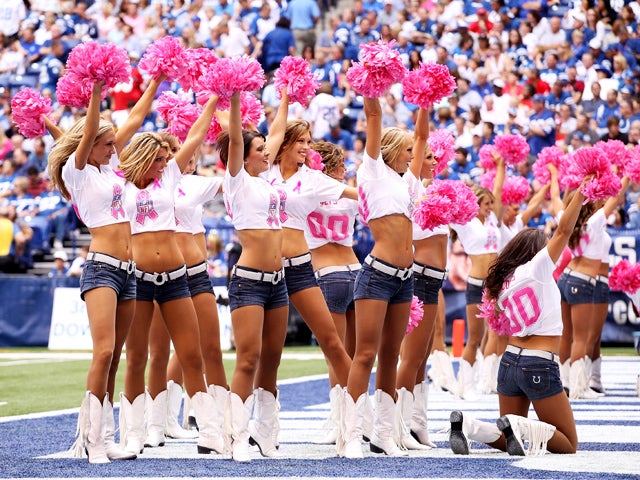 U.S. Appeals Court: Cheerleading not a sport
(AP) HARTFORD, Conn. - A federal appeals court has ruled that colleges cannot count competitive cheerleading as a sport when trying to comply with gender-equity requirements, upholding a U.S. District Court decision against Quinnipiac University.
In a decision released Tuesday, the 2nd U.S. Circuit Court of Appeals found that competitive cheerleading does not yet meet the standards of a varsity sport under Title IX, the 1972 federal law that mandates equal opportunities for men and women in education and athletics.
Watch: Texans cheerleaders ready for preseason
Watch: Chinese male cheerleader brings it on
Cheerleaders Balk at Revealing Uniforms
The ruling comes on an appeal filed by Quinnipiac, a school with about 8,000 students in Hamden, which had been successfully sued by its volleyball coach after it tried to eliminate the women's volleyball program in favor of competitive cheering.
"Like the district court, we acknowledge record evidence showing that competitive cheerleading can be physically challenging, requiring competitors to possess `strength, agility, and grace,' the court wrote. "Similarly, we do not foreclose the possibility that the activity, with better organization and defined rules, might someday warrant recognition as a varsity sport. But, like the district court, we conclude that the record evidence shows that `that time has not yet arrived."'
The appeals court agreed with U.S. District Judge Stefan Underhill, who found in 2010 that competitive cheerleading did not have the organization, post-season structure or standardized rules required to be considered a varsity sport.
An activity can be considered a sport under Title IX if it has coaches, practices, competitions during a defined season and a governing organization. The activity also must have competition as its primary goal — not merely the support of other athletic teams.
Several volleyball players and their coach had sued Quinnipiac University after it announced in March 2009 that it would eliminate the team for budgetary reasons and replace it with a competitive cheer squad.
Underhill ordered the school to keep volleyball and after his ruling, Quinnipiac decided to keep both teams.
"This year marks the 40th anniversary of Title IX, and it's fitting that this decision underscores its importance," said Jonathan Orleans, who represented the plaintiffs. "This is a great victory for Quinnipiac's female student athletes and for women's collegiate sports."
The school's competitive cheerleading team has since renamed "acrobatics & tumbling," and joined the National Collegiate Acrobatics and Tumbling Association, which was formed in part to help develop the activity into a recognized sport, and distance itself from traditional sideline cheering.
John Blake, the executive director of that association, said the court's ruling is based on old information about an activity that no longer exists. He said he believes acrobatics and tumbling will get federal recognition.
"We've done both what the judge asked us to do and what the NCAA has asked us to do, and we've been in communication with the Department of Education," he said. "We're making strides toward it. We're definitely making progress."
Other schools compete in competitions put on by USA Cheer and Varsity Brands Inc., in something they are calling STUNT, with a similar goal.
The idea is to remove the crowd-leading and focus on the technical aspect of cheerleading, such as jumps and tumbling skills, Varsity said.
"Varsity's motivation continues to be to protect the young people who participate in traditional cheerleading, while also creating an alternative discipline that uses cheerleading skills in a new format that would create a separate sport for Title IX compliance purposes," said Sheila Noone, a spokeswoman for Varsity. "The rapid development of STUNT, under the direction of USA Cheer, is well on its way to achieving that goal."
The court also agreed with Underhill's finding that female runners who participate on school's indoor, outdoor and cross country track teams should be counted just once for Title IX purposes, rather than three times as the school had sought.
"The university naturally is disappointed that the court did not rule as it had hoped," school spokeswoman Lynn Bushnell said in a statement. "Quinnipiac will continue to enhance opportunities for our female student-athletes, which include volleyball, acrobatics and tumbling, basketball, cross country, field hockey, golf, ice hockey, lacrosse, rugby, soccer, softball, tennis and indoor and outdoor track and field."
The school did not indicate whether it would appeal the decision to the U.S. Supreme Court.
Thanks for reading CBS NEWS.
Create your free account or log in
for more features.