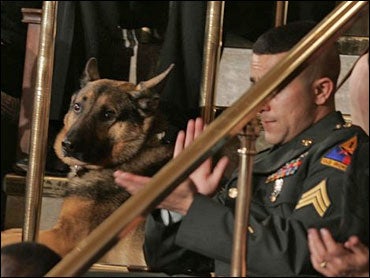 Unusual State Of Union Guest: A Dog
You weren't seeing things if you thought you saw a German shepherd in the audience during President Bush's State of the Union address Tuesday night.

Rex, a 5-year-old German shepherd who served as a military bomb-sniffing dog, was "seated" near first lady Laura Bush, as was his handler, Air Force Tech. Sgt. Jamie Dana.

Dana and Rex trained together for three years before deploying as a team to Pakistan and then to Iraq, according to the White House.

On June 25, 2005, they were riding in a Humvee in Kirkuk, Iraq, when a roadside bomb exploded, injuring Dana.

"The last thing I remember," she

The Early Show co-anchor Julie Chen Wednesday, "I was laying on a table in the field hospital."

Her first thoughts were of Rex: "That's all I remember asking, 'Where's Rex? Where's Rex?' He wasn't there. I didn't really know what happened."

At first, Dana was given erroneous word about his fate.

"I think one of the medics, they were told he was dead," she told Chen. "That's what they told me. With all the confusion, I have no doubt it was a little confusing."

Later, as Dana recovered in Walter Reed Army Medical Center outside Washington, D.C., she sought to adopt Rex, but ran into obstacles.

The Air Force initially said it spent $18,000 training Rex, and by statute he needed to work the remaining five years of his useful life before he could be adopted.

But after some prodding by some lawmakers, the military asked Congress to add language to the annual defense bill to allow exceptions to that statute. The language became part of the Defense Appropriations Bill that President Bush signed last month.

"Initially, I was told no, which I completely understood because the mission comes first. That's something all military people understand," Dana said. "But, apparently, my friends and family back home took up the cause for me and started writing senators and congressmen and everything. So the ball just went from there. It was kind of out of my hands. It definitely had a happy ending."

And that was followed by Tuesday night.

"It was a great honor," Dana said. "I mean, President Bush and Laura were both very friendly and, really, I owe them a great deal of thanks for letting Rex be here with me. … It was just an honor most people don't get to experience."

What's next?

"Rex is retired. I'm undergoing my medical boards," she said. "We'll see how that turns out. My dream is to go to veterinary school."

Thanks for reading CBS NEWS.
Create your free account or log in
for more features.