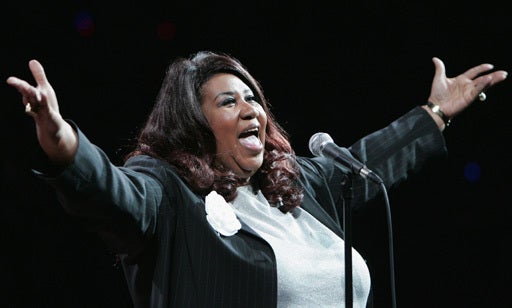 How Aretha Franklin turned "Respect" into one of the most powerful female anthems of all time
You know that Aretha Franklin's "Respect" is one of the greatest Soul tracks of all time. You might not know the loaded gender history behind its lyrics.
Or that Otis Redding actually wrote and released the song first. Or that, by flipping the song on its head, Franklin gracefully pulled off one of the most important pop music reinventions in American history.
Redding's "Respect" hit the airwaves in 1964 — a masculine appeal from a working man to a housewife that feels a shade misogynistic through today's lens.
"Hey little girl, you're so sweet, little honey / And I'm about to, just give you all of my money / And all I'm asking, hey / A little respect when I come home," Redding sings.
It's an upbeat version of the traditional family values of the 1950s and 1960s: Man works all day, man comes home for dinner and demands respect from his wife. But that's far from the way "Respect" has been immortalized in the American musical canon — and that's entirely because of the "Queen of Soul."
When Franklin recorded "Respect" in New York City on Valentine's Day 1967, she kept the track's original tempo and most of Redding's original lyrics. However, she added the song's now-iconic bridge and its infectious call-and-response, using her sisters as backup singers. In doing so, she completely transformed the meaning of the song.
"Respect" suddenly became an anthem of women's empowerment. The interplay between Franklin and her backup singers became the voice of female solidarity. The confidence of Franklin's vocals became a musical force behind the women's movement. It was a powerful assertion that women — and in particular, women on color — deserved respect. It became a female rallying cry.
In short, Aretha Franklin had "TCB": taken care of business.
Today, more than 50 years later, Franklin's "Respect" is as relevant as ever. It's been played in nearly 30 feature films, everything from Mystic Pizza and Forrest Gump to Desperately Seeking Susan and Bridget Jones's Diary.
On the small screen, it's been referenced, sampled and played during countless important moments of female empowerment, as well. The first episode of Murphy Brown was titled "Respect." In Season 3, Episode 1 of "Grace and Frankie," the song plays as Frankie places a red dot on her first sold painting.
They are references so subtle you could almost miss them, but they work because the meaning of Franklin's "Respect" has been so thoroughly ingrained in all of us.
Creating a song that iconic is no small feat and it's all the more incredible when one considers the cultural moment in which Franklin did it. Perhaps that's why music fans the world over are filled with one overpowering emotion for the "Queen of Soul": R-E-S-P-E-C-T.
Thanks for reading CBS NEWS.
Create your free account or log in
for more features.