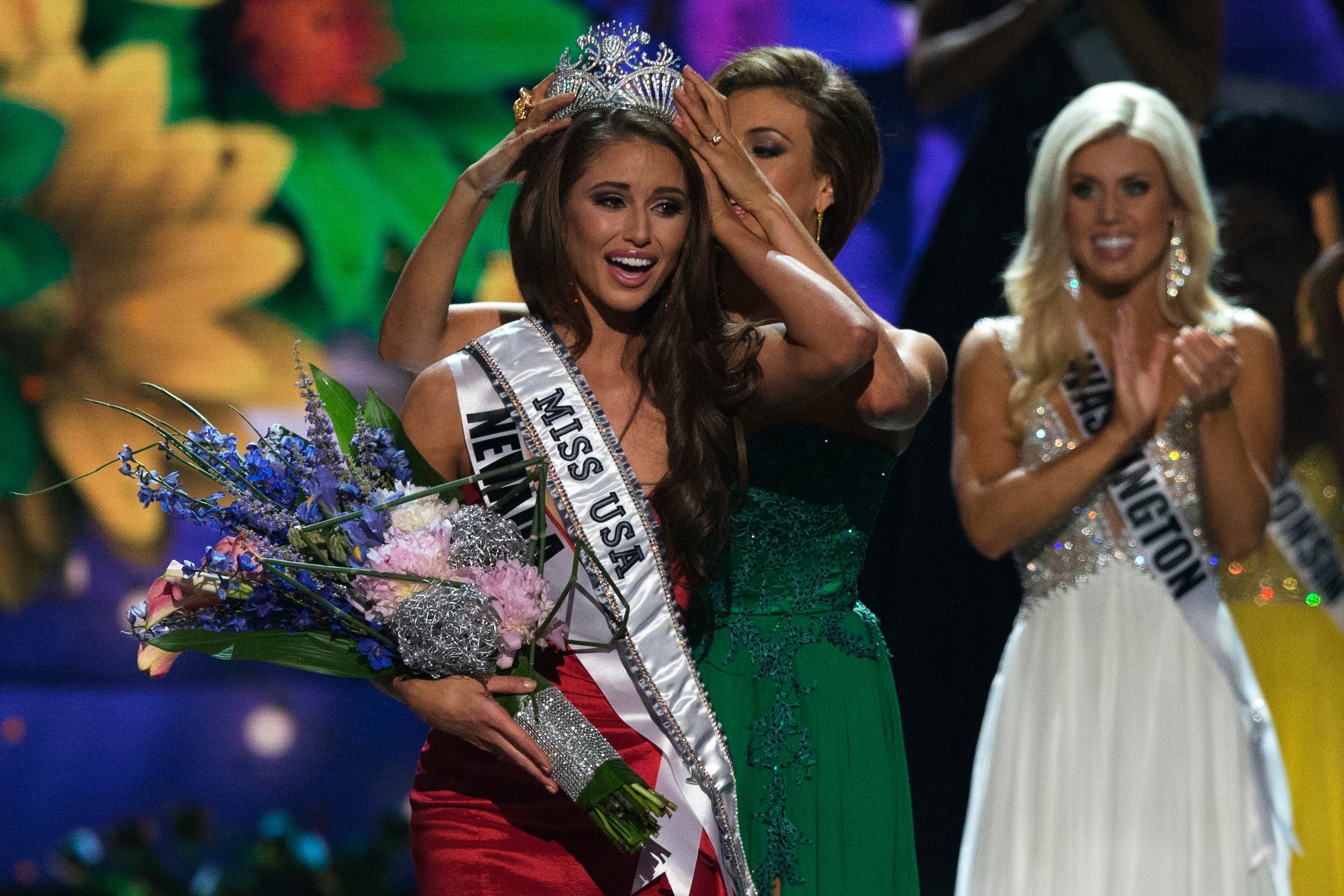 Univision drops Miss USA pageant over Donald Trump comments about Mexican immigrants
Univision is dropping the Miss USA pageant and says it will cut all business ties with Donald Trump in a spiraling controversy over comments the Republican presidential candidate made recently about Mexican immigrants.
The network said Thursday it would pull the plug on the July 12 Miss USA telecast and has severed its business relationship with the Miss Universe Organization, which produces the Miss USA pageant, due to what it called "insulting remarks about Mexican immigrants" by Trump, a part owner of Miss Universe.
During his presidential campaign kickoff speech last week, Trump accused Latino immigrants of bringing drugs, crime and rapists to the U.S. He called for building a wall along the southern border of the U.S.
In an interview Thursday, Trump said his criticism was directed against U.S. policymakers, not the Mexican people or government, adding that Univision would be defaulting on its contract if it doesn't air the pageant, and he would take legal action. He told Fox News' Gretchen Carlson, "Five years they (Univision) have to pay me almost $15 million. I have a signed contract. They can't do this."
He also seemed to suggest that Univision may be having second thoughts, saying, "They called me up today and apologized. They didn't even know what to say, they called up and apologized." CBS News has asked the Trump campaign for clarification, but the campaign has not yet responded.
He also took to Twitter with this feelings on the Univision move:
"At Univision, we see first-hand the work ethic, love for family, strong religious values and the important role Mexican immigrants and Mexican-Americans have had and will continue to have in building the future of our country," the New York-based network said.
Both Spanish language cohosts also pulled out of the show Thursday, while Colombian singer J Balvin canceled a planned performance during the telecast on Wednesday.
NBC is scheduled to go forward with its own airing of the pageant, as it has done since 2003.
Trump said Univision is submitting to pressure from Mexican leaders to punish him for positions he voices as a candidate on the campaign trail.
"They don't want me saying that Mexico is killing the United States in trade and killing the United States at the border," Trump said. "Univision is totally laying down for the Mexican government. ... They want to silence Donald Trump. And Donald Trump can't be silenced. ... I have great respect for Mexico and I love the Mexican people, but my loyalty is to the United States."
Later Thursday, Trump's lawyer said he was planning to sue Univision for hundreds of millions of dollars for dropping coverage of pageant.
"We intend to pursue all legal rights and remedies available to Mr. Trump pursuant to the terms of the license agreement as well as a defamation case against Univision," lawyer Michael Cohen told Reuters. "The lawsuit is going to be for hundreds of millions of dollars."
Univision has so far declined to comment on Trump's remarks.
In severing her ties with the show, Puerto Rican actress and Miss USA cohost Roselyn Sanchez cited Trump's comments.
"Since I heard Trump's speech, as a Latina I felt a lump in my stomach. 'It's got to be a joke,' I thought," the star of the Lifetime series "Devious Maids" told The Associated Press.
Also on Thursday, actor, producer and Chilean cohost Cristián de la Fuente had strong words for Trump. "It's a shame that such an important institution as Miss USA is now in the hands of a clown."
On Wednesday, Colombian singer J Balvin canceled a planned performance that was to have aired on both Spanish and English language telecast of the show.
A spokesman for Balvin said in a written statement that the singer's management told the Miss Universe organization to withdraw his name from an announcement about participants in the Miss USA broadcast.
This year's Univision telecast would have been the first in a five-year contract that Trump said "has no termination rights." The show was to have aired on Unimas, a channel that is wholly owned by Univision. The pageant previously aired only on English language television.
CBS News' Donald Judd contributed to this report.
Thanks for reading CBS NEWS.
Create your free account or log in
for more features.