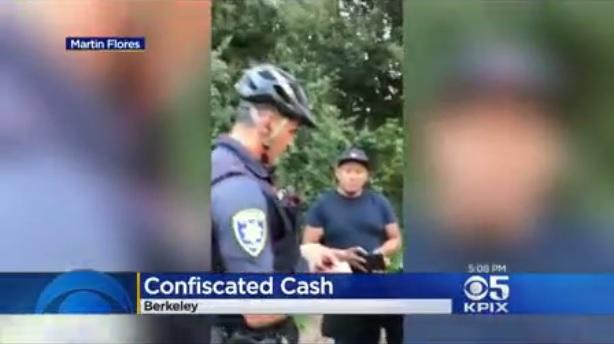 Outcry after officer confiscates California hot dog vendor's money
BERKELEY, Calif. -- A video showing a University of California, Berkeley police officer ticketing a hot dog vendor, rifling through his wallet and confiscating his money has caused an outcry across social media.
CBS San Francisco reports the incident happened on Saturday outside of a university football game.
Martin Flores says he was buying food for his children and turned on the camera when an officer stopped the vendor to ticket him for selling food without a permit.
The video shows the officer taking the vendors wallet, and the man pleading in Spanish for his "dinero," meaning money.
Flores can be heard off-camera saying, "That's not right … you're going to take his hard-earned money?"
"Yep, this is law and order in action," the officer, identified as UC police officer Sean Aranas, replied.
Since posting the video, Flores has started a GoFundMe account for the vendor and others like him. According to the Justice4Juan fundraiser page, proceeds will be "utilized to cover legal and personal loses." In addition, "funds in excess are to cover other vendors who have been robbed of their hard earned living through citations and removal of their carts."
The university's police department defended the Aranas' actions, saying he took $60 from the vendor as evidence.
A student has started an online petition to have Aranas removed from his job.
Vice Chancellor Scott Biddy said the university was reviewing the incident while Aranas remains at work.
In a statement, Biddy said: "We have instructed our officers to monitor illegal vending outside our event venues. This action has been motivated at least in part by issues of public health, the interests of local small businesses, and even human trafficking. In addition, while I cannot comment on the specifics of this particular case, our practice is to issue warnings before giving a citation. In a case such as this, it is typical to collect any suspected illegal funds and enter them into evidence."
Biddy also said three other people were cited that day for vending without a license near the stadium. Law enforcement action against non-permitted vending and ticket scalpers are in response to requests from the community.
Thanks for reading CBS NEWS.
Create your free account or log in
for more features.