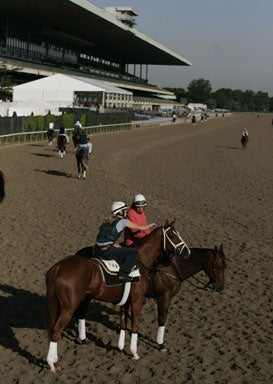 DNA testing in old criminal cases is doing more than freeing dozens of innocent people from prison. It is also pointing the finger of blame at a legal system that has sometimes relied on bad science, and gotten bad results.
That is the case in a growing legal scandal in Oklahoma City where one innocent man has been freed after 15 years in prison, triggering an investigation into the police chemist whose work put him and hundreds of other people behind bars.
The scientist's name is Joyce Gilchrist. Now she finds herself under the microscope and every case she worked on is in question.
For 20 years, Gilchrist examined crime scenes, looking for clues linking suspects to evidence she said she found. Often, her testimony in court meant the difference between innocence and guilt.
When 60 Minutes II first brought you this story last year, questions were just beginning to be asked. Joyce Gilchrist is the target of lawsuits and investigations, and there are concerns that she may have put people in prison with more sorcery than science.
In Oklahmoa City, Gilchrist was considered so good at getting conviction that police had given her the nickname "black magic." She says it started with one particular case: "It was in reference to a homicide case where the defense attorney referred to me in his closing statements as a sorcerer - someone who conducted black magic, and stated that I seemed to be able to do things with evidence that nobody was else able to do."
Now, she is the target of several investigations, and there are growing concerns that she may have put people in prison with more sorcery than science.
According to her critics, Gilchrist has a history of seeing things in the lab that other scientists can't, and saying things in court that other scientists won't.
But for nearly two decades, her work has been helping Oklahoma City police and prosecutors win convictions - whether the defendant was guilty or innocent.
Among the cases that Gilchrist handled was that of Jeff Pierce. Fifteen years ago, Gilchrist was the police chemist on his case. Pierce had been arrested for rape.
"I voluntarily gave them hairs and blood," says Pierce. "And they said, if this comes back and it doesn't match, you can go home. And I voluntarily gave it to them. And they came back five minutes later and said, 'Oh, it all matches... you're going to prison.'"
Gilchrist used her microscope to match Pierce's hair and blood to evidence found at the crime scene and on the victim. At trial, her testimony was devastating. She told jurors that the dozens of hairs she found were microscopically "consistent" with Pierce's, and were a means of "positive" identification.
Pierce had a clean record, alibi witnesses and character references. In the end, though, he was found guilty. But three weeks ago, a DNA test proved he did not commit the rape that put him in prison.
Gilchrist says she did the best she could in the Pierce case: "Using the technology we had at the time, I did the best job I could and I presented the facts to the court and let the jury decide what they believed."
But there are questions about Gilchrist's lab work in the Pierce case. A few months ago, when Pierce's defense team requested DNA testing, chemists pulled out the 15-year-old evidence and found that Gilchrist's testimony ddn't match the facts. The FBI was sent in to investigate Gilchrist's work in the Pierce case, and seven other controversial cases.
The official report found that in five cases, including Pierce's, there are "errors in identification," and that lab notes were "incomplete or inadequate" In one case, the matches Gilchrist made "fall far below the acceptable limits of the science of hair comparisons." The FBI suggested a review of all cases where her work was significant to the outcome of the trial.
Gilchrist herself isn't sure about the FBI tests. "Let's submit that evidence for DNA analysis and see," she says. "I look forward to that. And if I'm wrong, you know, I would accept responsibility if I'm wrong. But I've never intentionally done anything wrong in a case I've ever been involved in."
In 1985, she was named the police department's Employee of the Year. But a more recent police memo paints a far different picture, suggesting that the lab Gilchrist supervised was chaotic.
The report says that "missing evidence is occurring in major cases." Some of those cases were death penalty cases. According to the report, a freezer breakdown contaminated evidence from hundreds of cases. The report also said that blood analysis files from three entire years - 1980, 1981, and 1990 - were missing, and that rape evidence was systematically being destroyed after only two years.
"My administrators are the ones who make the decisions about the operation of the laboratory," says Gilchrist. "I don't make that decision. I just carry out those orders. That's why I can't comment right now."
In going over Gilchrist's notes, chemists found she had a wildly inappropriate way of jogging her memory about cases, repeatedly referring to victims or defendants as "fags" and "faggots."
She admits to using those terms, and says she regrets it now. "At the time though, that's the slang that was used," she says.
In March, Gilchrist was suspended from her job by police chief M.T. Berry. "My biggest concern is that in my life as a law enforcement officer, I would rather let a guilty man go free than send an innocent man to the penitentiary. And my biggest fear is that may have happened in this case," Berry says.
Gilchrist was part of thousands of police investigations. She testified in hundreds of cases. She helped send 23 people to death row. Eleven have already been executed. Now all of her felony cases are under review.
Over the years, Gilchrist's testimony has been repeatedly criticized by appellate court judges, who have described her testimony as "misleading," "untruthful," and "inexcusable."
"I don't agree with (that characterization)," Gilchrist says. "Because I've never lied in court. I've always told the truth. I've never lied to anyone about anything. If you don't want to know the truth, don't ask me because I'm not going to sugarcoat anything for you. I'm going to tell it to you. I'll tell it to you just the way it is."
Gilchrist has been reprimanded by one professional forensic association, and expelled from another for unethical behavior.
John Wilson, chief chemist at the Kansas City police lab, filed an ethics charge against Gilchrist 15 years ago. "I'm not the only forensic scientist who has reviewed her work and said this is bad work," he says. "The whole criminal justice system has failed. It has absolutely failed."
Wilson says that the entire system is to blame for allowing Gilchrist to continue working. "I think you have to look at the prosecutor's office, that they have to understand what's been going on. They have to have seen all the flags that have been waved. The judges are no different. They've seen the appellate court decisions come back. It's not just the police, it's not just the prosecutors, it's everyone in the entire system."
Gilchrist says that Wilson is a sore loser. "He has come into Oklahoma County, in district court, to testify against me on several occasions... expert witness for the defense. But the juries did not believe his testimony. And I don't think he's been back since."
Gilchrist agreed to talk to us only if we would agree to talk to her old boss Dave McBride. Ten years ago, he was Oklahoma City's police chief. Asked if he had any reason to suspect that she was not doing her job well, McBride says: "No one ever raised the issue." He says that no one mentioned to him that there was a problem with the crime lab: "Never. Not one time, not ever."
McBride believes that what has happened in Oklahoma City could happen anywhere that a forensics lab is attached to a police agency, and that is the case in most large American cities. He says it creates scientists who consider themselves cops in lab coats.
"I think there's an inherent potential conflict there," he says. "And I don't know that that's always healthy for the criminal justice system. But I certainly think that the investigators liked working with her. And I know that the district attorney loved having her as a witness."
"I think Joyce Gilchrist may have fallen into an internal feeling that she was on the police team, she was on the prosecution team," he says. "And what scientists should always feel like is they are on the side of science."
After Pierce was convicted, Gilchrist received an honorary citation from the Oklahoma City police and a commendation from the district attorney, for her "skillful work in the careful analysis of the forensic evidence."
Pierce says that he is still outraged at Gilchrist: "She's ruined me and countless lies. They lost their kids, lost their wives, lots their families."
When Pierce last saw his sons, they were 1 year old. He and his wife decided they didn't want prison to be part of their children's lives. So the boys and their mother moved out of state. They grew up without knowing their father, or even where he was. Pierce didn't want them to know he was in prison.
Last night, Pierce was released from prison. He was asked what he wanted to say to Gilchrist. "Why? Why did you do this?" he said.
Hundreds of cases that Gilchrist handled are now under review. The worry in Oklahoma City is that Pierce isn't the only innocent person Gilchrist helped send to prison - just one of the lucky few to get out.
July 2002 Update:
Since his release, Jeff Pierce has been getting reacquainted with his ex-wife and twin sons in Michigan. In April, he filed a $75 million federal lawsuit against the state of Oklahoma and Oklahoma City, Also named in the lawsuit is former prosecutor Bob Macy and Joyce Gilchrist.
Gilchrist was fired from her job in September. She is suing the city demanding her job back.
Thanks for reading CBS NEWS.
Create your free account or log in
for more features.