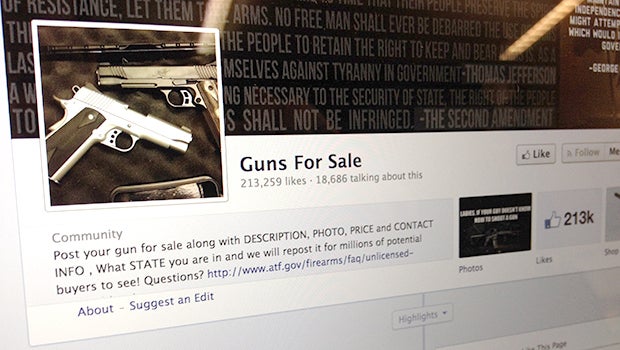 Under pressure, Facebook announces gun policy changes
After a campaign by gun control advocates to address concerns of firearm-related commercial activity on Facebook, the company today announced a series of "educational and enforcement" measures regarding discussion of guns and other regulated items on its social networks.
The changes, which also apply to Facebook-owned Instagram, include new age limits for posts or pages promoting private sales of restricted items like firearms, alcohol or adult products. There's new policy language with an emphasis on knowing and following laws related to regulated items like firearms, and keeping them away from kids. There will be educational messages sent to users who promote the sale of guns, and those seeking them out.
In a press release describing the changes, Monika Bickert, Facebook's head of global policy management said the company "will not permit people to post offers to sell regulated items that indicate a willingness to evade or help others evade the law. For example, private sellers of firearms in the U.S. will not be permitted to specify 'no background check required,' nor can they offer to transact across state lines without a licensed firearms dealer."

Facebook is also promising a public service ad campaign encouraging, among other things, private firearm sellers to perform background checks.
"American moms are gratified that Facebook and Instagram have agreed to take meaningful steps to prevent illegal gun sales to children and dangerous people on its platforms," said Shannon Watts, founder of Moms Demand Action for Gun Sense in America, in a statement to CBS News.
"We are happy that these companies listened to American mothers and we believe these changes are a major step toward making sure people who buy or sell guns on their platforms know the law, and follow it."
Over recent months, as media outlets reported on the ease with which children and unidentified customers could potentially purchase guns through Facebook, and incidents of firearm-related advertisements reaching underage audiences, the company faced pressure by groups like Watts' and Mayors Against Illegal Guns to change its policy.
A Change.org petition created by Watts garnered over 95,000 signatures and drew more media attention to the issue.
Facebook said in a press release released Wednesday it has been working with these gun control groups and others, as well as New York Attorney General Eric Schneiderman, to develop the announced changes. And, as a self-described community of 1.2 billion, the company argues, it is constantly upgrading its policies to ensure a balance between free expression and safety.
"As with many things on Facebook, we rely on input and guidance from a wide variety of organizations who represent a variety of opinions about how Facebook policies can work as effectively as possible," a Facebook spokesperson told CBS News.
"We're pleased to work with these groups on the development of these new educational enforcement efforts."
Facebook's tough new stance on the wink-and-nod messaging surrounding background checks and state lines targets a practice gun-control advocates have held high as a clear example of abuse. In an oft-cited case last fall, a student in Greenup, Ky., was caught with a loaded, unlicensed handgun at his high school. He had purchased the firearm from an Ohio man in a sale arranged through Facebook.
Before Wednesday's announcement, Facebook notes, the company already had a ban on paid advertisements for weapons. And because the company is not an e-commerce site, it is not actually possible to complete financial transactions on its social networks. But gun-control advocates argued that Facebook and Instagram were nevertheless becoming marketplaces for unmonitored firearm sales.
"I ask that you put an end to this completely unregulated social media gun show and prohibit gun sales from your platforms immediately," Watts wrote in her Change.org petition, which she addressed to Mark Zuckerberg, Facebook's CEO, and Kevin Systrom, the CEO of Instagram.
With the changes, the company, whose users span the political spectrum, is wading into one of the country's most divisive debates.
"Facebook is stuck between a rock and a hard place," said Adam Winkler, a law professor at UCLA and an expert in gun control and firearms policy, in an interview before Facebook publicly announced its changes.
"To a certain extent, Facebook doesn't mind people talking about guns on Facebook. It's a very popular topic. There's a lot of people in America who are gun enthusiasts. There's no reason for Facebook to want to shut those people off of its service. But if you let people talk about guns, there's the chance that there might be illegal gun sales happening."
The company appears to have proceeded with caution, stating in its press release: "While we've recently heard specific concerns from people about offers for the private sales of firearms, this is one of many areas where we face a difficult challenge balancing individuals' desire to express themselves on our services, and recognizing that this speech may have consequences elsewhere."
And while the gun control groups involved said they were happy with their campaign's success in pushing a powerful company to change policy, they argue there is still more that should be done on a local, corporate and congressional level.
"Unfortunately, the 'private sale loophole' allows anonymous parties to sell guns without background checks, and there are simply too many ways for criminals, minors and other prohibited gun purchasers to get them easily -- with just the click of a mouse," said John Feinblatt, Chairman of Mayors Against Illegal Guns in a statement to CBS News.
"We will remain vigilant in our efforts to draw attention to these critical safety issues and hold corporations and political leaders accountable to do their part to prevent gun violence."
Other gun control groups said the changes don't go far enough.
"This new policy is not a victory because Facebook continues to makes it too easy for dangerous people to evade a background check when buying guns. A mere warning to follow the law and community-based reporting will not do enough to prevent unchecked gun sales to dangerous people," Daniel Gross, president of the Brady Campaign to Prevent Gun Violence, said in a statement.
"Facebook should prohibit all posts that advertise the unlicensed sale or transfer of firearms in the United States."

But for the larger gun control movement, which suffered a major legislative loss in its push for Congressional gun reform following the 2012 massacre at Sandy Hook, Winkler said, the announcement by Facebook amounts to a much-needed win.
"It's mostly a symbolic victory," said Winkler. "It's not going to significantly reduce gun sales. It's not going to significantly reduce access to guns by criminals. But gun control advocates could use any victory they can get these days. Even if it's only a symbolic one."
Thanks for reading CBS NEWS.
Create your free account or log in
for more features.