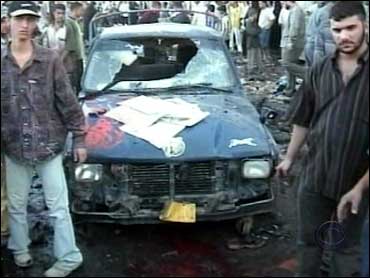 Undeclared Civil War In Iraq
Behind the blood and chaos of the insurgents' bombs, there is an undeclared civil war already underway in Iraq, between the Sunni minority who ruled this country under Saddam and the Shiite majority.
CBS News correspondent Lara Logan reports there is a secret, ruthless cleansing of the country's towns and cities. Bodies — blindfolded, bound and executed — just appear, like the rotting corpses of 36 Sunni men that turned up in a dry riverbed south of Baghdad.
CBS News traced 16 of those men to a single street in a Baghdad suburb, where family members showed CBS News how the killers forced their way into their homes in the middle of the night and dragged away their sons and fathers.
"My uncles were tortured, they even poured acid on them," a young boy told CBS News.
Clutching photographs of the murdered men, the women and children left behind came together to grieve.
One woman said as her husband was marched away she sent her son after him with his slippers, but his abductor sent the child back with a chilling message: No need for slippers — he will come back dead.
They were targeted for one reason alone: all were Sunnis.
At a news conference with a U.S. ambassador, a prominent Sunni politician shouted that the mostly Shiite police force was behind many of the killings — a charge the police deny.
And the killing isn't one-sided. An ambush in a western Baghdad suburb last month began with the execution of an entire Shiite family inside their home.
CBS News was shown a pamphlet by a young man too afraid to reveal his face. It's an order for all Shiites to leave his neighborhood, or be killed — given to him in broad daylight by masked terrorists. The man said if he did not leave, he will die.
The police did nothing, so within days, a powerful Shiite militia struck back at the terrorists, raiding the same neighborhood. In much of Iraq, armed factions like this one operate beyond the law.
These killings have created a climate of fear, fuelled by the fact that no one is being held responsible. What is worse, no one appears to be capable, or more importantly, willing to stop the murders from escalating into an all out civil war.

Thanks for reading CBS NEWS.
Create your free account or log in
for more features.