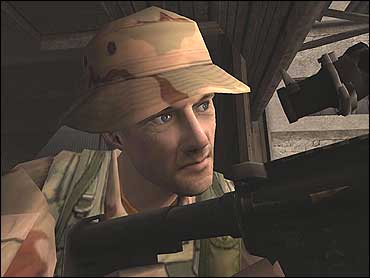 Uncle Sam Wants Video Gamers
Turns out, you parents of video-gamers have it all wrong.
Playing these games doesn't waste time, it builds careers in the U.S. military.
Which puts a "dude" side-by-side with Larry McCracken, a captain in the U.S. Navy - unlikely allies meeting at a video game conference in Orlando.
McCracken says the Navy came on board after the Army created a game called "America's Army."
As CBS News Correspondent Mark Strassmann reports, it became a runaway hit, first for recruiting and then for training.
In short, video games made better soldiers and sailors faster, safer and cheaper.
"The realism you get is the ability to keep somebody engaged and play a game for three or four hours as opposed to in a classroom, where after 15 minutes they're bored," says McCracken.
And, one thing young recruits in today's military have in common is that they've all played video games. They all talk the jargon.
"They know all the words," says gaming expert John Beck. "They can talk, 'Oh, this is like that game, and when they talk about it everybody knows, this is like Halo 2."
And talk about realistic.
One game teaches how to survive ambushes on what looks like a Baghdad street.
For some game-developers, the new target-market is the Pentagon and its war games.
And for military game developers like Doug Whatley, it means creating their own world.
"You can create your own world, you can lay down units anywhere you want, set any type of scenario," says Whatley.
For two worlds that just five years ago seldom crossed, there's a new, shared reality called simulation.
"It's been a huge shift," says McCracken. "I'm a convert. I just wish I knew how to play this game much better."
So fire away. America's national defense just may depend on it.

Thanks for reading CBS NEWS.
Create your free account or log in
for more features.